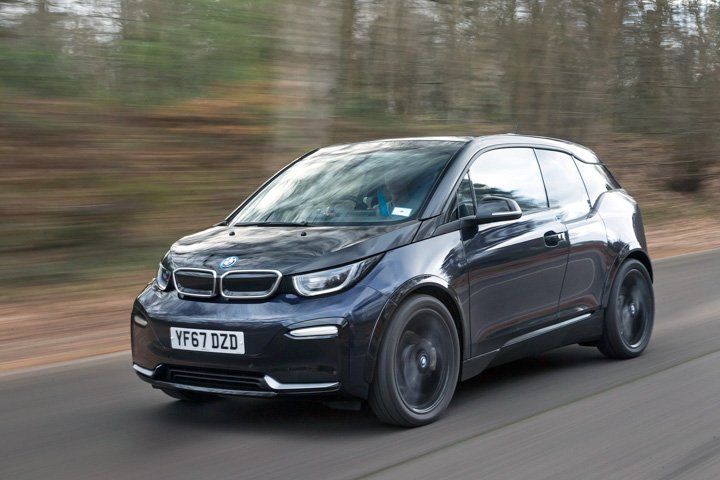 Tested 19.1.18, Cheshire On sale Now Price £40,125
Beguiling battery-electric BMW gets some sporty touches and a little more poke
The idea of building sporty electric cars is only just bobbing up on most car makers' to-do lists, but BMW already has one in its showrooms. It's a lower, wider-tracked and slightly more powerful version of its i3, predictably called i3s. New in the UK, the i3s has a starting price of £36,975 for the battery-only model, or £40,125 as the 120kg-heavier Range Extender, which is kitted out with a 650cc twin-cylinder petrol power generator and a fuel tank with a get-you-home range of 80-90 miles.
The i3s isn't hugely different from the original i3: there's a new black roof, new and more shapely front and rear aprons, bigger 20in wheels with fatter tyres, and a set of cute wheel arches to cover them. The car rides 10mm lower and has sportier spring and damper rates to go with 8% hikes in power and torque that cut 0.4sec from the 0-60mph times of both the battery-only and range-extender models (now 6.9sec and 7.7sec respectively) and lift the top speed of both versions by 6mph to 99mph.
That extra power plus a bit of aerodynamic drag from the fatter tyres cut six or seven miles from the useful range – notoriously variable according to how you drive, but dependable at 110-120 miles. Charging at home is at 11kW via a Type 2 socket but, at motorway services, you can use a CCS 50kW socket that delivers 80% electric range in 30-35min. We used our range-extender test car for a 300-mile round trip and found motorway charging easy, although charging (twice) added most of an hour to our 6.5-hour journey time, and dictated a cruising speed of between 65mph and 70mph – slower than the traffic. That seemed a worry at first but had little effect on journey times.
Your first half a mile makes it clear this is meant to be a sporty car. The suspension is stiff, the steering is firm and there's improved grip and turn-in. Body roll is still noticeable, though, and you can provoke the lightly loaded front wheels into understeer, especially if the roads are greasy. Still, the compactness and quick steering mean you can throw the i3s about with accuracy and abandon.
The ride isn't exactly supple but the short overhangs, low centre of gravity (courtesy of an under-floor battery) and big wheels mean the i3s pitches surprisingly little for a short car, and dulls bad bumps effectively. The rear-mounted mechanicals give the i3s a considerably different gait from front-drive hatches of similar size but, once you're used to the baby BMW, it's simple to drive.
Like most electric cars, the i3s's step-off from rest is extremely brisk yet simple to control. For the first 50 yards, you can shade some extremely powerful and high-tone cars. Above 50mph, the rate of acceleration slows, but the i3s's feeling of energy stays with you and can be quite intoxicating because it's delivered with so little mechanical effort. Best to keep your enthusiasm for special occasions, though: off-the-mark acceleration can blow a serious hole in your battery range.
It makes little sense to compare the i3s with other similar-sized (and mostly cheaper) semi-sporting superminis – beyond noting its similar agility and superior low-speed acceleration. Better to appreciate its differences, such as the amazing silence, the weird pillarless doors, the carbonfibre construction and the funky shape. If you appreciate these things, the dynamics won't disappoint.
STEVE CROPLEY
Tester's note
BMW says it has adapted its various stability and traction-keeping devices (DSC and DTC) to suit the responses of electric drive across all speed ranges. The two systems, working together, improve the i3s's agility and "enable controlled drifts". SC
BMW i3S Range Extender
Vivid early acceleration now works well, with improved grip and mildly sportier looks



Price  £40,125
Motor  Synchronous electric
Power  181bhp
Torque 199lb ft
Gearbox Single-speed
Kerb weight 1265kg
0-62mph 7.7sec
Top speed 99mph
Economy na
CO2, tax band 13-14g/km, 9%
Rivals Nissan Leaf, Renault Zoe