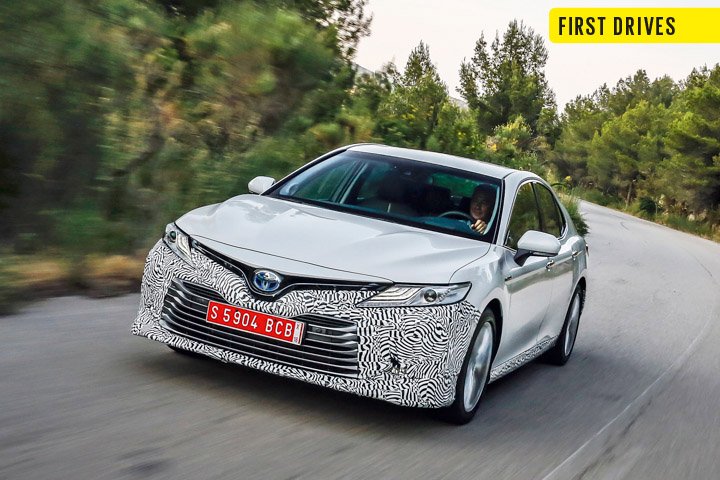 TESTED 10.7.18, Spain ON SALE Spring 2019 PRICE £30,000 (est)
Big saloon is coming back to the UK – in petrol-electric guise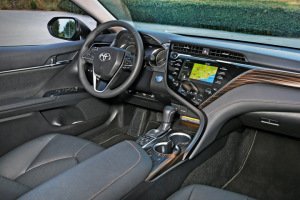 Remember the Toyota Camry? Take a cab from a US airport and you'll see one, but until 2004 you could get one here, before it was canned because the market for big saloons in Europe was going diesel, and the Camry didn't have one.
Now it's back, still without a diesel, but with a 2.5-litre petrol-electric non-plug-in hybrid. Toyota is dropping the Avensis but this isn't a replacement: it's bigger, as befits a car so popular in the US. At 4.89m long, it's between Ford Mondeo and BMW 5 Series length. It's based on Toyota's recently introduced TNGA (Toyota New Global Architecture), whose advantages, Toyota says, include a low engine location, which allows a low dashboard, lowering/improving the centre of gravity.
Not that it'll matter, because big saloons are big and boring to drive, right? Hark! Here's Masato Katsumata, the Camry's chief engineer. "We want to create emotion in a hybrid system," he says. With the rigid body, particularly where the steering is mounted, "all contribute to realise dynamic performance". This would be a bit of a departure for the Camry, no? But there's Euro-specific tuning, so let's see.
Inside, it's large, comfortable, all of the things you expect of a Toyota Camry. There's a generous amount of room and soft-touch materials mixed with some shiny surfaces, but a great driving position too.
And to be fair, it doesn't take long to be impressed by the way the Camry steers. It rides well, too, but feels its weight, albeit that that's low mounted. It's solid, secure and stable, loping along un-fleet of foot as a 1670-1735kg saloon is bound to. It's agreeable, capable and comfortable, but not shockingly dynamic like, say, a Kia Stinger. Neither is the engine/motor combination hugely emotional. But it is very smooth. I'm not sure anyone melds the electric/petrol swap better than Toyota.
All of this compounds to make the Camry an excellent cruiser. The kind of car you could get out of three hours after getting into one while barely registering that you'd been in it at all.
It arrives next spring, so Toyota has still to decide on the pricing. Big hybrid saloons like this are £30,000-ish, spec dependent, so let's call it that and 3.5 stars, with the potential to go up or down a touch.
MATT PRIOR

TOYOTA CAMRY 2.5 HYBRID
Forget the emotion: Camry, tweaked for reintroduction to Europe, is a smooth, refined operator



Price  £30,000 (est)
Engine  4 cyls, 2494cc, petrol, plus electric motor
Power  215bhp
Torque na
Gearbox Variable planetary gearbox
Kerb weight 1735kg
0-62mph 8.3sec
Top speed 112mph
Economy 61mpg (tbc)
CO2, tax band 100g/km, 21%
Rivals Ford Mondeo, Skoda Superb