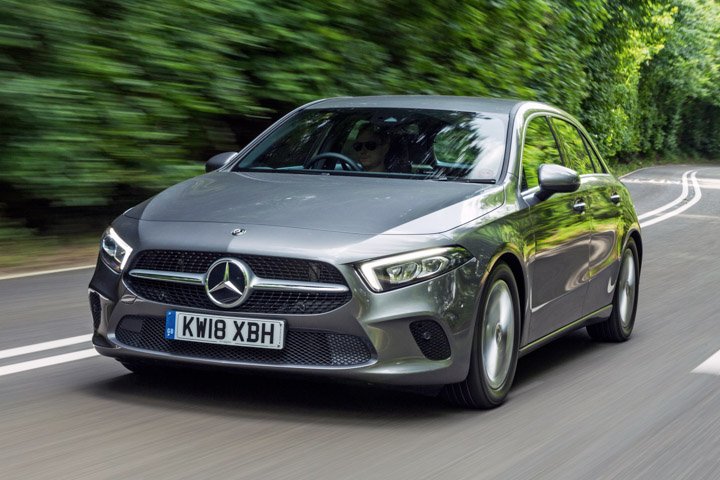 This new version is the most luxurious A-Class yet, but is it now a class leader?
MODEL TESTED A200 Sport
Price £27,500 ♦ Power 161bhp ♦ Torque 184lb ft ♦ 0-60mph 8.7sec ♦ 30-70mph in fourth 9.5sec
   Fuel economy 38.8mpg ♦ CO2 emissions 123g/km ♦ 70-0mph 50.2m
WE LIKE
Materially rich, technologically advanced interior ♦ Excellent infotainment system ♦ Agile, incisive handling

WE DON'T LIKE
Gearbox can be hesitant at low speed ♦ Engine coarse when working hard ♦ Choppy low-speed ride
A little bit of luxury in a hatchback-sized package: that's the promise the Mercedes-Benz A-Class has dangled, cherry-like, in front of Europe's compact premium car buyers since its introduction more than two decades ago. It became
a quite different sort of luxury package, in recent years, from how it was to begin with – the identity of the original 1997 'baby Benz' having been built on greater space efficiency than anyone would risk with a car in the modern, ultra-conservative, posh hatchback segment in 2018. These days, among fleet-conscious premium five-doors, conformity rules.
Now entering its fourth full model generation, Mercedes' smallest passenger car has just had its luxury credentials supercharged. As we've reported in first drives and in a group test with the A180d diesel, the car has larger dimensions, a new model platform and fresh engines and is fitted with a host of new technology intended to make it safer, more advanced, more convenient and more desirable than any of its rivals.
The turbo 1.3-litre lends the A200 a respectable turn of pace
Having originally been sold as something of a packaging marvel, the A-Class's identity has swung almost 180deg to become one of the largest cars in its segment. Where once Mercedes offered an innovative, if slightly pugnacious, quirky, high-rised mould-breaker, now it brings us a sleek, rich, advanced but unashamedly full-sized hatchback ready to win success according to the rulebook. So can this car flourish where its predecessors have floundered and at last present a fully formed, multifaceted, truly dynamically sophisticated challenge to the best C-segment hatchbacks on the road: the likes of the Volkswagen Golf and Audi A3? After the A180d dispatched the BMW 1116d but narrowly afailed to beat the A3 Sportback 1.6 TDI in a group test, it's the turn of the mid-range A200 Sport turbo petrol version to show if Mercedes can scale the heights of one of Europe's most important and lucrative market segments.
The A-Class started life exceptionally small and grew significantly even before the end of its first full model life cycle. Just over 20 years ago, the car had a wheelbase of only 2.4m and an overall length of just 3.6m, which would make it small today even by supermini standards.
We shouldn't be surprised, therefore, that this new version – being a hatchback of a totally different and entirely less radical kind – bears little similarity in its dimensions. However, a few might be disappointed that the A-Class has changed so much that it has become one of the largest five-door hatchbacks of its kind. Among the European class's chief protagonists, only the Honda Civic, Skoda Octavia and Mazda 3 take up more space at the kerb. A more conventional design means better proportions, though, and the potential for more visual appeal. If the A-Class's maturity as a product were to be measured by how much less awkward-looking it has become, generation by generation, few would disagree that it is now a fully mature prospect – and as desirable a hatchback as you're likely to find.
The A-Class sits on Mercedes' new MFA2 compact car platform and for the time being comes with a truncated choice of engines and transmissions. Two new downsized four-cylinder engines, jointly developed with Daimler alliance partner Renault, are the entry-level options: a 114bhp 1.5-litre diesel powering the A180d, with CO2 emissions of just under 110g/km; and a 161bhp 1.3-litre turbocharged petrol motor used in the A200, which we've elected to test here. For now, both come with front-wheel drive and seven-speed dual-clutch gearboxes by Getrag, although manual gearboxes will be available on both before too long. For those wanting more performance, it's available, solely for now, from the 221bhp 2.0-litre turbo petrol A250, although more powerful diesels are in the pipeline.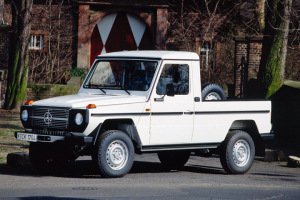 As you may already have read, the A-Class is the first Mercedes passenger car to be designed with torsion beam rear suspension. The idea of that may offend some but it probably shouldn't, given how well the technology is employed more widely in the hatchback class. If you want fully independent suspension, it comes as standard on A250 models, or as an option on the A200 in range-topping AMG Line trim. Our test car was a mid-spec A200 Sport with the torsion beam axle. Adaptive dampers are also optionally available, although they weren't fitted to our test car.
If there's one thing Mercedes has seemingly nailed with the latest A-Class, it's the way the thing looks from behind the wheel. Here is a cabin that properly fits in with what you would expect from a premium family hatchback.
The abundant brightworking on the air vent surrounds, centre console and steering wheel draws the eye, while all that gloss black surfacing (when it's fingerprint-free, at least) lends the smallest Mercedes an upmarket appeal that's not too dissimilar to that of its larger siblings. The cabin is generally all very smart, and very tidily organised and laid out. The triumvirate of turbine-esque air vents in the centre of the dashboard wouldn't look out of place in an S-Class and the dual digital displays that dominate the top of the dash are unlike anything we've seen before in a family hatch.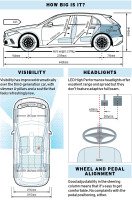 Faux carbonfibre panelling on the doors and dash-top caused a few testers to turn their noses up, but otherwise the A-Class oozes the sort of visual appeal that rival manufacturers would do well to emulate. And this isn't a case of appealing form coming at the expense of easy functionality, either. As far as usability is concerned, the Mercedes doesn't really falter. Although it would be a stretch to say space in the rear is abundant, there's enough for two adults to sit pretty comfortably, so long as they're not especially tall, which, while not outstanding by hatchback class standards, is certainly competitive. There's decent knee room in the second row, and that elegantly sloped roofline doesn't come at the cost of head room.
As for the boot, it offers 370 litres of seats-up storage capacity, which extends to 1210 litres when they're folded down. The floor itself isn't flush with the opening, so there is a bit of a lip to navigate – not that this will be problematic during day-to-day use. There are a couple of bag hooks in the boot too.
The fourth-generation A-Class makes use of the new MBUX (it stands for Mercedes-Benz User Experience) touchscreen infotainment system. As standard, this incorporates two 7.0in screens: one is for features such as the sat-nav and radio and the other replaces the traditional analogue instrument binnacle. However, our test car came with the £1395 Executive package option, which ditches the media screen for a larger, 10.25in display.
And what a system it is. The quality of the graphics is excellent, as is the fluidity with which it responds to your inputs.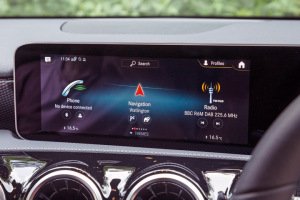 Speaking of which, MBUX can be controlled through a new touchpad that sits on the centre console. Such systems should usually be avoided, but this one is simple to use once you've wrapped your head around it. The 'Hey Mercedes' voice control generally works well too.
Our only criticism is the lack of a conventional USB socket, with Mercedes relying exclusively on USB-C sockets – a pain if you don't have the right cable.
The turbocharged 1.3-litre four-cylinder engine lends the A200 a respectable turn of pace, but it's not quite up to scratch with the class's better petrol options as far as refinement is concerned; and that's perhaps a bigger disappointment in light of the fact that the car's 1.5-litre diesel engine suffers with a similar major flaw.
There's nothing particularly wrong with the way in which it delivers its power to the front wheels – acceleration is generally quite linear and there's not a significant amount of turbo lag – but it's just a shade more vocal than you'd ideally want an engine in a premium hatchback to be. Stray above 3500rpm or so and you're met by a drone that's fairly harsh in timbre and gets notably loud as you approach the redline. And straying towards the limiter is somewhat inevitable because the seven-speed dual-clutch transmission has a tendency to hold on to its selected ratio longer than you might like – regardless of the chosen driving mode. Just as irksome is the transmission's eagerness to change down what often feels like one too many gears when you gently lean on the throttle to accelerate from a lower speed. So instead of making smooth, controlled progress, you can often lurch a little forward in a sudden surge of unplanned acceleration, which can be disconcerting.
At least when you're up to speed, things improve. What was intrusive engine noise under acceleration settles down and becomes rather demure and unimposing at cruising revs, contributing towards the A200's effectiveness as a long-distance tourer. The fact that it recorded an indicated touring economy figure of 56.7mpg at a sustained 70mph doesn't hurt, either.
Despite representing, for now at least, the entry-level of the petrol-powered A-Class line-up, the A200 doesn't feel as though it's lacking any get-up-and-go. Mercedes quotes a 0-62mph time of 8.0sec and we clocked a very respectable 8.7sec from rest to 60mph. The engine pulls keenly up to around 5000rpm, but stray too far past peak power (which arrives at 5500rpm) and it starts to run out of steam. By way of comparison, the 1.5-litre petrol Golf we road tested last year – which produced 13bhp less but the same amount of torque as the Mercedes – covered 0-60mph in 8.8sec.
Although the seven-speed dual-clutch transmission can be a touch clunky when you're just tooling about town, it works well at speed. Upshifts are smooth and seamless, and the paddle shifters provide tidy downshifts. Delving into the vehicle's submenus reveals a dedicated manual mode (part of the Individual program) that allows far more driver control over the transmission too.
Under braking, the A200's 1375kg mass comes to a halt in a tidy and controlled fashion. It needed 50.2m to reach a standstill from 70mph. The Golf performed the same test in 47.8m.
Our test car didn't have the more sophisticated multi-link rear axle of pricier A-Class models. Not that this is particularly to its detriment. Most of the time, its torsion beam set-up does a commendable job of preserving the premium aura created by the interior and exterior design. Certainly, when the road surface beneath the 17in wheels is smooth, refinement is at the sharp end of this class, the passive suspension supporting the chassis with deliberate, fluid movements.
It stands the A200 Sport in good stead when you begin to apply the throttle more vigorously. Steering is by an electromechanical rack that has adequate weight and little feel, but at 2.6 turns lock to lock, it's quick enough for you to feel the benefits of the car's close body control, tight roll response and notable agility.
Only by driving with a level of commitment few of these cars will experience do you unearth a chassis that is a touch under-damped, but the Bridgestone tyres are likely to give you pause for thought before that point is reached. In dynamic terms, they are the weak point of the A200 Sport package, generating satisfactory traction but lacking something in ultimate lateral cornering grip. On poor surfaces, they also transmit a conspicuous roar into an otherwise well-insulated cabin.
If there is room for improvement (and we're looking squarely at that multi-link rear), it concerns low-speed pliancy and secondary ride. The manner in which speed bumps, potholes and the like are negotiated in the lower gears can be a touch brittle, especially in terms of rebound. As such, the A-Class doesn't take quite as effortlessly to urban environments as it does to more open, quicker stretches of road, although this is a small criticism of a hatchback that is otherwise blessed with splendid composure.
Mercedes has launched the A-Class as an incomplete model range and those who want one straight away may end up spending a little more than they'd like. There are no manual gearboxes until later this year and the entry-level A180 petrol won't come along for a while yet, either.
That the car's CO2 emissions seem to show little sign of improvement, old model to new, has everything to do with the upheaval in vehicle emissions homologation and nothing to do with the actual fuel efficiency of the A-Class. Previous testing suggests the new A180d is a real-world 60mpg touring prospect and the A200 we tested returned 56.7mpg on our touring economy test.
CAP's residual value forecasts on the A-Class outstrip those of its nearest competitor, the A3, and Mercedes' established approach to manufacturer-supported finance offers ought to make the car cheaper, on a monthly basis, than many might expect once pent-up demand for the car has settled. But A-Class owners should certainly expect to spend more on options than hatchback buyers do typically if they want the full suite of on-board technology.