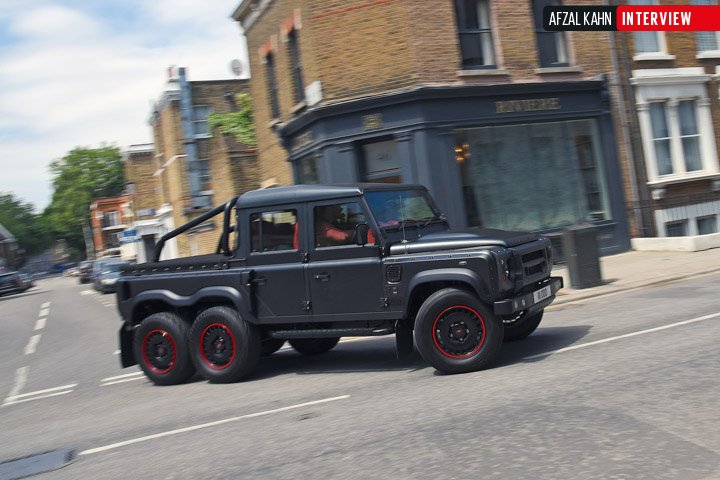 The Chelsea Truck Company turns off-road icons into exclusive attention-grabbers. Dan Prosser meets its outspoken founder and designer Afzal Kahn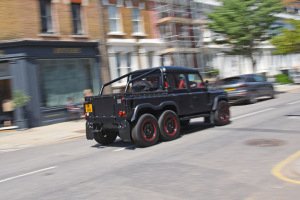 The King's Road in west London is overrun with fearsomely expensive boutiques and exclusive restaurants. It has long been the epicentre of London's fashion elite, a sort of elongated headquarters for the city's trendsetters. It is a haven for supercar spotters too. Lamborghini Huracáns are part of the furniture along here. But for all of that ostentatious wealth, there is a curious shortage of car showrooms on the King's Road. In fact, there is just one, occupied for the past few years by the Chelsea Truck Company.
"I don't make any money from this place," says company founder Afzal Kahn, abruptly and honestly, like always. "Not a penny. This showroom costs me £500,000 in rent and rates every year. Most of the businesses along here won't make any money from their stores. It's a branding exercise. The Chelsea Truck Company had to have a presence here. It wouldn't have worked anywhere else. It wouldn't be the Chelsea Truck Company if it was based in Bradford."
He has a point. Kahn – designer, businessman and founder of car customisation juggernaut Kahn Design – set up the Chelsea Truck Company in 2013. The name, he explains, is a knowing play on the phrase 'Chelsea tractor'. The idea first visited him a decade ago. "I had a house in the Lake District," he says, "and I spent a lot of time driving Jeeps and Defenders. I wanted to use all the experience I had built up over 15 years with Kahn Design to customise off-roaders."
I gave Jeep my first order for 50 cars and we took the Wrangler from zero to hero
Today, the company focuses on the Jeep Wrangler, Land Rover Defender and Mercedes G-Class: three iconic off-roaders that can trace their roots back to World War II. Kahn can sell up to 200 customised off-roaders each year, most of them staying here in the UK, with a small number going into mainland Europe and the Middle East.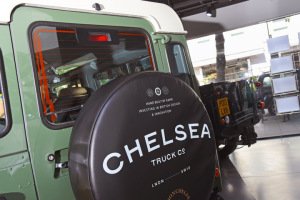 There was good business sense in establishing a spin-off company. Whereas Kahn Design mostly concerns itself with expensive luxury vehicles and high-end supercars – its Aston Martin DB9-based Vengeance, for instance, carries a £360,000 price – the Chelsea Truck Company operates at a more real-world level. "The idea was to build cars at £30,000 to £50,000, opening us up to a customer base we didn't have before," Kahn says.
"These cars are built to last. We don't just buy bits off the shelf and stick them on. Everything we do is properly designed and engineered. We buy cars in bulk directly from the manufacturers and totally rebuild them. To start a new project, we strip down the donor car and scan it, taking all the digital information we need from the body. From there, we do design sketches and work on early ideas. We also look at the crash structure and see what we can do to enhance it. If somebody had an accident, God forbid, we could say to the insurance company that our cars are actually a lot stronger."
Powertrains are typically left well alone to keep the manufacturer warranty in tact, but interiors and bodywork are completely overhauled. Think quilted leather roof linings, riveted-on wheel-arch extensions and chunky off-road tyres. The aesthetic won't be to all tastes, but those who like it really like it.
In fact, Chelsea Truck Company cars are so in demand that they hold their value spectacularly well. "Most of our recent clients have actually been investors," says Kahn. "The Jeep Wrangler Black Hawk that we have in our showroom right now is up for £60,000. We originally sold that car two years ago for £50,000. It's done 7000 miles since then, but it's gone up in value.
"The Wrangler was a total failure in the UK. Nobody wanted it. In 2011, I gave Jeep my first order for 50 cars and we took the Wrangler from zero to hero. Now, one in five Wranglers sold in the UK is one of ours. I turned it into something that is totally iconic."
Kahn may have history with the Wrangler, but he has a deep running passion for the Land Rover Defender. He has some fairly strident views on how Land Rover should replace its most famous product (see separate story, right), a car that, to his mind, is one of the finest automotive designs of all time. "It's such an iconic shape," he says. "It's so beautiful."
Don't mistake Kahn's enthusiasm for the Defender for a compulsion to describe everything he encounters in the most effusive terms. In fact, he is as outspoken a critic of the automotive industry as you'll come across. The state of car design today is a favourite topic of his.
"The Chelsea Truck Company is proud to be British," he says. "This country has had some good car designers, but that's all they have ever been. They've never had a backbone, never had a manufacturing facility of their own. Take the designers at Land Rover: they've not gone out there and done it on their own. What sort of a designer is that? Their hands are tied and they are restricted.
"That's what has been missing in this country. Look at Italy: it's got Zagato, Pininfarina, Giugiaro. I pulled out of the retail sector, where I was selling other people's cars, and went on the journey of designing my own product range and creating a brand.
"I like some Land Rover stuff, but the Velar is very badly designed in my opinion. It looks beautiful in pictures, but when you actually see the car…what happened to the back end?"
Car design, more than any other topic, gets Kahn fired up. "I've got my fingers in every part of the business," he says, "but design is my favourite bit. If somebody wanted to buy my business tomorrow, I'd sell, but I'd stay on board as chief designer." A
PHOTOGRAPHY Will Williams
WHAT'S THE CHELSEA TRUCK COMPANY'S FLYING HUNTSMAN 6×6 REALLY LIKE?

The 6×6's third axle adds 880mm to the car's overall length, which makes it somewhat tricky to manoeuvre around town. Don't be fooled by its knobbly off-road tyres: you'll rarely see a 6×6 away from the confines of a city, the exact environment where it is most compromised. Welcome to the world of boutique-modified off-road vehicles.
The Chelsea Truck Company's six-wheeled Defender starts from £149,995 (not all of its products sit at the affordable end of the spectrum, it seems) and the conversion process takes up to eight months. That rearmost axle should be engaged in only very slippery conditions and at speeds below 40mph, which means that during our test drive across a sunny west London, the car was powering a mere four wheels.
Just about every surface in the cabin is trimmed in bright red leather, soft to the touch but hard wearing. The quilted rooflining, plush bucket seats and leather-trimmed dashboard make the Defender feel less like a utilitarian vehicle and more like a luxury car. Despite that enormous wheelbase, there is precious little room in the rear of the cabin, although you could fling all manner of detritus into the pick-up load bay.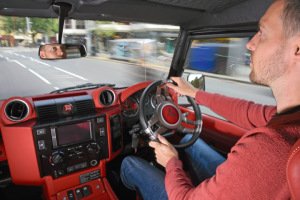 Powered by the standard-issue 2.2-litre diesel engine, the 6×6 is not exactly a potent machine. In fact, you have to use full throttle in first gear just to get it rolling along. The optional 6.2-litre petrol V8 would surely put that right.
The steering is vague and slow and the car thumps and crashes over the royal borough's potholes and sunken drain covers. Fairly standard Defender stuff, then. It may not drive with much finesse, but there is no questioning the 6×6's road presence. In the land of the supercar, this unusual machine turns heads like nothing else.
KAHN ON HOW TO REPLACE THE DEFENDER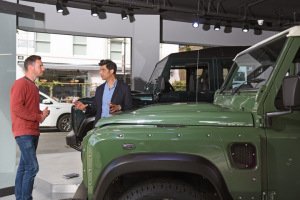 Having ceased Defender production two years ago, Land Rover faces the unenviable task of replacing it with a new model. (We're expecting it to go on sale next year.) As a diehard Defender fan, Afzal Kahn reckons he knows what Land Rover should do. Or rather, what it should have done.
"The company is owned by Indians now," he says. "There were homologation and crash regulations here in the UK that killed the Defender. I would have moved production to India and continued its life. There is no way Land Rover will bring out a car that's as good looking.
"Perhaps they should look at what Mercedes has done with the new G-Class. They've just built a replica of the old car. The new G-Class looks exactly like the old one — and look at the hype around it."