Renault Sport wants its hot-hatch crown back. All that stands in the new Mégane's way is the current champ, Honda's cracking Civic Type R, and Britain's bumpy B-roads. By Matt Saunders

If it was more widely known that B-roads this good could be found this empty in the generally bustling south of England, perhaps cars like ours would be a more common sight for the handful of locals who'll see them zip by today. For the time being at least, I'm quite pleased that fact isn't more widely known. Very pleased indeed, actually.
Because right now, somewhere on the borders of Oxfordshire, Berkshire, Wiltshire and Nowhere-in-particularshire, gloriously inviting and blissfully quiet cross-country Tarmac is extending ahead of the front wheels of the new Renault Mégane RS 280 like the yellow brick road ahead of Dorothy and gang. Through the windscreen the road rises and falls, arcing gently one way before being thrust the other to disappear behind a verge or hedge – only to reappear a quarter mile or so nearer the crystal blue horizon. And just over that horizon? Membury Services and the teeming M4 motorway. Not exactly the Emerald City, I know – although they have got ANPR cameras these days. And a Waitrose.
This is the Mégane's opportunity. Never mind that I've been driving it for a few hundred miles already and that it has failed so far to enliven my frontal lobes in quite the way that you'd hope a great hot hatchback would; that won't matter if what it does here and now lives long in the memory. And if it doesn't? There should be a Honda Civic Type R parked up in a gravel car
park not far from here, ready to supply any fireworks that we may decide are missing.
This car definitely sets a new dynamic benchmark in the hot hatchback class
This is the third-generation Mégane RS, its lineage stretching back some 15 years – and its reputation for outright handling eminence among fast front-drivers being the envy of the hot hatchback class. It's still front drive, and still uses strut-type front suspension and a beam axle at the back. But this one adopts the 1.8-litre turbo petrol engine you'll also find in the Alpine A110, wound up to 276bhp and on offer driving through a choice of six-speed manual or seven-speed paddle-shift 'auto' gearboxes. The manual's much better, though, and that's the one we've got here.
The car comes with the familiar binary choice of standard Sport and optional Cup chassis configurations, the latter getting bigger wheels; stiffer springs, dampers and stabiliser bars; and a new slippy diff (the Cup being the one that most UK owners will have, and the one we're testing). In both suspension configurations it gets new hydraulic bump-stops, which allow for improved body and wheel control at the extremes of suspension travel (and which technology Renault Sport prefers to adaptive dampers, interestingly). And those rally-spec struts aren't the only 'first' theMégane is bringing to the hot hatch arena: it's also got four-w heel steering.
Sounds tantalising, doesn't it? And on the European press launch a few months ago, it felt that way to drive. Back then, I assumed that Renault had restricted us to track driving only in the Mégane Cup, and road driving in the sport-suspended version, for practical reasons. But it hasn't taken many UK miles in the Mégane to reveal there might have been an ulterior motive.
Over anything other than Tarmac as smooth as Mary Berry's kitchen worktops, this Cup suspension is seriously firm. It hardly engages at all with urban lumps and bumps taken at town speeds, the car's body fidgeting in bad-tempered fashion, and retaining plenty of angry recalcitrant bustling even at A-road speeds.
Like a slightly uncomfortable pair of running shoes, this is a chassis into which you feel you have to put lots of energy and speed to make it work properly. It eggs you on – which can be a very compelling character for a hot hatchback to have. And, sure enough, as your speed increases, so the brusqueness of that suspension begins to fade. It develops a readiness to yield a little over smaller ripples and edges, though retaining a remarkable refusal to give what feels like more than a couple of inches of wheel travel over bigger intrusions, before clamping the car's mass as if in a vice.
To summarise, if you don't like the feel of iron-like compression damping and track-ready body control, you won't like a Mégane Cup. It feels like a car you could barely drive hard enough or quickly enough on the road to find a bump or a 'hit' it felt ill-prepared for. Honestly, it feels like a car that'd land just fine from about four feet of altitude; not that I tested that hypothesis.
But it's also so highly strung that any road bumpy enough to show off that remarkable damping also tends to be uneven enough to bring more reactiveness out of the car's handling than you'd really like to be dealing with. The front wheels are really sensitive to camber. Drop the outside one over the crown of the road and you'll know about it, as the steering wheel tugs at your fingertips. Find a sequence of bumps that affect one side of the car more than the other and you'll need a firm grip on the rim to prevent the Mégane from diverting off on a trajectory it's seemingly chosen for itself. Chuck in some tractive forces acting on those front wheels simultaneously and the bump steer can be exacerbated – especially accounting for the settings of the car's slippy diff, which are more aggressive under power than those of the last Mégane. Plenty of Mégane drivers will probably really like all of this: it certainly makes for a lively steer. Not sure I'd want to live with it, though.
The car's also very lively through the corners – but in an unequivocally good way. Ex-footballer Chris Waddle's on the radio a lot at the moment, and every time I hear his Geordie twang I'm reminded of something I once heard him say about wingers: that they only need one good trick. "Doesn't even matter if the defender knows it's coming," he said. "If it's done perfectly, they still can't stop it."
Well, the Mégane's trick is certainly pretty well-executed – and, no matter how you're feeling about anything else it has or hasn't done or how many times you've witnessed it before, it'll get through your defences and make you smirk with enthusiasm every single time.
Boy, it corners. Around roundabouts and tighter bends, the car swivels and rotates underneath you with a kind of urgent yet strangely effortless agility I'm not sure I've ever encountered in a front-driven performance car before. This is partly the four-wheel steering system at work, which can be dialled up to keep the rear axle working against the front up to 62mph – and which, thus set, takes some getting used to. At times, at lower speeds, it makes the car feel as if it's falling into oversteer when it isn't. But when you've learned to trust it, the system makes it so easy to tease a few degrees of mid-corner attitude out of the rear axle – and then to straighten the car up again as smoothly and confidently as you like.
But the Mégane's exceptional handling balance and incisiveness can't be solely created by that steered rear axle, because it feels superbly pointy and poised when cornering well beyond 62mph. Judged strictly on cornering poise alone, and on a surface flat enough to suit it, this car definitely sets a new dynamic benchmark in the hot hatchback class.
But is that enough to depose our current hot hatchback class champion – the Honda Civic Type R? Straight away on hopping from the Renault to the Honda, the certainty that the eagerness of the former's handling gave you begins to be eroded by the sheer completeness of the latter.
The Civic starts by winning the battle of the basics. Its driver's seat clamps your backside more firmly in place than the Mégane's, and it positions you in front of better-placed primary controls and instruments. The Renault frustrates with high-set pedals; a steering column short on reach adjustment; even a central digital rev counter and speedo that's actually offset by about an inch from the centre line of the seat and steering wheel. Better that the dials be offset than the whole steering column, I suppose; but even so, among big European car makers, perhaps, I'd bet only Renault could get that wrong.
Over your first few yards on the move, the Honda's relative mastery of the details keeps flooding in. Its round aluminium gearlever is more tactile than the Mégane's, and its action is all slickness and precision compared with the slightly snatchy-cum-stretchy shift quality of the Renault. The Honda's pedal weighting is better, its brakes easier to modulate. And where the
Mégane's steering feels a bit light and gives you little extra to push against as the front axle bites, the Civic's has the weight and feel it needs to inspire confidence.
Out on the same B-road where the Mégane has dazzled but also deflected, distracted and occasionally discouraged, the
Type R inspires loads of confidence. It's a performance car with so many sources of strength – one that's as composed as it compelling to drive. And every time I drive one, I end up more convinced than I was before that it deserves a rank among the very best real-world driver's cars available for any budget at the moment.
The Honda's 2.0-litre VTEC Turbo engine not only feels stronger than the Renault's boosty-going-on-breathless 1.8, but it sounds better, responds more quickly and revs with more freedom too. But it's the car's meaty, trustworthy steering; its superbly judged ride (which juggles bump absorption against body control so expertly for fast road driving); and also handling that's at once tenacious, adjustable and vivacious – but is stable and assured with it. It's that combination that made the Honda Civic Type R the standout affordable performance car of 2017, and it's why you'd take one even ahead of a new Renault Mégane RS 280 in 2018.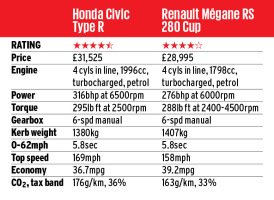 This was supposed to be a clash of titans; an unstoppable returning force in the hot hatchback ether running up against an immovable incumbent champion. But a back-to-back blast at Autocar's local test track confirms the undeniable verdict that's been etched, all morning, all over the B-roads bordering Oxfordshire, Berkshire, Wiltshire and Nowhere-in-particularshire. 'One trick' might be enough for wingers, but it's not enough to win back the Mégane RS's old laurels. The all-conquering Type R's reign rolls on. A

PHOTOGRAPHY Stan Papior