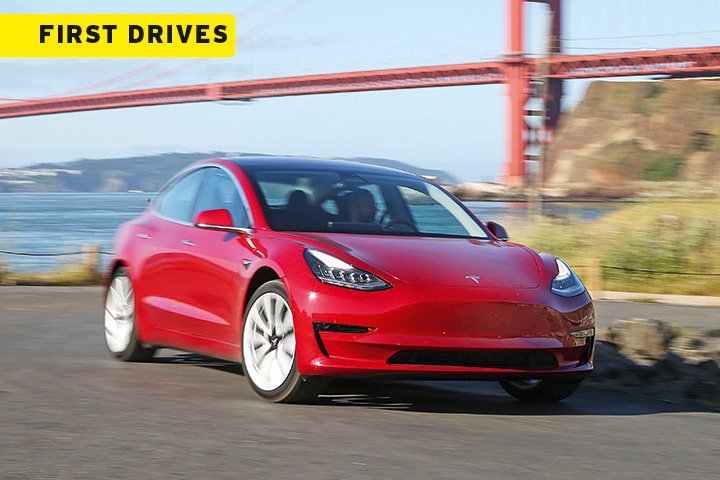 Tested 4.5.18, USA On sale Early 2019 Price £40,000 (est)
Lowest-priced, largest-volume Tesla yet has wooed and wowed the buying public in the US. Should UK buyers join the queue?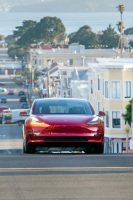 Elon Musk wants to start a candy company. Yes, the CEO of Tesla (and SpaceX, once of PayPal) is, apparently, deadly serious about this, he tweeted the other day. Thus it means it has "never been harder to be a parody account", according to a perpetually amusing Elon Musk parody account that presents ideas as if they were from a bored Elon.
This stuff makes it hard, sometimes, to separate the noise around Tesla from the substance of Tesla. There's more hubbub, more hype, more anti-hype, more short-selling of stocks, both more hoo-ha and doubt, more nonsense surrounding the company than
there is any other vehicle maker. More scrutiny than there is around even Volkswagen. Despite, y'know, the obvious.
To the chase, then: this is the Model 3, the third current and fourth ever Tesla production car. Originally, there was the Roadster, developed with help from Lotus; and currently, there is the Model S luxury hatch and Model X SUV, both seven-seaters. This 3 (Tesla would have liked it to have been called the Model E, but Ford nabbed the trademark) will be supplemented by a Model Y crossover later still – Tesla says two years, I suspect more – so the range will include 'S3XY' models. You can see what they did there. The auto industry doesn't do enough humour, to be fair.
You can imagine a broad range of competitors. None as yet will do you zero tailpipe emissions
Oh, and Tesla plans to add another Roadster later, and an articulated truck. Plus, Musk-wise, there are the sweets, and those SpaceX reusable space rockets that land on barges, and solar roof panels, tunnels, hyperloops and flamethrowers, among myriad ventures.
How would you feel about all of that if you'd ordered a Model 3, production volumes of which are still somewhat mired in the "production hell" Tesla talked about last year? Frustrated? Maybe. Well, they know it.
So, here it is, anyway. The Model 3 is, as every Tesla is, a fast electric car with a convincing range. It's Tesla's first affordable, high-volume car, although both 'affordable' and 'volume' still need work: it's $35,000 in the US, with a UK price still to be confirmed. And although Tesla's already building more of these than anything else, it's still not by enough. At the moment, the factory in Fremont, California, is turning out around 2200 cars a week, which sounds like a lot but falls short of the 5000 cars a week Tesla wanted to be making by now; and the 10,000 a week it would like to build eventually.
Right-hand-drive UK variants won't arrive until next year, at the earliest, after left-hand-drive exports start, so we took it upon ourselves to fly and taxi to Fremont to try one.
At the moment, not only are all 3s left-hand drive, but they're also of the highest mechanical and trim specification – although neither of these is unusual when you want to capitalise on early orders, of which there are around half a million.
If you're looking for a rival, consider the BMW 3 or 5 Series, depending on your outlook. The Model 3 is a five-seat saloon and 4.7m long, which puts it a toe width longer than a 3 Series, although it's more spacious inside, hence the 5 Series comparo. There are fewer mechanical shenanigans to package, which is why there's good interior space and a boot at both the back and the front.
The platform is different from the Model S's and X's, although it's of a similar 'skateboard' layout. At the front are double wishbones and there's a multi-link set-up at the rear, with coil springs all round. The batteries run along the floor, pretty much axle to axle, and there's a steel/aluminium body atop. In its base form, the car gets a 220-mile range on the US combined drive cycle (European range to be confirmed), which Tesla is now just calling a Standard Battery, on account of the kWh rating apparently being too baffling for most consumers. It's about 60kWh, anyway, although there's a Long Range Battery option of around 75kWh (actually, it's bigger than that but 75kWh will be the usable portion), which will have a 310-mile range. Less when it's cold, and less when it's old, obviously.
There's a single electric motor at the rear – making around (Tesla doesn't quote a figure) 271bhp and 307lb ft (from rest) – driving the rear wheels, allowing the big-battery version to do 0-60mph in 5.1sec and reach 140mph, it's claimed.
The basic US price equates to £25,000 at today's money, but it won't be by the time the Model 3 arrives, partly because cars are cheaper in the US and partly because all cars at the start, and most of them, presumably, thereafter, will have the big battery ($9000) and a Premium Upgrade package (including heated, power seats, uprated trim, better audio, more storage, a tinted glass roof, and so on, at $5000). Our test car, also given metallic paint, 19in wheels and 'advanced autopilot', rolled up at $57,000 (£42,000).
The Model 3 isn't the perfect car but what is? After two days, I rather liked it
Its pricing and strong performance are why you could imagine a fairly broad selection of competitors. None as yet will do you zero tailpipe emissions, but they will by the time the 3 goes on sale here.
Meantime, though, load an app on your phone and slip a card into your wallet, and that's all the key the Model 3 requires. The door handles are conventional, rather than the auto-pop-out versions on the larger cars, and they open conventional doors onto one of the most airy interiors this side of a car with no roof. An uncovered sunroof at the front and a rear window that stretches up into the roof give strong head room, while across the dashboard sweeps a big wooden panel, above which is one big, heavily diffused air vent.
Fit and finish are fine. Centre stage is a 15.0in monitor that could have been swiped off your work desk. There are column stalks, two multi-function buttons on the steering wheel and a hazard-warning switch on the roof, required by law. And no other buttons. Everything is controlled via the touchscreen.
Genius or infuriating? Honestly, a mix of both, but mostly genius. The touchscreen is quick to respond, software downloads occur every few weeks once you've approved it via the app, satellite mapping is by Google Maps so traffic monitoring is brilliant, and the whole menu system is intuitive.
The downsides are that if you don't want things to happen automatically or you want to change something – headlights, air conditioning, door mirrors – it's rarely the work of a moment. And given there's inevitably some body movement, you have to brace your hand against the screen edge. But if you're a touchscreen convert, it's as good as it can be.
I'm not sure the seats are. They're flat and a touch unsupportive, but the driving position's generally sound. The wheel stretches out electrically – go to a sub-menu, use one of the steering wheel nipples to adjust it – and is, at two turns between locks, although slower around straight-ahead than when lock's applied, easily responsive. You can change the weight, if you want – light, medium or heavy – but medium is best.
I'll tell you something too: I really like electric powertrains. I know, I know. Like you, I also rather like flat-plane-crank V8s with tiny flywheels. But if you want the ultimate in powertrain refinement, electric take-up is the way. A Rolls-Royce Phantom is arguably smoother, on account of superior and relentless tuning in that department, but I think this is the next best. Which is not a bad comparator. You can turn creep on or off, and have a long throttle pedal or a normally responsive one, and light or normal levels of regenerative braking when you lift off. And once you get attuned to the level of acceleration (brisk) and deceleration (also brisk) the Model 3 delivers as you flex your ankle, it's really rather compelling.
Less clever is the ride, despite some relatively unremarkable chassis characteristics. The Model 3 can't fit the really high-range batteries of the Model S and X owing to its smaller size, but it still maintains a lengthy 2875mm wheelbase, and the weight is a not unreasonable 1730kg (1610kg with the smaller battery). And even though most of its heft is situated low in the chassis, the Model 3 on 19in wheels manages to both ride with the jitters and yet take a moment to settle over bigger crests.
Odd. Maybe it's heavier, after equipment, than the claims. Or perhaps it's another electric car that doesn't get ride quality right. Yes, I know 1730kg is a fair whack, but with a low centre of gravity and a pretty even 48/52 front-to-rear weight distribution (1% more to the rear on the Standard Battery), I'm not sure why it shouldn't be better.
Still, it's far from bad: just don't expect 3 Series levels of control. On a twisting road, you'll find that the Model 3 steers convincingly and grips pretty well. It's not a sports saloon, not in handling terms, anyway, but it is a capable one.
Because of the instant torque, because of the seamless delivery, it's quick too. The Model 3 is not the perfect car, but what is? After two days in it, I rather liked it. And that's my gig: to separate the metal from the noise. Some people have shorted Tesla stocks and have an interest in it failing, some people say it's grim to work there, and some people evidently have an interest in it succeeding – not least the 40,000 people who work there.
I don't know. If you create a company and take on 40,000 people, set about a new dealer network, install more than 6000 very fast chargers and embark on creating the world's largest battery factory, you earn yourself a certain amount of credit. But you've got to build cars properly one day.
But this kind of talk is for people who care more about arguments and less about metal than I do, so I can't help with that. Ultimately, a manufacturer lives and dies by the quality and desirability of the cars it turns out, and that bit I can advise you on: the Model 3 is both credible and desirable.
MATT PRIOR
HARDWIRED FOR AUTONOMY ALREADY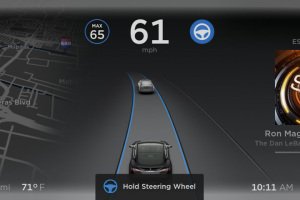 Autopilot currently does what software and legislation allow it to: act as an adaptive cruise control system with lane-keep assist.
It's pretty simple to operate. Once on the open road, you tap the gearlever, which will already be in 'D', to 'D' again to activate the radar-controlled cruise. Via the right nipple on the wheel, you can adjust the distance it'll leave to the car in front. A double pull to 'D' also activates the steering assist. There's a graphical display on the monitor of where other traffic is and it's one of the most aware systems I've tried.
Tesla says the hardware is already installed for when full autonomy – Enhanced Autopilot, $5000 – is permitted. There are eight cameras, 12 ultrasonic monitors and the forward-facing radar, and a new software programme could enable the car to operate autonomously. Tesla thinks this is all a car will need for Enhanced Autopilot, for use on a freeway and when parking, and indeed even for full self-driving (another $3000).

Tester's note
Some buyers have complained about the lack of oddments storage in their Model S, which is why the 3 gets a centre console full of cubbies, even though there's no mechanical need for a transmission tunnel. MP
TESLA MODEL 3 LONG RANGE BATTERY
It's capable through bends, quick to accelerate along straights and desirable on the move or when parked


Price  £40,000 (est)
Motor  Permanent magnet
Battery  75kWh
Power  271bhp
Torque 307lb ft
Gearbox Single speed
Kerb weight 1730kg
0-62mph 5.1sec
Top speed 140mph
Range 310 miles
CO2, tax band 0g/km, 13%
Rivals BMW 3 Series, Jaguar I-Pace

ELON MUSK AND TESLA: THE FACTS
Elon Musk, 46, was born in South Africa, college educated in Canada and the US and moved to California to begin a PhD in 1995 but gave up to co-found a software company, Zip2. He sold that in 1999 and founded X.com, which merged with PayPal, both of which were later sold. He founded SpaceX in 2002. Tesla was founded in 2003 and Musk came on board in 2004 and is still – at a little over 20% – its largest shareholder.
The Tesla factory in Fremont was formerly a GM facility and is the world's third-largest building by footprint. It means that, with the Nevada 'Gigafactory 1' for battery production, Tesla owns two of the world's 10 largest buildings by surface area.
You can charge a Tesla at any electrical socket, but its network of Superchargers – now up to 9500 – are the quickest. We saw a charging rate of 360 miles per hour in California but, unlike with the Model S and Model X, charging at them won't be free for Model 3s. It'll likely cost a tenner for a full fill in the UK.
Last July, when the first customer Model 3s were delivered, Musk talked about entering "production hell", with "when will my car be ready?" being the question most asked of him. Hell still isn't over, and a significant part of its cash haemorrhage is down to attempts to ramp up production.
In the past quarter, Tesla lost £578m, although its revenue rose to £2.52bn. Both were better than expected. If it can raise production levels, it thinks it can get through the year without having to raise more cash, of which it currently has £1.99bn.