Tested 25.4.18, Germany On sale Now Price £141,346
This could be the best 911 of its generation: 513bhp of normally aspirated, screaming flat six to shift a lightened car on honed, race-bred underpinnings
Details, details, details. Yes, there's a new Porsche 911 GT3 RS and that means there are lots of them. This is how GT Porsches go.
Is there a more consistent, more progressively evolutionary range of sports cars? GT comes, GT goes, probably a 3, maybe a 2, sometimes an RS, another GT arrives. All towards the latter end of a particular 911's model cycle. All with minor but significant upgrades over the last. And, usually, redefining just how lovely you thought a driver's Porsche could be.
The latest evolution comes in the form of the ultimate naturally aspirated '991.2' generation of the 911, if you like these codes (and they seem to be the only way to keep up, sometimes), which will remain on sale until this generation of the 911 goes out of production next year.
So, of the 991 type of 911, there was the first-generation GT3 and GT3 RS, then second-generation GT3, then turbocharged GT2 RS, and now GT3 RS, the 911 with "the closest link to motorsport we have ever had", says GT boss Andreas Preuninger. That's saying something, given the first ever GT3 RS, the 996 (do keep up), was created solely because Porsche needed to homologate two suspension uprights for its race cars. The engineers thought they might sell 700 and ended up shifting a couple of thousand. So these days, marketing people as much as engineers drive the GT models forward.
If something's happening, it's usually to one pair of wheels or the other, not both together
This generation of the GT3 RS, priced from £141,346, is not limited, per se, in volume, but there won't be enough for everyone. They can only make so many alongside the regular 911s people also buy. Impending emissions regulations will also limit the numbers that can be registered in the EU – 1000 by this September, more next year, while Porsche works out supply deals and then seems generally surprised how many people want these specials. Magnesium wheels, for example, mean that until 2019 you won't be able to specify a 'Weissach package' GT3 RS, which sheds 28kg on top of an already lightweight build, because the magnesium wheels – of exactly the same size and design apart from the inscription on them – are all needed for GT2 RS models, on which everybody is specifying the Weissach option, again to Porsche's surprise.
But I'm getting slightly ahead of myself. Easily done with a car like this: you start talking about one thing, and get lost into the web of details that takes you to.
For example: the NACA ducts on the bonnet. Just two small inlets. They suck air inwards and force it down to the brakes, but from there, we can talk brakes or drag or downforce. Brake-wise: you can get standard steel discs or upgrade to carbon-ceramics, which are lighter but considerably more expensive; so if you're spending loads of time on track, it's worth keeping the steels, perhaps counter-intuitively. Drag? Those NACA ducts shove cool air into the wheel arch, but high-pressure air in the wheel arch is a bunch of air you don't want, so the wheel spokes are designed like rotors to fan air outwards, sucking it out of the arches. That reduces not just drag but also lift, as does the fact that, thanks to those bonnet ducts, vents in the front bumper that would have been used for brake cooling can instead direct fast-moving air to the underbody, and fast-moving air is good because it creates a low-pressure area, which aids the creation of downforce. The wider sills create a larger underfloor area for the same purpose, as does a rear diffuser.
And so it goes on: every detail leads to a hundred other things, all of which offer tiny percentage improvements in performance and handling, and added together, they represent a step change over the models they complement or replace. It's hard to know where to begin and end.
In short, though? The GT3 RS is a 4.0-litre, naturally aspirated 911 whose 513bhp engine is a lot like the 911 Cup race car's. There is rose-jointed suspension like a GT2 RS (and Cup car), spring rates close to the 911 Cup's and almost as much downforce as a Cup car (see separate story, below). To convert from road car to race car is closer here than in anything this side of a Caterham. (Bar a Citroën C1, perhaps.)
My first mobile experience of the GT3 RS, though, comes as a passenger to Walter Röhrl – the world's fastest septuagenarian and a man who has been helping develop GT 911s for years – around the Nürburgring GP circuit. He's such a dab hand that he looks like he could be driving to the shops, were it not for the fact that the engine is wailing to the 9000rpm limiter, the angles are sometimes unusual and I feel queasy.
There's this sharp left-right bend, after which, on a long straight, Röhrl says "the turn-in is just so… ah" and removes his hands from the wheel and rubs his fingers together in what I take to be a visualisation of words that should be banned by Autocar's style guide for being too cringeworthy: grainy, nuggety, deftly pointed. GT Porsches are unique among cars with roofs in the way they let you feel the integrity of their engineering, which manifests itself in a bloke who won the Monte Carlo Rally in a Lancia 037 going slightly gooey at the knees.
No coupé from another manufacturer runs a GT3 RS remotely close
To the knees of those of us who haven't won the World Rally Championship (twice) and their class at Le Mans, I suspect the GT3 RS will do the same. The driving position and environment are pure fast Porsche: lots of Alcantara if you want it (GT Porsches are unaffected by the factory's apparent shortage, being higher up the priority list than some hatchbacks), superbly supportive fixed-back seats and a steering wheel that reaches far and is, praise be, round. There are only two pedals, well spaced, what with a dual-clutch PDK gearbox being standard, and, my goodness – what's this? – a key to start it with. You turn it: it begins. Who'd have thought?
The engine is zingy, revvy, and responsive as only a naturally aspirated unit can be. It does things at low revs like make the car accelerate modestly, I'm sure, but my initial drive is only a few laps and they'd like me to keep up with a GT2 RS driven by somebody who knows what they're doing more than I do, so I have to use the lot. And don't turn the stability control off, they say. Which is fine because, halfway through, it starts raining.
In the dry, though, the GT3 RS is extraordinary. The rose-jointed suspension feeds road feel back to the steering wheel remorselessly, yet – as in the GT2 RS – without evident kickback or corruption over kerbs and whatever poor surfaces you can find on a grand prix circuit. It's absurdly agile too. This is a 1430kg car, around 40kg lighter than a GT2 RS as standard, albeit a bit more if you get a Clubsport pack, which adds a half cage, although if you then specify the Weissach package, that becomes titanium, so this weight issue becomes slightly tricky to keep up with.
But I suspect it's where Porsche has reduced weight as much as how that gives the GT3 RS its basics: there are carbonfibre elements in the suspension, the roof is magnesium as standard, carbonfibre with the Weissach pack, the front wings are carbonfibre and the bumpers front and rear are both light. Porsche has reduced mass at the top of the car and at its extremes.
The rest of the brilliance is down to the tuning: there are 275-width front tyres on 20in rims, and active rear steer, so that this rear-engined car "feels almost mid-engined", says Röhrl. The most notable difference between a GT3 and a GT3 RS is typically the more extreme car's willingness to turn and its resistance to initial understeer. That trait is ever present here.
Mid-corner, then, the balance is terrific, albeit sharp. You can unsettle the rear end as you turn, and you can unsettle it under power too – and so quick is the engine response (and aggressive the Pilot Sport Cup 2 tyres) that in the damp you can do that before you've even thought about it, although you'll find a fair degree of understeer first.
This is not a car that tends to let go all of a piece, evenly balanced at either axle, with all of its weight in the middle, like a Ferrari, or with a lump of weight over both ends, like an Aston Martin or the BMW M4 GTS – a car of whose easily manipulated handling I'm particularly fond. If something is happening in a GT3 RS, it's usually to one pair of wheels or the other, rather than both together, and it can happen to either end at any given point in a corner.
All the more surprising, then, that when the fast laps finish and they let me go out to drive some cornering passes for our videographer, when I can turn everything off, the GT3 RS is easily controlled at its limit, thanks to, well, a highly tuned combination of everything: impossibly well-controlled body movements (you can firm up the dampers if you want); active engine mounts that lock while cornering; a rear steer system that knows to stay well out of things when it detects slip; steering that tells you absolutely everything; a good degree of steering lock; a gearshift that changes in an instant; and a throttle that's so minutely, linearly responsive that I swear, if there was an engine output meter on the dashboard, you could flex your toes to deliver a single extra horsepower. Melded together, all of this is intoxicatingly brilliant.
If you want to know, then, which modern driver's cars deliver more interaction, more mechanical feel and greater responsiveness than a GT3 RS, we'll end up talking about Caterhams, Radicals and other lightweight specials. No coupé from another manufacturer runs a GT3 RS remotely close.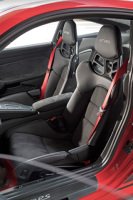 How good is it compared with its closest competitors: Porsche's own GT cars? It has been a long while since I drove a previous-generation GT3 RS so I'm only faintly remembering that the new car is not just more responsive but also more rewarding and more talkative than that. But, for me, not even a GT2 RS can match this new GT3 RS: and that is, bluntly, this car but with even more power thanks to a heavily turbocharged engine. While I don't think the GT3 communicates any better than a GT2, the messages it does transmit are superior: you can feel that it's lighter, more willing to turn, easier and more satisfying to ease onto the throttle and keep it pinned. It's why this car is only a few seconds slower than a GT2 RS around the Nürburgring Nordschleife despite being almost 200bhp down.
Yes, power is wonderful. But lightness is better. And in the form of the GT3 RS, it goes into creating – little by little, detail by detail – what might just be the best driver's car currently on sale.
MATT PRIOR
ALMOST AS MUCH DOWNFORCE AS A CUP RACER

The work being done on road car aerodynamics, by ducting air over, under and through body panels, is at new levels these days. And the GT3 RS is no exception: it makes almost as much downforce – 480kg at the car's top speed – as a Cup race car but has more aerodynamic efficiency; as in a lower coefficient of drag.
Take the rear wing: its new, angled uprights close in as they approach the rear of the wing, narrowing the area that air passing over and under it has to operate in, thereby increasing its speed and the wing's efficiency.
There are two angles to it: a regular one and a higher-downforce setting. But if you raise the angle of the wing for more downforce, you should also remove a panel beside each front wheel arch, which is the work of a few moments with a wrench, because this makes air flow to the underbody to increase downforce, balancing out the increase in rear downforce.
Trouble is, the car's homologated fuel consumption has been measured in the 'low' downforce setting. So, strictly speaking, you shouldn't do it on the road – where, to be frank, speeds are such that downforce isn't really an issue anyway.
Tester's note
The first PDK systems were on the clunky side. Today, shifts happen so quickly that the whole show might as well be a pure sequential 'box. MP
Porsche 911 GT3 RS
Incremental changes bring even more intoxication to the brilliant GT Porsche series


Price  £141,346
Engine  6 cyls, 3996cc, petrol
Power  513bhp at 8250rpm
Torque 347lb ft at 6000rpm
Gearbox 7-spd dual-clutch automatic
Kerb weight 1430kg
0-62mph 3.2sec
Top speed 194mph
Economy 22.1mpg
CO2, tax band 291g/km, 37%
Rivals BMW M4 GTS, Radical RXC