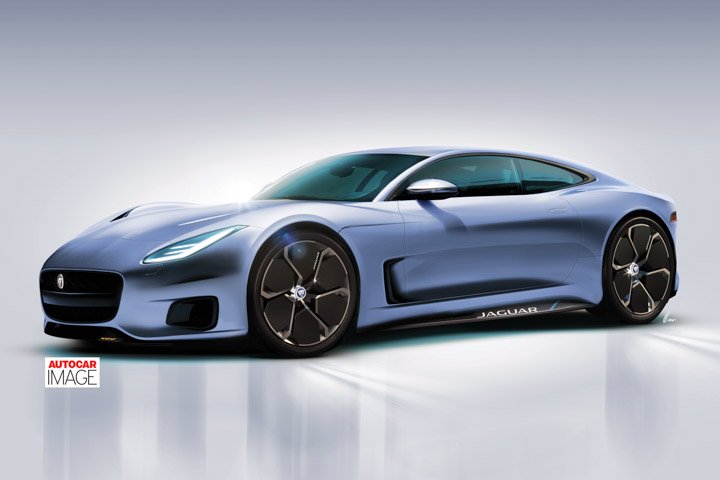 Elegant 2+2 XK flagship looks set to join a new F-Type in Jaguar's sports car line-up
Plans to relaunch the Jaguar XK are gathering momentum, with the firm's head of product strategy confirming that it is working on a proposal for a whole family of sports cars.
Hanno Kirner, who oversees product strategy for the next decade at Jaguar Land Rover (JLR), told Autocar the company remains committed to the sports car segment, despite the Jaguar E-Pace and F-Pace SUVs dominating the firm's sales. In 2017, the F-Pace accounted for two-fifths of all Jaguar sales. The XK was discontinued in 2014.
"The F-Type has been a huge success," he said. "We love sports cars – and I use the plural quite deliberately. Whether that is delivered by a body variant or something else remains to be seen, but for now let's just say that the body type is very important for us."
The latest XK project is believed to be entirely new and unlikely to be launched until at least 2021
Kirner's comments echo those of Jaguar's head of design, Ian Callum, who has often spoken of his personal desire to develop a family of sports cars. Last year, Callum hinted that work on a re-envisaged XK had begun when he told Autocar: "I want a two-seater [the F-Type] and a 2+2. We're working on something now. There's nothing approved, but we instigate in design."
It is believed that Callum's team completed a design concept for an XK replacement prior to the second-generation model being axed. However, the latest project is believed to be entirely new and unlikely to be launched until at least 2021.
Both Kirner's longer-term planning role and his comments suggest the creation of a new sports car family is dependent on JLR's next-generation platform strategy. Today's F-Type is based on a heavily modified version of the discontinued XK's platform and is due for replacement in around 2019. The new F-Type is expected to use a development of that architecture, which is believed to be flexible enough to be adapted back to a 2+2 layout.
"I love the idea of a flexible architecture that can give us anything," said Kirner.
Both the F-Type and the XK would likely get hot iterations including range-topping SVR derivatives
Kirner also talked up the possibility of developing future platforms to be flexible enough to accept multiple powertrain types. However, it isn't clear if this would apply to next-gen sports cars, because it is not certain if even the latest modified underpinnings could be adapted for a plug-in hybrid powertrain's ancillaries.
"There is an argument that says hybrid sports cars might cater for both the environment and the excitement such cars deliver," he said. "A lot of people like the sound of an engine. That's a fact, and it is a defining part of a sports car.
"I absolutely believe that there will be electric sports cars one day, but I also believe there may be a different step of combining the battery and an engine. At Jaguar, all I can say for now is that we will continue to invest in sports cars."
Initially, it is expected that the next F-Type – and by association the reborn XK – will be powered by JLR's regular family of Ingenium engines. These would include the entry-level four-cylinder 2.0-litre turbocharged petrol unit with 296bhp and straight six powertrains in various states of tune. The latter engines would replace the Ford-sourced V6s, as found in the current F-Type.
Both the F-Type and the XK would likely get hot iterations along the lines of those available today, including range-topping SVR derivatives tuned by JLR's Special Vehicle Operations division. The F-Type SVR uses a 5.0-litre V8 with 572bhp and covers 0-62mph in 3.7sec, although the extra weight of a four-seater would increase this time slightly.
Upon its launch in 2012, the F-Type was regarded as crucial to Jaguar re-establishing its credentials in the two-seat sports car market. Although overall sales have been modest in the context of the firm's other models, they have held steady in Europe throughout the car's lifetime and grown substantially in some markets, including the US and China.
The F-Type was also seen as critical to underpinning Jaguar's heritage as a sports car maker prior to it branching out into the booming SUV segment. With the market set to become ever more crowded, achieving differentiation by playing to authentic brand values is increasingly viewed as critical by established car makers. Additionally, at one stage, three-quarters of sales of the F-Type convertible were to buyers who were entirely new to the Jaguar brand and, as such, the model was hailed for breaking established views of the manufacturer's cars.
JIM HOLDER

HOW WILL THE NEW XK SHAPE UP?
Matt Saunders
By these latest signs, it may already be too late for Jaguar to develop an all-new sports car platform on which to base the next F-Type and the XK replacement. That's an opportunity missed, since sales volumes of these cars are so small that no single new model is likely to justify a big investment all on its own.
Still, while adapting an already adapted architecture that, at least in part, has been in service since 2005 may not sound ideal, an inherited all-aluminium monocoque needn't necessarily be a handicap for the XK. It'll depend how thoroughly – and cleverly – Jaguar can update it.
The firm could certainly do with a platform that might save a few kilos for the car, given the likely move away from V8 to in-line four- and six-cylinder engines for the bigger-selling XK derivatives. The last XK's engines certainly supplied a lot of mechanical richness and authentic sporting character – something the current F-Type's V6s also do well. I suspect making the new Ingenium powerplants just as enticingly sonorous and expressive will be a key challenge for the XK's engineering team.
I don't doubt that Jaguar's design team will relish the chance to make a more classically elegant coupé than the more rakish and aggressive F-Type, mind you. Jaguar design boss Ian Callum certainly has the right CV for the job.
XK'S EXALTED PLACE IN JAGUAR HISTORY

The XK badge is significant for Jaguar and is considered to mark the start of its sports car story with the arrival in 1948 of the XK120 two-seat roadster. The life of the XK120, XK140 and XK150 spanned 12 years and incorporated roadster, fixed-head coupé and drop-head coupé versions, before being replaced by the E-Type in 1961. The original XKs used a 3.4-litre six-cylinder engine with 180bhp and 203lb ft.
In October 1952, Autocar road tested the XK120 coupé and said its 121mph best speed "makes the XK coupé's road test performance just about the fastest to be recorded". The author added that on Alpine roads and passes, "the car is completely at home and responds to every wish of the driver. There are very few cars indeed that can pass an XK coupé that is really in a hurry." Our test car cost £1255 with an optional £33 radio.
A new era of XKs was launched in 1996 with the XK8, which replaced the XJS. Available in coupé and convertible guises and with a new V8 engine, its major difference with the historic XKs was its 2+2 layout. A hot XKR followed and then an updated XK was unveiled in 2006. An even faster variant, the XKR-S, was launched in 2012, two years before the car was axed.
DRIVER'S CARS WILL THRIVE DESPITE GREATER AUTONOMY
Enthusiast drivers are going to have more choice than ever before as autonomous technology is developed because car firms will be able to increasingly polarise their line-ups, according to Hanno Kirner, Jaguar Land Rover's head of product strategy.
Kirner believes that while many people will be happy to use autonomous cars day to day – as taxis and shared or owned vehicles – many keen drivers will want to have vehicles they can get behind the wheel of for fun.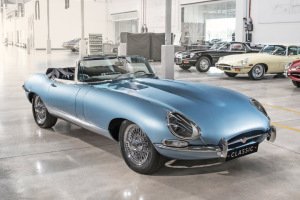 "Whether it is SVO [JLR's performance arm] recreating classics to modern standards or creating track-day specials, I think it will grow as autonomous driving becomes a regular part of lives," he said. "I don't for one second think we'll see a generation appear with no interest in cars. Driving enthusiasts will still exist and we'll want to engineer cars for them.
"Today, we have more demand than we can satisfy for such cars and I don't expect that to change. Yes, there is a generation that is more interested in their phones than anything else today, but they will grow older and want to drive one day."
The emergence of the SVR brand also casts doubt on whether Jaguar will continue to create R models as a stepping stone between hot S and extreme SVR models. Insiders say the three-tier performance line-up is proving too complex for many buyers.