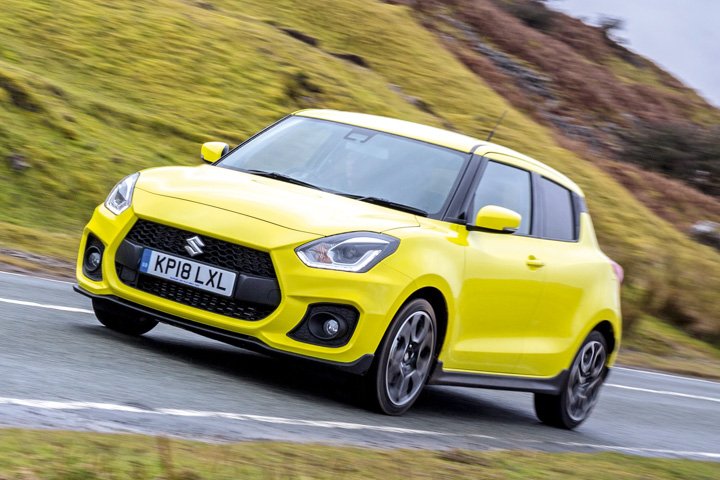 Tested 11.4.18, Spain On sale now Price £17,999
The Japanese driver's car no longer seems to be the buyer-on-a-budget's car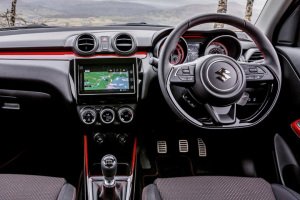 Pleasant surprises of an affordable nature? Not a common occurrence in this industry, but the Suzuki Swift Sport of 2006 was such a thing. So was its replacement six years later, and now we have a third iteration that seeks to prolong the car's reputation as a bit of a driver's gem.
The recipe has, alas, changed a little. The old car's responsive, atmospheric 1.6-litre engine is replaced with a downsized but marginally more powerful 1.4-litre that already serves in the high-riding Vitara and S-Cross models. The headline figure of 138bhp is almost incidental in this case, because forced induction has resulted in 170lb ft. That's almost half as much again as the previous Swift Sport, and it alters this car's character markedly.
This new car is even lighter than the one it replaces. Built alongside the Ignis and quirky Xbee crossover at Suzuki's Sagara plant in Japan, the saving amounts to 70kg – a substantial deficit brought about largely by redesigning certain suspension components, not least the torsion-beam rear axle, and a more bulbous but stiffer body. It drops the Swift Sport into sub-tonne territory and gives it a 0-62mph time of 8.1sec.
To behold, this car is still recognisably Swift but more hulking at the kerbside. The dimensions are largely unchanged but the chassis sits 50mm closer to the tarmac, with carbon-effect bumpers and skirts exaggerating the drop. Suzuki also claims new intake strakes along with engine and floor undercovers help reduce wind resistance by a tenth. You do, however, still get a pair of cannon-esque exhaust tips and 17in wheels wrapped in 195-section rubber.
Once aboard, you're met with a driving position that's slightly perched in a manner that seems almost unavoidable for peppy superminis. It's good for the segment, though. The no-nonsense cloth seats are also firmly bolstered and cup the base of your ribcage just so. There's adequate adjustability in the steering column and it doesn't take long to recognise that whichever design engineer positioned the pedals clearly understands life's simple pleasures.
This turbocharged engine – with its curiously tinny off-throttle rattle – is unremarkably effective, hitting hard from 2500rpm, but out on the road the Swift Sport remains an enjoyably honest thing to drive with commitment. The rear trailing arms have been redesigned to reduce roll and improve stability but this chassis will still pitch into rather a deep squat given the opportunity. It feels natural to turn in late, hard and before relinquishing either plenty of brake or throttle. You're then met with impressive front-axle grip, which allows you to carry a higher gear through most corners and let the torque, which has relatively little weight to fight against, sling you out the other side. That crucial handover from damper compression to rebound also feels unusually well cushioned for the class, and so there's control to match the compliance.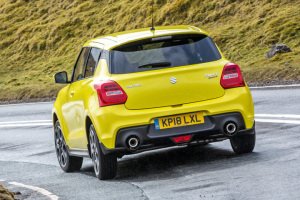 There are some caveats, though. Suzuki may have diligently hollowed the steering rack to save weight but it's a relative weak spot of this package. Its strong self-centring action quickly becomes wearing and it lacks the directness of what you'll find in a Mini. Meanwhile, the shift quality of the six-speed manual gearbox is short and tactile but vapidly light. A softness in the suspension that allows this car to ride with impressive maturity during normal driving means lateral body control isn't quite as sharp as you would sometimes want.
The appeal of this car will depend on your expectations, and your budget. The increased asking price is now nudging £18,000, so while it remains a fine little driver's car, it's no longer the cheerful, overtly effervescent value proposition it was.
Tester's note
We're expecting great things from the new Fiesta ST, and Ford is hoping to sneak it under £20,000. That'll make life hard for the Swift, entertaining as it is to grab by the scruff. RL

Suzuki Swift Sport
Remains a likeable supermini and a creditable driver's car, but the pricing should give serious pause for thought



Price  £17,999
Engine  4 cyls, 1373cc, turbo, petrol
Power  138bhp at 5500rpm
Torque 170lb ft at 2500-3500rpm
Gearbox 6-spd manual
Kerb weight 975kg
0-62mph 8.1sec
Top speed 130mph
Economy 50.4mpg
CO2, tax band 125g/km, 26%
Rivals VW Up GTI, Mini Cooper One, Ford Fiesta ST