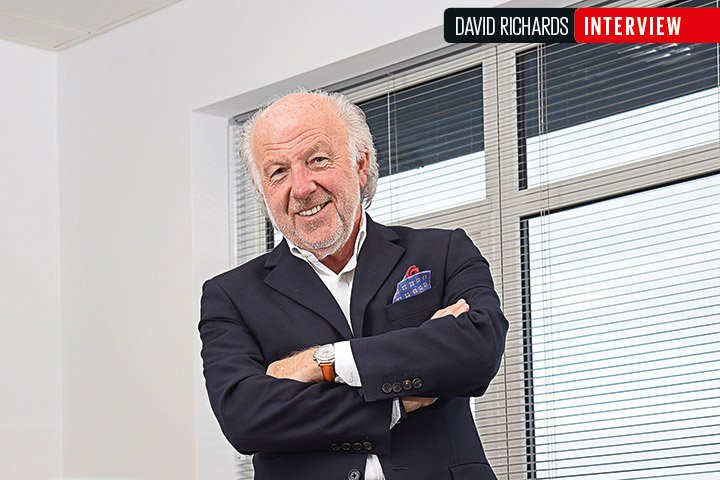 Although its business interests have diversified, Prodrive's motorsport heritage continues to give the engineering group a competitive edge, David Richards tells Mark Tisshaw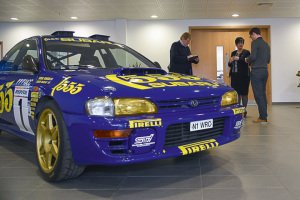 I've always looked at ambulances as heavy, old technology. How do you bring them into the modern era? That's what we're working on next."
David Richards, the boss of the Prodrive race team and engineering company he set up in 1984, is nothing if not diverse in his business. While closely associated with high-profile World Rally Championship (WRC), World Endurance Championship (WEC) and Formula 1 campaigns, the Prodrive of 2018 is very different to the company from the days of Colin McRae and Richard Burns piloting Subaru Imprezas to rally titles.
So diverse is Prodrive today that Richards says its core business has now moved beyond motorsport, while still being informed by it: "It's now the racing culture, the DNA that comes from it. Everything we do is approached with that racing DNA."
The company still races – in fact, it runs Aston Martin's works entry with the new Vantage in the WEC, and has just designed and developed a new Renault Sport Mégane for an assault on the World Rallycross Championship. But these days Prodrive is busy making hybrid Ford Transit vans and ambulances, being involved in the development of America's Cup racing boats and folding bikes, and working on elements of high-performance cars such as the McLaren P1 and Aston Martin Vulcan.
We were going to run an F1 car with McLaren. We might have been bankrupt at the end of it
The ambulance project is born out of a job recently completed by Prodrive: the hybridisation of the Transit van. The Banbury-based firm designed a range-extender hybrid system to integrate into Ford's 1.0-litre Ecoboost engine. It proved to be a surprisingly tight fit, even in the engine bay of a Transit.
"You'd assume there was plenty of room, but it was very tight under the bonnet," says Richards of the project, which brought together several partners including Ford, the Advanced Propulsion Centre and Transport for London. The 27 vans have now been built and are being tested around London, a process designed to evaluate the viability for production and to assess the opportunity to reduce pollution in the UK's vans fleet.
The Transit project is a poster child for Prodrive's abilities. "We're good at conceptual work and bringing multiple parties together," says Richards. "It's not just cutting-edge design, but how [an idea] works in practice, and integrating it into a product that works."
He sees ever more of Prodrive's work involving electrification and is in the process of positioning the company as an expert in that field. "We need to be realistic because most development funds are going in that direction," he says. "The internal combustion engine is not going to disappear, but now it's [a question of] how to integrate hybrids into it."
The nature of such contract work means a constant balancing act between current projects and knowing what's coming next, which is why Richards is well known for launching his own skunkworks projects, including his latest plans to build an amphibious car (page 17). Prodrive is also involved in projects you wouldn't naturally associate it with, such as building the luxurious rear centre consoles for certain Range Rover models, and the diversification into racing yachts and folding bikes.
"I've known [America's Cup sailor] Ben Ainslie for many years. When he set up his own team, I said there'd be lots to learn from motor racing. That level of racing in the America's Cup is just as sophisticated as F1," says Richards. Prodrive is involved in the development and integration of various electrical and hydraulic systems on Ainslie's boat.
The folding bike, meanwhile, came about after a friend showed Richards a prototype, rode it round his kitchen and asked him if he'd develop and make it. The Hummingbird, the world's lightest folding bike at 6.9kg, is now in production, using Prodrive's composite expertise after a year's development work by a team of engineers. An electric-powered version is coming too. It currently weighs 10.3kg but, with a 9.9kg target set by Richards, there's still more development work to do.
Prodrive is even selling them directly through the Hummingbird website, another new-business avenue. "It's like how Tesla sells cars," he explains. "It's better and cheaper – why wouldn't we?"
In addition to its main Banbury headquarters, Prodrive also has a facility in Milton Keynes specialising in composites. The 160 people working there make it the largest composite manufacturer and supplier in the UK, and something Richards sees as one of his biggest business opportunities in the future.
"Composites will become the everyday," he says. "Taking weight out is as important for efficiency as batteries and a motor. I see us partnering with a manufacturer for the long term, looking at how we integrate composites into production with new systems and the car manufacturing process.
"I see that expanding in the next decade to an industrial scale, the only thing we'd do at that level. Once we're there, we'd move away. Our DNA is in the creative side of it, that's what we push."
That creativity is what appeals to Richards most in taking on a project and why Prodrive is able to provide a resource car makers simply are not.
He says: "With a mainstream manufacturer, the technical approach is risk-averse – you take your time to do it and are not as creative. You're efficient and organised. We would not make better conventional cars, but we can do things that push the boundaries in a particular direction. We are a quick resource, with creative engineers, and work to short timelines that we're used to. In racing, they don't move the Le Mans race date for us if we're not ready. That also makes it an interesting environment for us to work in."
That said, Prodrive is finding it hard to find talented young engineers, owing to not only a wider skills shortage in the sector but also the company's proximity to many F1 teams. Richards says: "We have a high retention rate of senior people, but the talent is hard to find. The glamour of F1 appeals to young engineers. They come to us from university for a few years, head to F1, and then we welcome them back with open arms. In F1, you're dealing in minutiae of one car; we give them broad concepts."
Richards knows all about the appeal of F1, having had two stints as a team boss, at Benetton in the 1990s and then with British American Racing (BAR) in the early 2000s, where he oversaw a second-place finish in the constructors' championship in 2004. Yet Richards fears for the sport and its future: "[New F1 owner] Liberty has great ideas and understands entertainment, but the barrier is the incumbents: the aerodynamicists and the engineers. They create problems.
"You'll never turn them around. It's like turkeys voting for Christmas. If you have two wind tunnels, you don't want to equalise the performance to make it better for the spectator and the entertainment. Great entertainment and technology do not sit well next to each other.
"I think Liberty will get it right as they come from the entertainment point of view. The purists will hate it, but they know what the markets want."
Although Richards is full of praise for how readily F1 has embraced hybrid technology, he believes it has done a "very poor" job in promoting it. "I think F1 has lost its way to a certain extent," Richards says in that regard, although he adds a cost cap is not a solution as it is "just an excuse for poor regulations. You don't want motorsport run by accountants."
Richards is no longer seeking a third crack at F1, having come close in 2008 to being on the grid with a Prodrive team. "If there was a third time, we would have had all our experiences packaged up," he says. "We were going to run a customer car with McLaren. We might have been bankrupt at the end of it, but at least we'd have given it a go."
He remains involved in rallying, however, and is keen to play a role in the future electric plans of World Rallycross, which is "the perfect use for EVs" in motorsport and will be "transformational in the imagery of an electric vehicle".
Richards is also not ruling out a return to the WRC, but of greater interest is a run at Dakar. "I would love to get back to the WRC if the opportunity came up one day. It's on the up again," he says.
"I've never done Dakar, and have clear ideas on how to do it with the right opportunity. It's the one box left to tick. Dakar is one of the big motorsport challenges. It's not as well known in Britain, but on the continent it's as big as anything. We could raise the profile of it with British cars and drivers."
Richards, who served as chairman of Aston Martin from 2007 to 2013, is still involved with the firm through Prodrive's running of the works racing arm, and is now racing the new Vantage in the WEC's 'super-season', spanning two years and two Le Mans 24 Hours contests.
Prodrive was embedded in the design and development of the new Vantage racer. Richards calls it a "pivotal moment" for Prodrive and a "big step forward" over the car's predecessor that should ensure the firm competes at the sharp end of international motorsport for some time yet.
Looking to the future, Richards says Prodrive will always be involved in motorsport, and believes that this gives his company the creative edge at a time when the car industry has more problems to solve than ever.
He concludes: "How we continue to challenge boundaries and look at it in a different way to other people is what will make us unique. Motorsport is the greatest test environment." A
PHOTOGRAPHY Will Williams
RICHARDS ON MOTORSPORT'S FUTURE

Running Prodrive is not David Richards' only job. He owns two hotels in St Mawes, Cornwall, and this year has become chairman ofthe Motor Sports Association with quite a large in-tray.
"I could sit on the sidelines and complain or do something about it," he says. "When you've benefited from a sport like I have my whole life, to sit on the sidelines and not play a part would be a derogation of my responsibilities."
Richards' priorities are to reduce the costs of motorsport at the grassroots level to help bring through the next generation of drivers and cut the red tape around the sport and its governance to prepare it for future technologies.
He says: "People say the cost of F1 should be reduced, but we should be reducing the costs of grassroots motorsport. There is too much bureaucracy and cost; we have to find a way. It should be fun.
"It will never be cheap, but if we don't reduce the entry costs, we will never have another Lewis Hamilton. People from a modest background can't afford to go karting now."
Bringing through a new generation of drivers would ultimately help the economics of a British Grand Prix. "Without
that, we're in trouble," says Richards.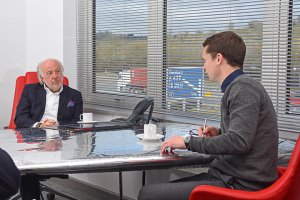 "At the other end, we need to create regulations for the future with ambition, and give the opportunity for British racing teams to maintain their world-leading position in the future.
"A vast amount of investment in motorsport has come from manufacturers promoting fast vehicles. Now it's all going in the other direction towards EVs and autonomous cars, and our tech is in danger of being seen as archaic.
"An idea: suppose the BTCC regulations changed to be a hybrid formula, and the first lap and last lap were done on electric power. Could we then demo the tech for manufacturers and address that?"
Richards is also proposing a challenge for university students to develop an autonomous racing car and pit their machines against each other three times around the Silverstone circuit. He is in talks with a major car maker about getting the project off the ground.
SIX OF PRODRIVE'S BEST
If you take a tour of Prodrive's headquarters, guide Jackie Irwin will show you "her babies", some of the icons from the company's past that now reside in the workshop to inspire its engineers. Here are a selection of Prodrive's greats…
PORSCHE 911 SC RS
1984 This was the car that started it all for Prodrive. It won 15 rallies in all, and was followed soon after by the iconic MG Metro 6R4.
SUBARU IMPREZa 555
1995 Prodrive's most iconic rally car took Colin McRae to his World Rally Championship. One of motorsport's greatest cars.
FORD MONDEO SUPER TOURER
2000 The last and perhaps the greatest title-winning car of the BTCC's legendary Super Touring era.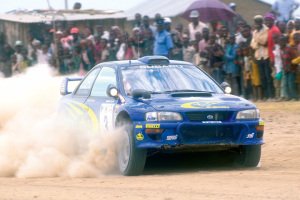 SUBARU IMPREZA WRC 99
2000 The 'Mad Max' Impreza took Richard Burns to Safari Rally glory, a year before his WRC title. The last of the original-shape Impreza WRC cars.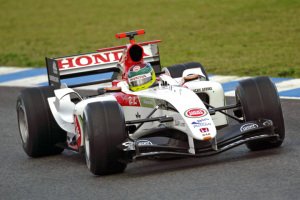 BAR-HONDA 006
2004  Prodrive turned around the ailing BAR F1 team, taking Jenson Button to third in the drivers' title and claiming second in the constructors' standings.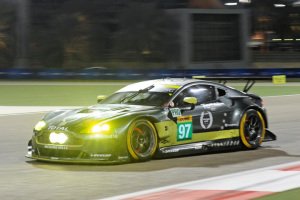 ASTON MARTIN V8 VANTAGE GTE
2017  The curtain came down on the last Vantage racer with Jonny Adams claiming Le Mans glory on the last lap.