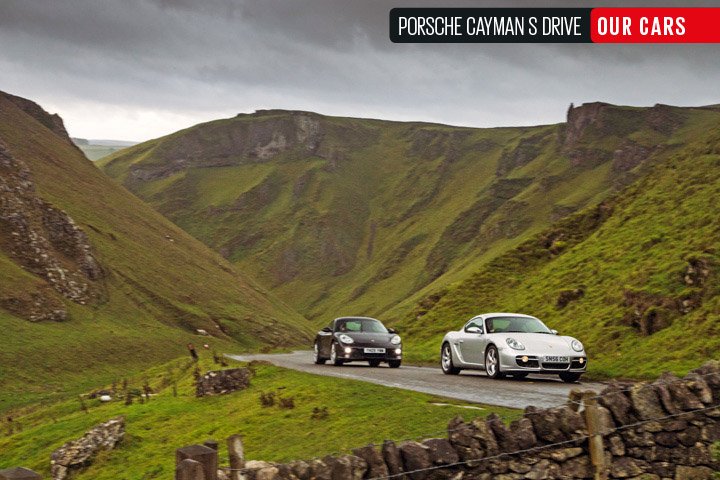 Richard Webber has sunk his money into a

Porsche Cayman S. Now Mike Duff has done the same. What better excuse to meet at the top of a Peak District pass en route to a festive-sounding destination?
We try not to be too obvious with our Christmas stories. It's early November, and with a pair of middle-aged Porsches sitting in the rain-swept car park of a golf course in Cheshire, the bigger risk is probably not being obvious enough. What does all this have to do with the season of mince pies and terrible sweaters? I'm reasonably confident you're not going to guess the answer.
There's a fine Autocar tradition at play here, too. We like to round off every year by celebrating some of the cars we've ploughed our own money into during the past 12 months, from abject sheds upwards. The original idea for 2018 was to stick with the usual format, until my announcement that I had bought a Porsche Cayman S triggered a senior editorial revelation: regular contributor Richard Webber owns a near-identical car. He lives in Edinburgh and I live near Oxford, so could we find somewhere appropriately Christmassy in the middle to meet up?
LOVE AT FIRST SIGHT
I first saw the Cayman S at a technical preview in Weissach in 2005. It was a couple of months ahead of the car's official introduction and I didn't get to drive it. Factory tester Phillip Arnold did a bit of skid pan drifting for the cameras, but the day was mostly about dry presentations. Yet the lack of seat time didn't stop me from falling in love with the idea of a tightly wrapped Porsche coupé with its flat six in a more sensible position than the 911. I knew it was effectively a Boxster coupé, and Porsche's decision to try and extract a substantial premium for the fixed roof seemed cheek. At launch, the Cayman S was £5210 more than its rag-top sibling. But I promised myself that one day, once depreciation had done its reaping, I would buy one.
Webber's Cayman looks small and lithe as it carves along the tight roads towards Buxton
It took a while. Indeed, the ambition looked set to live on the shelf of dusty dreams forever until a few months ago, when I noticed that early and less desirable Caymans were edging ever closer to four figures. I went to look at a super-cheap 2.9 with 95,000 miles on the clock and no fewer than 14 previous keepers on its V5 and quickly established that I wasn't brave enough for a really cheap Porsche. But I'd also realised that I still really, really wanted a Cayman. Things escalated quickly, and expensively, and in early August, I agreed to buy this black 2009 'phase 2' Cayman S from a well-known specialist for more than twice what that ratty 2.9 would have cost me.
PEAKY BLINDERS
Webber and I arrange to meet in the Peak District, with a rendezvous at the spectacular Winnats Pass near Buxton. It puts us in striking distance of journey's end near Macclesfield but also gives us a chance to drive the cars on some much more amusing roads. His Cayman looks great. It's a pre-facelift first-generation '987' S
in silver, which gives it much more visual clout in the gloomy conditions than my black car. The easy way to tell them apart is that the headlights and tail-lights were redesigned for the 'phase 2' version. Webber has an 'occupational hazard' excuse for buying his, too: he wrote an Autocar buyers' guide on the Cayman in 2012 and realised he had to have one.
Webber is a far cannier used car player than I am. He already possesses a very nice Lancia Delta Integrale Evo that is now worth several multiples of what he paid for it nearly 20 years ago. The point is reinforced when he tells me that he bought what was then a six-year-old Cayman S with some nice options for less than I spent on a nine-year-old one. His has the extended leather package that my car misses, but he's immediately jealous of the touchscreen interface (with iPod compatibility!) in mine. Webber's car was also bought privately, which, he soon discovered, gave him no comeback when things went wrong. I have the (modest) reassurance of a dealer's warranty.
There are some great roads in the Peak District, but there's also a surprising amount of traffic for a wet Wednesday in late autumn. So after a few runs through the magnificent gorge at Winnats, we head towards the Cat and Fiddle pass, which will take us down to the Cheshire plains.
Running with a near-identical car gives a heightened appreciation of the one you are driving yourself. Webber's Cayman looks small and lithe as it carves along the tight roads towards Buxton, darting between bends and fitting well past oncoming traffic. Viewed from behind, there's a surprising amount of lean in loaded-up corners. I'm sure a modern 718 Cayman would stay flatter and generate far higher g-forces, but I'm also certain its driver wouldn't be enjoying the same level of feedback that comes through the 987's hydraulically assisted steering. Obviously, I'm biased but I reckon the only vaguely affordable car that better dials its driver into what the front end is thinking is a Lotus Elise.
The Cayman feels at home on greasy surfaces, flagging up when grip is running short
The Cat and Fiddle is an awesome bit of Tarmac, although these days guarded by a yellow army of average-speed cameras. The Cat and Fiddle pub itself is shuttered and closed, clearly unable to make enough of a living from passing trade despite having a major trans-Pennine route named after it. The Cayman feels at home in the greasy conditions, not through an abundance of adhesion but rather flagging up when the grip is running short and staying predictable as this fades to slip. Webber is grinning, too, when we stop and compare notes, and there's a smell of hot brakes from both cars by the time we get to Macclesfield at the bottom of the hill.
FESTIVE ENDING
It doesn't take much longer to reach journey's end: the car park of Prestbury Golf Club. Light is fading and the rain is growing heavier. It doesn't feel very Christmassy. But the reason for coming here is only a short walk away. Earlier this year, when I discovered the increasingly popular What3words mapping app (see below), I decided to use it to find the most festive part of the British mainland.
What3words, as its name suggests, uses three common words to identify locations to an accuracy of a 3m-by-3m area anywhere on the surface of the plant. And the unbeatable combination of 'tinsel.tree.star' is somewhere on the course.
It turns out that the golf club's general manager, David Holmes, also owns a 987-generation Cayman S, and after looking at the map, he suggests the grid square in question is somewhere on the practice green. Getting there is a soggy trudge and – in retaliation for making him wear a Santa hat – Webber proves he's a far more talented golf player than I am with some nifty use of a borrowed sand wedge.
Our destination has been an excuse rather than a pilgrimage, but that's a big part of the appeal for cars that have been bought to
be driven: you don't need much excuse to turn the mundane into a driving adventure.
It's a long journey home for both of us, but Webber and I stop at a local pub en route to the M6 to dry out and compare notes. His car has thrown up some fairly impressive bills over the course of six years of ownership and he winces when he recounts the time he had to pay a £2300 bill for new brake discs and pads at the same time as a failed clutch pressure plate. But it goes with the territory: it's easier to believe in Father Christmas than a low-cost Porsche. The flipside is a car with flattening depreciation and one that, we both agree, is likely to be regarded as one of Porsche's highlights in years to come. I'm certainly not looking for Santa to bring me anything else this year. A
PHOTOGRAPHY LUC LACEY

CLEVER NAV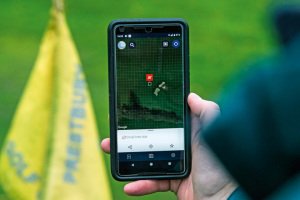 Originally created by a frustrated concert engineer – who struggled to get equipment to gigs on time – What3words divides the surface of the planet into 3m-by-3m areas, each identified by a combination of three fairly common words taken from a pool of about 40,000. More memorable terms are given to urban and high-use areas. It makes entering locations easier than going through a conventional country/town/road interface, which is why Land Rover and Mercedes have started to integrate it into their navigation systems. Mercedes has even bought a stake in What3words itself. The tech can play a more valuable role in parts of the world that have no established addresses – for example, when dispatching ambulances in rural Africa.
TWO MORE WE BOUGHT THIS YEAR

Volkswagen California

Okay, I'll come clean. It was going to be this or a pretty serious sports car (Alpine A110 or a used Porsche 911). But after I borrowed a Cali one balmy weekend, the plan changed totally.
The arguments in favour simply piled up in an irresistible way. The VW Transporter, for a mobile rectangular prism, is remarkably good-looking. The elevated driving position is pure pleasure. With the higher-output 2.0 diesel and seven-speed dual-clutch 'box, it goes well and above all quietly. And setting up to stay 'out' overnight isn't merely a matter of saving on hotels: it's a new adventure. I'm looking forward to many more of them.

STEVE CROPLEY

1970 Austin 1300 GT

This is a car with hubcaps like woks, 70bhp, fanciful 'GT' badging and a propensity to corrode that once kept shoals of welders in business across the land. It was the first car in which I experienced lift-off oversteer. It has a Mini Cooper S engine, was designed by Sir Alec Issigonis and was styled by Pininfarina.
The Austin-Morris 1100-1300 was also the world's most advanced small family car back in 1962, it was Britain's bestseller for 10 years and, er, my dad had one. Which partly explains this purchase. I love its period colour, neat style and fizzing enthusiasm. And, yes, the sills needed doing.

RICHARD BREMNER