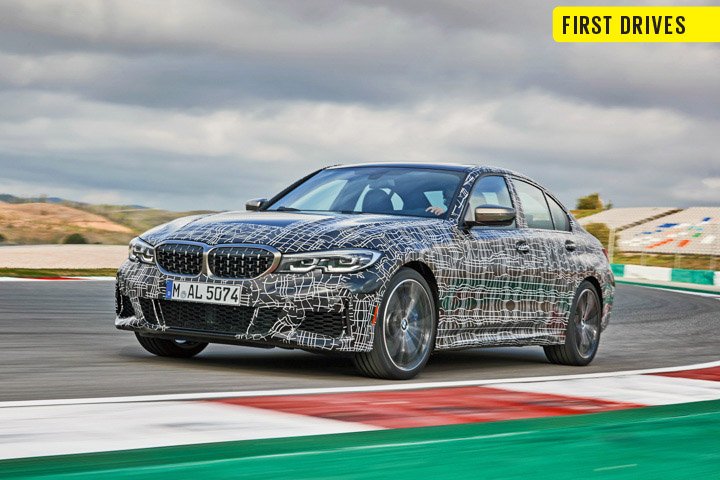 TESTED 30.11.18, PORTUGAL ON SALE MARCH 2019 PRICE £47,000 (EST)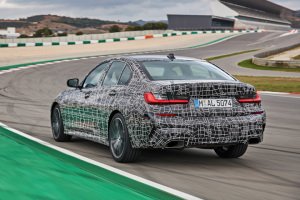 This may be the first time since 1977 that BMW isn't offering a rear-driven 3 Series with a straight six petrol engine. Might that put off a few keener drivers shopping at the upper end of the line-up, you wonder? Well, previous test experience suggests the 255bhp turbo four-pot in the 330i is certainly no second-rate motor.
But, just in case, there's always this. The M340i xDrive, which BMW has allowed us to sample in as-good-as-finished prototype form, is a four-wheel-drive 3 Series that handles with all the balance, poise and throttle adjustability you'd expect of a rear-driven one.
Using a retuned version of the B58 turbo six-pot developing 369bhp and 369lb ft, the M340i gets the full gamut of BMW's M Sport suspension, steering and braking modifications as standard. It also has as standard the electronic locking rear differential that's available as an option on a less powerful 330i and 330d. The car's Variable Sport variable-ratio steering system feels much more subtle and consistent in operation than the F30-generation 3 Series' equivalent did and provides a useful impression of front axle grip level. Inherent cornering balance shows a little bit more stability bias on turn-in than you might expect were the car strictly rear drive. The car's attitude becomes readily adjustable with power once about a quarter turn of steering angle is applied, though, with the lion's share of engine torque plainly being kept at the rear wheels, at least until the same amount of corrective lock is needed on the exit of the corner. All of which is just another way of explaining that you can drift yourself happy in this car should you be so inclined – and assuming the opportunity safely presents.
Along with BMW's engine overhaul has come a harder-edged and more purposeful tone for this car's straight six, of which it's easy to approve; and a fairly urgent and accessible turn of speed, which is unlikely to leave many wanting.
So if you don't want to wait for a full-fat M3 for a 3 Series you can drive like a true sports saloon, it looks as though you needn't: the M Performance version of the G20-gen 3 Series may very well have everything you're looking for and more.
MATT SAUNDERS
BMW M340i xDrive
Urgent pace and proper M-car-level involvement. Might be the best M Performance derivative yet


Price  £47,000 (est)
Engine  6 cyls, 2998cc, twin-turbo, petrol
Power  369bhp
Torque 369lb ft
Gearbox 8-spd automatic
Kerb weight tbc
0-62mph 4.4sec
Top speed 155mph (governed)
Economy 37.7mpg
CO2, tax band 172g/km, 37%
Rivals Mercedes-AMG C43 4Matic, Audi S4