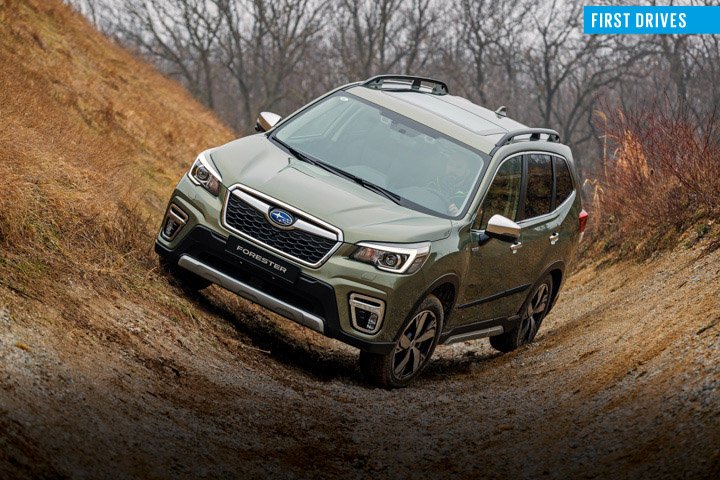 New generation heralds the Japanese car maker's first European hybrid
Given that Subaru defines itself as an SUV brand these days, it's odd that it should have been without a conventional family SUV for so long. The Forester is the closest Subaru has come to making one, but it's only really been big enough to escape definition as a 'crossover estate' for a model generation or so. Moreover, after Subaru dropped its boxer diesel engine last year, it has spent a good portion of its life without the powertrain it needs to do really well in Europe.
This year, however, the tables should turn as the fifth generation arrives with a petrol-electric hybrid powertrain, which Subaru has branded the e-Boxer. It's a mild hybrid, although the car can run emissions-free for short periods, courtesy of a small electric motor with only 16bhp and 48lb ft of torque, and a lithium ion drive battery.
But being small also makes Subaru's hybrid powertrain light: the whole set-up adds only 110kg to any model (it's going in the current XV and later the Impreza, too). For that reason, it doesn't adversely affect either the utility or off-road capability too much. Where other petrol-electric SUVs have greatly reduced capacity for towing, this one can manage almost 1800kg on a braked trailer; and, since it has the same asymmetrical four-wheel drive as any other Subaru, it doesn't effectively become front-wheel drive when the battery runs out.
Ahead of the car's unveiling at the Geneva motor show this week, Subaru invited us for a short test drive conducted on a proving
ground in Austria.
It's a slightly longer, wider car than the outgoing one, and feels more spacious inside. The cabin makes a classier first impression, too, with more appealing primary fittings and a few richer material touches.
The car's hybrid drive system is hooked up to a revised version of Subaru's FB20D 2.0-litre normally aspirated petrol flat four which, without the help of an electric motor, has often lacked the accessible torque to make for good drivability when combined with Subaru's CVT gearbox in other cars. Here, however, the hybrid's electric motor provides more instant pulling power, with the biggest improvement on part-throttle responsiveness evident when using the car's 'S' driving mode.
Get beyond about 50% throttle and a little bit of roughness from the hybrid driveline materialises, particularly as the petrol engine takes the lead from the electric motor. When approaching full power, the familiar mix of steady apparent over-revving from the flat four and slipping from the gearbox presents – and, as ever, manual mode isn't entirely successful at mitigating
the latter. So, on the road at least, I suspect other hybrid SUVs would feel more responsive and slick to drive. But off road, the hybrid CVT drivetrain and mechanical four-wheel drive make it easy to mete out just as much torque as you need to eke out traction to climb or crawl.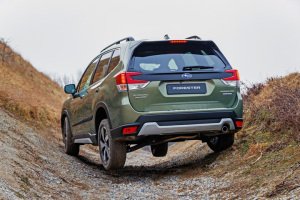 Detailed on-the-road ride and handling impressions will have to wait until later but, on an admittedly smooth test track, the Forester's body seemed well-controlled for a car of its size, its steering linear and precise, and its ride quiet and absorbent.
Overall, the e-Boxer hybrid powertrain feels like a tentative step towards electrification, but a vitally important one for Subaru. It's unlikely to catapult the Forester up the sales chart the way that Mitsubishi's PHEV powertrain transformed Outlander sales – but, while there are creases still to iron out, it feels like a typically dependable, capable, uncompromising Subaru. And that
is the right place for the firm to start.
MATT SAUNDERS


TESTER'S NOTE
It's a shame Subaru doesn't make it easier to keep the Forester running under electric power at low speeds; it's possible, but you really do have to be delicate with the accelerator to manage it. MS
SUBARU FORESTER E-BOXER
Subaru's first European hybrid offers some progress on the road, but also rare 4×4 capability off it
Price  £33,000 (est)
Engine  4 cyls horizontally opposed, 1995cc, petrol, plus electric motor
Power  148bhp (petrol engine), 16bhp (electric motor)
Torque 143lb ft (petrol engine), 48lb ft (electric motor)
Gearbox CVT
Kerb weight tbc
0-62mph tbc
Top speed tbc
Economy tbc
CO2, tax band tbc
Rivals Honda CR-V Hybrid, Mitsubishi Outlander PHEV