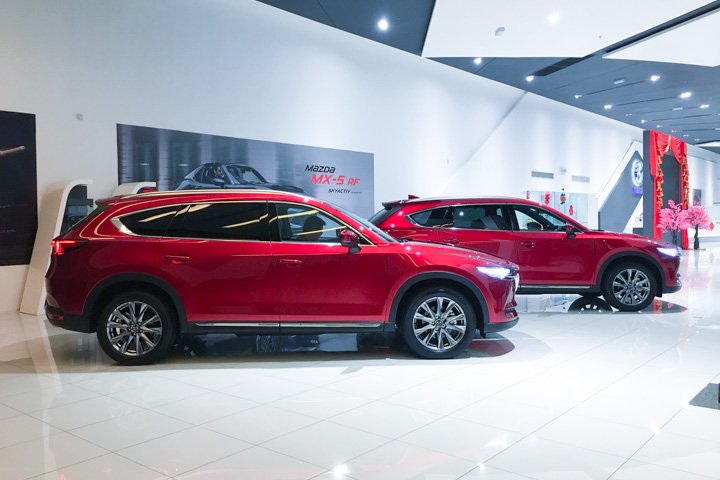 Four variants, three petrol-engined and one diesel will be offered in the Malaysian market
The CX-8 is now on preview at the Mazda HQ in Glenmarie. Two units are on display, a Skyactiv and a SkyactivD, in Mazda's signature Soul Red paintwork. According to the spec sheet displayed on the side, there will be three petrol and one diesel option. The petrol variants are front-wheel drives, powered by a 2.5-litre engine, with a six-speed automatic gearbox, that produces 192bhp and 257Nm. The 2.2-litre diesel, 188bhp and 450Nm, also paired with six-speed auto transmission, is four-wheel drive.
The CX-8 is Mazda's flagship SUV in Japan. It is however not the largest SUV in their global model line up: the larger CX-9 is an export-only model as it does not conform to Japanese regulations on vehicle dimensions.
The CX-8 is a long wheelbase version of the CX-5 and has the same wheelbase as the CX-9 although in overall length, the CX-8 is 175mm shorter, 129mm narrower and 17mm lower in height. The CX-8's wheelbase has been extended by an additional 232mm compared to the CX-5.  This is what makes it possible to for Mazda to offer a seven-seater SUV in this segment and a feature currently available only in larger super-luxury vehicles: individual rear passenger seats.
The seating configurations for the petrol CX-8 are 2+3+2 fabric seats for the base model with bench seating in the second row; 2+2+2 fabric seats in the mid-spec petrol, with space between the individual seats in the second row to walk-through to the third rows or, in the top-spec petrol and top-of-the-range diesel, leather seats in a 2+2+2 configuration with a fixed centre console between the individual second row seats. The third row seats in all four variants can be folded down flat to increase boot capacity.
Exact specs of the CX-8 have yet to be confirmed but standard safety features will include at LED illuminations front and rear, six airbags, ABS, traction control, stability control, emergency brake assist, hill-descend control, electronic brakeforce distribution and emergency stop signal. Other features which will also be in the CX-8 would be the MZD Connect infotainment system with voice command and the rotary scroller to access its functions.
The Mazda CX-8 will be assembled in Kulim and is estimated to cost around RM180,000 including SST, not including insurance.