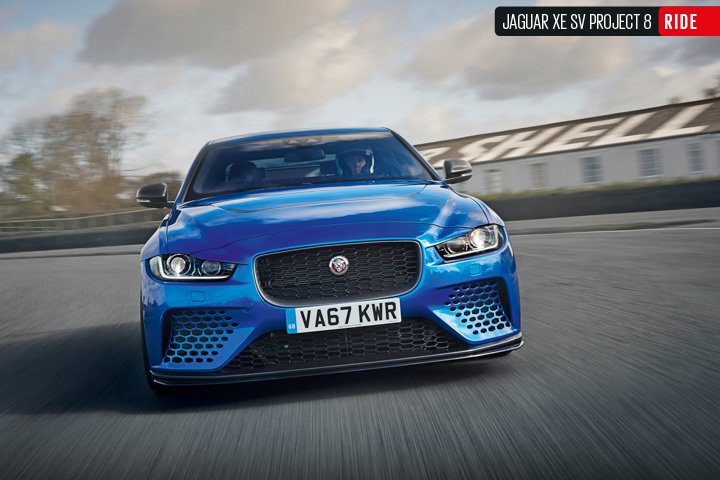 No other Jaguar XE goes, stops and corners with the ferocity of the 600bhp Project 8, a 300-run £150,000 special that's said to leave even a BMW M4 GTS for dead. Richard Lane hitches a ride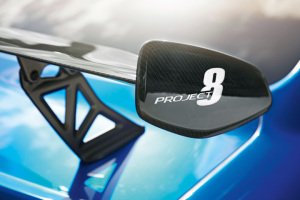 Goodwood Motor Circuit is steaming, but the Revival is still a fair few months out so this has nothing to do with the general atmosphere. Rather, the problem with which David Pook is deftly contending concerns the haze of evaporating rainwater partially cloaking a patchwork of standing water, bone-dry islets and every shade of unpredictability in between. He's making corrections little and large, and he's making them in areas of this frighteningly quick circuit not only where you might expect the need to arise but also where you absolutely would not. The time for discourse about the car's limited suitability for daily driving, its frankly outrageous exhaust blare – which met homologation requirements with 1dB to spare – and his desire to capture, at least in part, some of what made the E46-generation BMW M3 CSL so utterly compelling as a road-racing crossbreed has well and truly passed.
Pook is at the wheel of a prototype Jaguar XE SV Project 8, a car for which he has led the dynamic development during its fleeting 18-month gestation. Only 300 will ever exist, despite the attempts of company coin-counters to squeeze a few more examples out of Special Vehicle Engineering. It's a significantly more ambitious endeavour than Project 7, the extroverted speedster based on an F-Type, although both cars fall under the 'crazy ideas with commercial opportunities' mantra championed by SVO managing director John Edwards. Today, it has been described variously as a statement car, the ultimate expression of what performance means to the marque, and a nailed-on future classic. It is also the fastest road-legal four-door saloon around the Nürburgring.
As we once again peel into Madgwick – a fast right-hander that brings the pit straight to an end with either one or two apices, depending on which historic racer you're talking to – it's hard not to drolly conclude that if this 600bhp saloon bites and we end up in the tyre wall, Pook truly will have only himself to blame. Having moved through the car's primary driving modes, which keep the dampers in a softer, road-biased setting but sequentially heighten the driveline's rear torque bias, we're now in Track, which ups the ante on both parameters. Bends are a waiting game today, but the Project 8 is devouring the bits in between.
Passenger rides do, of course, provide only limited insight into a car, especially when it is wearing semi-slick tyres (Michelin Pilot Sport Cup 2s – the only option Jaguar will offer) and it is so damnably wet. Four compromised laps merely confirm that the Project 8 is firm but not murderously so and as quick in a straight line as anything the more affordable side of a McLaren 720S. This, then, is really a chance to catch up with the development team and listen to the changes they've made as this exciting undertaking nears sign-off. It's a stepping stone between last year's Goodwood Festival of Speed, where this least compromising of all the road cars in Jaguar's long history broke cover, and our first opportunity to drive the thing, which will come in Spain in late May. It's there we'll discover whether Jaguar has achieved its aim of building an extraordinarily quick car that doesn't require the synaptic prowess of a racing driver to unlock its true pace. "It's about feeling that the car is always with you," says Pook back in the pit lane, adding that the Project 8 is set up to operate on track without generating any fear factor.
So what exactly is a Project 8, beyond an exceedingly loud, expensive and fabulously extroverted labour of love for the SVO team based at Oxford Road in Coventry? It starts life as the shell of an XE, which gives SVO a relatively good base to work from in terms of aerodynamics, rigidity and weight distribution. Jaguar Land Rover's 5.0-litre supercharged V8 is then installed along with the four-wheel-drive system from the F-Type SVR. The silhouette is subsequently put on a course of anabolic steroids to house tracks respectively 24mm and 73mm wider at the front and rear than those of an XE S. Only the doors and roof are carried over.
Aerodynamics are a fundamental attribute, as you can tell from the gaping cut-outs aft of each colossal wheel arch, the carbonfibre bargeboards and a bonnet vent that has been painstakingly positioned to align perfectly with the region of greatest front-end lift. The carbonfibre front splitter, rear wing and ride height can also be manually adjusted for track days and the brakes use vast carbon-ceramic discs. Jaguar claims this is also the first production car to use incredibly stiff and durable ceramic wheel bearings. All in, more than three-quarters of the 'major engineering' has changed from an XE S, and yet the turning circle remains modest enough to avoid town-centre embarrassment and the boot capacity is just five litres smaller than the standard car's.
The cost, by the way, is £149,995, which is rather a lot for a family four-door but reasonable value if you view this as a saloon that radiates the same uncompromised engineering mandate familiar to employees of Porsche's fabled GT division. That's right: from a philosophical and technical standpoint, at least, Jaguar is benchmarking the Porsche 911 GT3. Previously, it was BMW M4 GTS, although Pook and his colleagues believe that when it comes to performance and drivability, their efforts surpassed those of their Bavarian peers long ago in the development process. In this rarefied strata of the automotive world, that really is fighting talk.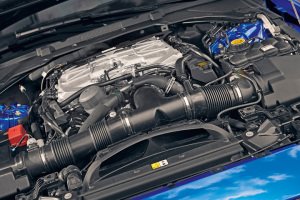 Since the Festival of Speed, development has cantered ahead with incremental improvements in almost every imaginable area, and at an expedited rate that simply wouldn't be possible without such a small, agile team, whose core numbers just a dozen or so personnel. It's a world away from Jaguar's mainline models and has resulted in SVO surpassing – "smashing", says Edwards over the pit-lane clatter of wheel nuts being torqued – every internal performance target initially set for the Project 8. That said, raw numbers are almost secondary for the team, who are particularly proud of the manner in which this car now changes direction (see separate story, below) and, echoing Pook's sentiments, the potential it has to elevate its driver to superstar status. We'll soon see for ourselves, in Spain, but nothing here at Goodwood gives cause for suspicion.
With a third of build slots already spoken for, production of customer cars starts in June, when SVO will begin turning them out at a rate of around 20 each week. It's stirring, intensely focused, smash-and-grab engineering and leaves us wondering what form Project 9 may potentially take. Edwards won't be drawn on this occasion but takes the opportunity to remind us they don't call Oxford Road the Dream Factory for nothing. A
THE CHASE FOR NEXT-LEVEL AGILITY

Confidence-inspiring weight and crisp precision have been highlights of the XE package since the car's introduction in 2015, but the Project 8 will operate in a different universe of response and agility.
The two cars share the same rack and ratio, but there are changes to the suspension of the Project 8. At the front, the uprights, twin-coil springs, dampers, lower suspension bushes and anti-roll bars are all new and bespoke to the car, much of which is to motorsport specification, and the rubber bushes have been exchanged for ball joints. Furthermore, this car's 2deg of negative camber on the front tyres is four times what you'll find on an XE S, and double what even the F-Type SVR boasts, and the sub-frames are also solidly mounted.
Then there are the engine mounts, which were uprated late in the day – at considerable inconvenience – to ensure that big 5.0-litre V8 steps in perfect time with the front axle through jinking direction changes.