France's revered sports car brand is back and chasing some heavyweight scalps
MODEL TESTED: PREMIERE EDITION
Price £51,805  •  Power 248bhp  •  Torque 236lb ft  •  0-60mph 4.7sec  •  30-70mph in fourth 6.0sec
Fuel economy 28.5mpg  •  CO2 emissions 138g/km  •  70-0mph 42.6m
WE LIKE
Perfectly executed retro design  •  Handling thrills are so accessible on road and track  •  Gives up little to the big guns on real-world pace  •  Genuine character
WE DON'T LIKE
Steering isn't as brilliant as the chassis  •  Renault's cabin components aren't universally welcome
There's something distinctly Herculean about Renault's revival of the Alpine brand. Here's a French sports car manufacturer that hasn't actually manufactured a sports car – or any car, for that matter – in around two decades. And yet the target that this Lazarus of the automotive world now has its sights set on with its first production car since 1995 is a true sporting giant: the Porsche 718 Cayman.
Welcome, then, to the new Alpine A110. We first caught wind of a revived Alpine back in 2012 but it wasn't until four years later – with the launch of the Alpine Vision concept in Monaco – that we were presented with an idea of what such a car might look like. And credit where credit's due, the resemblance between that concept and the Première Edition car you see on these pages is almost entire and complete.
The more important resemblance by which this new A110 will be judged, of course, is to one of prettiest and most distinctive sports cars of all time: the A110 Berlinette of 1969, designed by the great Giovanni Michelotti. The original A110 was the truer realisation of founder Jean Rédélé's vision of a lightweight, compact, highly agile sports car given to excel on mountain passes than anything that came after it and it was the car that enabled the Alpine-Renault team to claim the World Rally Championship manufacturers' title in 1973.
It is through these same virtuous instruments of lightness and agility that, a resurrected Alpine will hope, the new A110 can become the champion of its segment. The car was born out of a joint venture with Caterham Cars in 2012 that was subsequently axed in 2014, so Alpine's parent company, Renault, now shoulders the burden of investment and risk of effectively launching a sports car brand from scratch all on its own. But if the venture proves successful, it could be expanded to bring us a family of Alpine models – particularly if all the talk of 'ambitious plans for the future' among Alpine executives is to be believed.
The A110 certainly has its work cut out to force its way in among cars like the Cayman, Lotus Elise, Alfa Romeo 4C, BMW M2 and Audi TT RS. But, as you may remember reading, the early signs have been very promising indeed. Time to find out if they were reliable signs.
The A110's styling is a triumph of modern 'retro' design in a market where recent homages to classics of the 1960s and 1970s have as often as not been bungled or half-baked (see Fiat 124 Spider). In addition to providing a clear visual link to that original 1969 model, the A110's gorgeous exterior panels play a crucial role in achieving a claimed kerb weight of just 1103kg for the car in fully loaded Première Edition specification, rising to 1125kg as verified on MIRA's scales. Along with the chassis, the Alpine's body is constructed from aluminium, which provides, Alpine engineers say, an ideal balance between rigidity, weight and build quality.
The car was designed from a clean sheet with road-appropriate compactness in mind, but also a low centre of gravity and a low roll axis – even by mid-engined sports car standards. Being lean and riding low, according to Alpine's philosophy, the A110 can manage without the stiff spring rates and wide tyres that some of its rivals depend on for their dynamism. That means, in theory, it can ride softly and with measure, without compromise to its grip level or handling agility, and it can also have more progressive, communicative handling limits than those rivals. We'll be the judge of those, in due course.
Suspension comes in the form of double wishbones all round, the adoption of which was also a key part of the same dynamic philosophy intended to distinguish this car. Unlike MacPherson strut-type suspension – which you'll find in, say, a Porsche 718 Cayman – double wishbones allow the suspension to maintain good camber control under load and a consistent tyre contact patch during cornering, even though the car also allows more body roll and greater wheel travel than a sports car typically would. This, in turn, means the A110 can get away with hollow, lightweight anti-roll bars as opposed to heavy, solid ones that can compromise ride quality.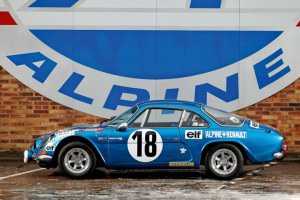 The car's biggest departure from the template of its famous predecessor concerns engine layout. Alpine's new 1.8-litre turbocharged four-cylinder engine is mounted transversely ahead of the rear axle, rather than longways and behind it as the 1969 original A110 carried its engine. It develops 248bhp at 6000rpm and 236lb ft at 2000rpm, which is sent to the rear wheels via a seven-speed dual-clutch Getrag gearbox. Although both the engine and gearbox are recognisable from the Renault family supply chain, both are significantly different here from how they are used in any Renault. The engine has its own induction and exhaust systems and its own ECU, and the gearbox uses wet clutches and bespoke ratios.
A 45-litre fuel tank is mounted directly behind the front axle line and, along with that mid-engined layout, contributes to the Alpine's 44/56 front-to-rear weight distribution. We measured it at 43:57.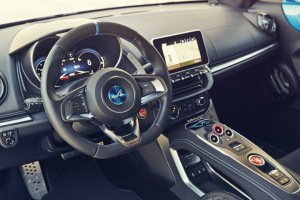 Although the original 1960s A110 range offered a GT4 version with a 2+2 cabin layout, this modern successor – just like the famous Berlinette version – is a strict two-seater. Access is easy by class standards and, inside the car, the intimate distance separating the front seats tells you straight away that you're in compact sports car – as does the unmistakable impression of an appealingly purposeful cockpit.
The seats are deeply bolstered sports buckets with a fixed backrest angle and they're comfortable enough that they'd be no barrier to the contemplation of a long journey. They are also one of the cabin's material highlights, upholstered in leather and Alcantara and garnished with blue stitching.
Between them sprouts a raised centre console panel that houses an engine start button, transmission controls, electric window switches and an electronic handbrake switch. It could plainly be more solidly secured and it wobbles a little too readily to conjure the impression of quality that the leather and carbonfibre-style trim it's finished with is aiming for.
More broadly, the A110's perceived quality is more vulnerable to criticism than, say, a TT RS's or 718 Cayman's is; but in a car whose mission it is to be light and simple, that's likely to be an acceptable trade. There are places where Renault parts bin components have plainly been deployed; those column stalks, the peculiar cruise control/speed limiter master toggle switch a mile away from the other buttons it's associated with, and that ugly-looking steering column audio remote. But there are other places where Alpine has equally plainly done what it can to drive the tactile appeal of the A110's interior upwards – and they're mostly the right places. The car's gearshift paddles, for example, are aluminium and located in a more intuitive position closer to the natural resting places of your hands at 'quarter to three' on the steering wheel than you'll find them in some Renault Sport models. The car's chunky metallic interior door handle and leather-trimmed door pull, both of which you come into contact with frequently, are pleasant to the touch.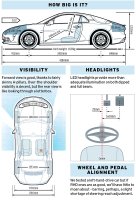 Occupant space is good. Sitting low in the car and at the well-placed controls, there's plenty of leg room and enough head room even for taller drivers to wear a helmet without brushing the headlining. Oddment space is negligible and this is not a car in which to enjoy an extra large skinny mocha on your way to work; but given how many A110s will be used, you could hardly consider either a serious failure.
You're also unlikely to quibble with the amount of storage space the A110 affords. For a sports car fully 200mm shorter than a Cayman to have decently roomy boots both up front and at the rear is usefully practical. Alpine says the bigger front one will swallow a couple of small flight cases, although they'd have to be very small. You'd need to pack intelligently to find room for weekend luggage for two, but you could just about do it.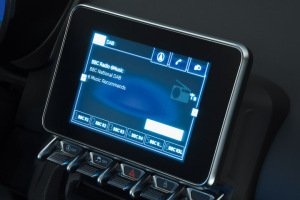 You realise how technology-obsessed the car has become when the cabin of even a compact, lightweight sports car like the A110 needs not one but two flatscreen displays. The one standing in for normal instruments is 10.0in in diameter and the central one for the nav and telematics is 7.0in.
Alpine hasn't adopted Renault's portrait-oriented R-Link II multimedia system, whose appearance and usability have come in for consistent criticism on these pages. Instead, the A110 uses a simplified system that offers navigation that's passable but not brilliant; a smartphone-mirroring system from Bosch called MySpin, which is compatible with Apple and Android and has certain advantages over the more familiar interfaces; and some fairly rudimentary but welcome lap timing and performance data display functions.
The system has only average graphics appeal but responds fairly quickly to fingertip inputs. The four-speaker Focal stereo, meanwhile, is perhaps marginally better than it needs to be – although it hardly needed to be brilliant.
It steers as much from the rear axle as it does from the front
The A110's 1.8-litre turbocharged four-cylinder engine isn't like most of the motors that owners of compact sports cars may be used to. It doesn't have the operating range and linearity of response of a Porsche's flat four, the building crescendo and crackling sonic drama of a Lotus's supercharged straight four, or the combustive richness of a multi-cylinder BMW or Audi. But it does have character – and plenty of it. Pace too: thanks to the car's lightness, it makes for a performance level that bears comparison with a greater number of more powerful rivals than you might imagine.
Most alike to the turbocharged four-pot to be found between the axles of a 4C, the Alpine's engine sounds waspish and whooshing. The 236lb ft of torque it makes feels like plenty when it fronts up, in responsive fashion even to moderate pedal inputs, from just 2000rpm. From there on out all the way to the engine's 7000rpm redline, the A110 revs keenly, nicely avoiding the marked deterioration in flexibility you're expecting of a motor that passes peak power with 1000rpm of the rev range still to go. There's a metallic, gravelly quality to its tonal performance that isn't exactly music to the ears but, overlaid with the fizzing and hissing of the car's turbo, it remains an energetic-sounding audible treat.
Although we missed Alpine's official acceleration claim for the car on a day dry enough to have given it every chance, that's perhaps to be expected of something fairly light carrying two occupants and a full tank of fuel (which is how we test every car). Alpine's claim is for 62mph from rest in 4.5sec. In practice, we saw 0-60mph in 4.7sec, although only once we'd identified the tendency of the car's transmission to hang onto first gear for slightly too long when in automatic shift mode and during launch control starts, and realised that manual mode is quicker.
For 100mph to come up takes 10.8sec and 30-70mph in fourth gear 6.0sec. So in two ways out of three – and most clearly in terms of in-gear acceleration, which remains really relevant to real-world driving – the A110 is quicker than the 718 Cayman S manual that we performance tested in 2016. Anyone who thinks £50k is too much to ask for one should clearly consider that.
Would we rather it came with a sweet, snickety manual gearbox instead of the creditable but occasionally tardy seven-speed paddle-shifter that Alpine fits? At times, yes – but at other times, the car's gear ratios (which would likely be differently spread in a six-speed manual) feel perfect for it. The point is that this really isn't a car that's backwards in coming forwards to engage its driver.
Even if your brain has already processed what separates this A110 from its famous Michelotti-penned forebear (the switch from a rear-engined to a mid-engined mechanical layout), your backside may beg to differ as you get used to the car's gait and ride characteristics on the road.
That's because there's an unusual sense of softness about the A110's rear axle springing that plays a large part in defining how it corners, how it rides and how it behaves on the limit of grip. It's at once highly unusual in a sports car and, as we'll explain, lends the A110 a truly distinguishing dynamic character. If you didn't know better, you'd swear a rearwards engine location could be the only thing to explain the car's defining trait: that it seems to take sweeping corners more like an Ariel Nomad than anything else, leaning on its outside tyres with the confidence and balance of an elegant speed skater, and steering as much from the rear axle as it does from the front.
Truth be told, the A110 feels softer-riding at both ends than you expect it to be. Just as promised, the firm has delivered a car with a sufficiently low centre of gravity that it clearly doesn't depend on particularly firm or short suspension springing for grip or handling response. Although it feels as direct and naturally agile on turn-in as just about anything on the larger side of a Caterham Seven, it's also quite supple over bumps and at low speeds. Damper control isn't as close or ultimately as sophisticated as, say, an adaptively damped Cayman's is and body control isn't as flat, either. But both are brilliantly honest telltales of how much grip and composure this car has left on any great stretch of B-road; and, from such a simple and effective driver's car, you'll want for little more.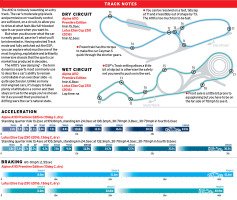 Alpine's decision to go with electromechanical power steering, when rivals make unassisted racks work, would have been a contentious one. At times, the car's steering rim does seem the merest bit too light and doesn't have the vivid contact-patch feel you'd like at low speeds, although it weights up well as you go faster.
But in order to make the A110's steering work at the gearing Alpine clearly wanted (just 2.2 turns lock to lock) and through a wheel that's fairly small in diameter, you can't help but conclude that power assistance was the right compromise. With the possible exception of variable gearing that quickens a little bit too aggressively at the extremes of the rack's travel, so much about the way this car steers is outstandingly good: its pace, weight, positivity and ability to filter out a bit of bump steer, when needed. Moreover, compared with the unassisted rack of a 4C, you'd choose this every time.
It isn't backwards at coming forwards to engage its driver
Our limited-run A110 Première Edition test vehicle came with a price of £51,805, making it only £48 less expensive than a standard 718 Cayman S. That sum buys you features such as 18in Otto Fuchs alloy wheels shod in Michelin Pilot Sport 4 tyres, rear parking sensors, a lightweight Focal sound system and a 7.0in touchscreen infotainment system that includes sat-nav and Bluetooth connectivity, and lightweight Sabelt fixed bucket seats. However, as all 1955 examples of this launch model have already been sold, prospective customers will have to wait for the less expensive – although as yet unpriced – A110 Pure and Légende to arrive on stream before they can secure a car. And they should expect demand for them to stay hot for some time.
Understandably, the A110's fuel economy will vary depending on how enthusiastically it is driven. During performance testing, we recorded 17.9mpg, and on an extended 70mph touring trip, the car returned a very respectable 45.6mpg. Our total test average of 28.5mpg, accounting for the Alpine's 45-litre fuel tank, means you can expect a real-world range of at least 282 miles between fills – and quite possibly one beginning with a four when you drive conservatively.
From a depreciation standpoint, our experts predict the top-flight Alpine will retain 55% of its value after 36 months of ownership and 36,000 miles. By comparison, a Cayman S should hold on to 60% over the same time period.