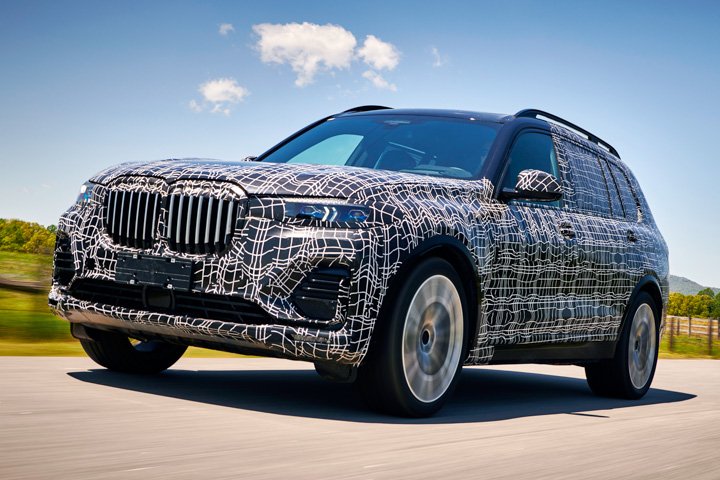 Luxury seven-seater reinforces Munich's ambition to build more upmarket models
BMW says its new X7 will offer the same levels of luxury as its 7 Series saloon, in an attempt to take on the Mercedes-Benz GLS and Range Rover.
The seven-seater, due in UK showrooms next year, will sit above the X6. Autocar recently had an early taste of one at BMW's US factory in Spartanburg, South Carolina.
"It's much more than simply a long-wheelbase X5," said Joerg Wunder, X7 project leader. "We set out to create an SUV that offers the same levels of luxury and comfort as the 7 Series. At the same time, great effort has gone into ensuring the X7 delivers the sort of driving dynamics and on-road characteristics that traditional BMW buyers expect."
Originally previewed in concept car form at last year's Frankfurt motor show, the X7 is the seventh SUV model to join BMW's line-up. The basis for the car is BMW's Cluster Architecture (CLAR) platform. The body structure uses a combination of aluminium and high-strength steel.
In terms of electrical architecture, the cars we've driven used a conventional 12V system, despite plans to provide the new BMW model with the same driver assistant systems as the 7 Series.
At around 5100mm in length, 2020mm in width and 1800mm in height, the X7 is nearly 200mm longer, 80mm wider and 40mm higher than the X5. Its wheelbase is 76mm longer than the X5 at 3010mm, and it comes with a choice of 19in, 20in, 21in or 22in wheels.
The X7 is fitted with double wishbone front suspension and a multi-link set-up at the rear, with air springs at each end as standard. The nominal ground clearance is 183mm but it can be raised to 243mm. Buyers will be able to choose between standard electrically assisted steering and an optional 'active rear steer' system.
Inside, the X7 will feature a digital instrument display and infotainment touchscreen, both of which will be 12.3in wide and use BMW's latest iDrive 7 interface. There's also a new multi-function steering wheel.
The X7's engine line-up will be similar to that of the X5. Available from launch will be 335bhp 3.0-litre straight six and 456bhp 4.4-litre V8 petrol units, plus a 3.0-litre six-cylinder diesel in two states of tune, offering either 261bhp or 394bhp. All engines will be mated as standard to BMW's eight-speed, torque-converter-equipped automatic gearbox and driven through a permanent
four-wheel-drive system.
An M50d M Performance model will arrive later. It will have the quad-turbocharged 3.0-litre in-line six-cylinder engine also found in the M550d M Performance, and should match that car's 394bhp and 561lb ft outputs. A range-topping M variant will be introduced in late 2019 and will use the M5's 592bhp twin-turbo 4.4-litre V8 petrol unit.
There will also be a plug-in hybrid variant, combining a turbocharged 2.0-litre four-cylinder petrol engine with an electric motor for a combined 255bhp and 295lb ft and an electric range of up to 62 miles.
GREG KABLE
AN EARLY DRIVE OF THE NEW BMW X7

The X7 prototype starts with a raspy blare that becomes harder and even more prominent when Sport mode is engaged. As with all of BMW's more recent M Performance models, it is a combination of exhaust roar and synthetically generated acoustics via the speakers.
You sit much higher than in any other BMW, but there's a reassuring familiarity to its position and the weighting of the controls. Forward vision is excellent, but the rear view is compromised by the second-row seat headrests and the shallow rake of the rear screen.
As we set off for our drive on roads near BMW's factory in Spartanburg, South Carolina, the X7's steering initially feels light and lacks feedback but the electrically assisted set-up instantly gains weight and provides more response as our speed rises. The M-Sport air suspension and its adaptive damping qualities combine to provide a nicely controlled and refined ride, even on 21in wheels.
Through challenging corners there's impressive fluidity and poise given the SUV's size. The electronically controlled adaptive anti-roll bars and active rear steering help to suppress body roll and provide truly impressive agility. Sharp changes in direction are achieved with engaging eagerness. Pitch and dive are also well controlled, allowing you to push hard on corner entry and at the exit without disturbing the composure.
You occasionally sense the 2300kg kerb weight but with outstanding grip delivered by the xDrive four-wheel-drive system, you can continue to push hard over winding sections of bitumen without the front end running wide.
The X7 prototype also excels in off-road conditions. With more than 100mm of wheel travel, the ability to apportion up to 100% of its drive to either the front or rear wheels and selective braking to counter wheelspin, it tackles tough tracks, steep inclines and declines and deep ruts with authority. GK