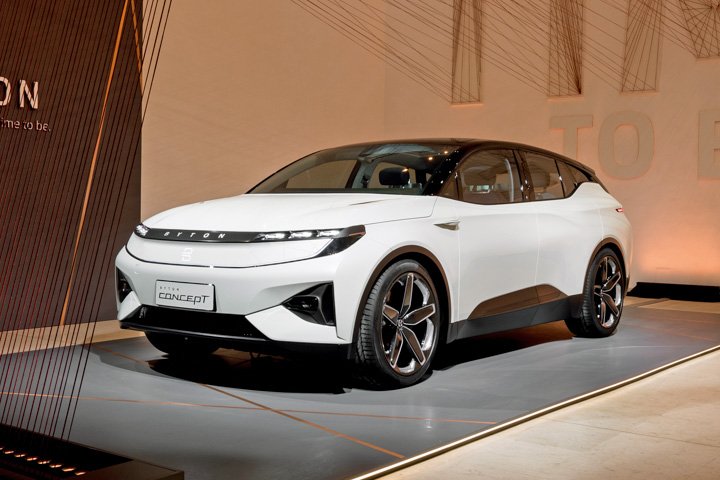 Electric SUV concept is '85% there' and marks start-up's European launch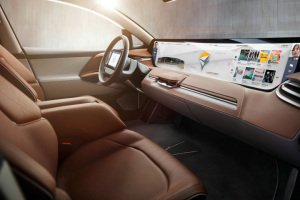 Byton has unveiled an almost production-ready version of its first car, a Tesla-rivalling electric SUV due in 2019, at its European launch in Milan.
The Byton Concept is the first of three planned models that will draw heavily on connectivity and semi-autonomous technology. It is due to go on sale in China in late 2019, with the US and Europe following in 2020. A saloon, which will be shown in concept form at CES Asia in Shanghai in June, will arrive in 2021. A seven-seat MPV is also planned. All three cars are based on the same architecture.
The Concept SUV shown at Milan Design Week is a development of the one unveiled at CES in January and was described as being "85% there" by company boss Carsten Breitfeld. The first full prototype has just been built at the firm's factory in China.
The new SUV will be offered in two powertrain configurations: a single 268bhp electric motor driving the rear axle; and a 469bhp version with 524lb ft of torque and motors powering each axle to give four-wheel drive. The car will use lithium ion batteries and have a range of up to 248 miles in its lower-powered guise and up to 323 miles in the top model.
The interior is dominated by a massive screen, with touch, gesture and voice control, and facial recognition technology. A tablet that displays driver information is built into the steering wheel.
The car will connect with a Byton Life cloud platform that can remember user preferences and could eventually allow for third-party apps. It will also be launched with level three autonomous technology.
Byton was formed by ex-BMW i boss Breitfeld and Daniel Kirchert, former head of Infiniti's Chinese division. The management team includes other ex-BMW i executives along with former executives of Tesla, Google's autonomous car division and Alpine. Breitfeld said this industry expertise will set it apart from other new electrified car firms – including Tesla.
"Tesla has done an amazing job to build a premium electric car brand from nothing in 15 years," said Breitfeld. "But I think our ideas are a bit more advanced. They have a beautiful product but it's very much an electric car. Ours is a smart device on wheels.
"From my perception, they tried to reinvent the car company in every detail, even production, and the results you can see today. Our approach is to take what's great from the traditional car industry. I'm not going to reinvent platform or production concepts. Great companies figured out how to do this, so best don't touch it. Instead, focus on the areas where you really want to be different. For us, that's the interior and user interface."
Byton's HQ is in Nanjing, China, where a factory capable of producing around 300,000 vehicles a year is nearing completion. Breitfeld said the firm aims for the plant to be running at maximum capacity within four years. Around half of sales are likely to be in China, with the rest split between Europe and the US.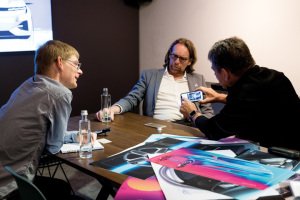 As well as Nanjing, Byton has marketing offices in Shanghai and design and engineering offices in Germany and California. Breitfeld said: "To make it quickly to the market, you have to make use of the people and know-how where it is.
"We want the excellence of the German premium automotive industry, which is design and vehicle concept and engineering, and is based near Munich. The hub of autonomy and connectivity is in Silicon Valley, and you need a supply and production chain in China to be successful there."
JAMES ATTWOOD
BYTON IS A SERIOUS PLAYER
James Attwood
Yes, another car industry start-up based in China, promising a different approach to 'mobility' with an electrified, connected, autonomous car. It's a veritable feast of industry buzzwords, so it'd be easy to be cynical about Byton.
But this is a newcomer worth taking seriously, because it's a start-up with a management team positively oozing car industry experience.
The brains behind Byton know how the car industry works and they have strong Chinese funding in place that should allow them to quickly produce credible, affordable cars at competitive prices.
Of course, making a credible car is one challenge: selling it is another. Byton's challenge will be to persuade buyers to make the same bold leap away from the established brands that its executive team has.
Q&A BENOIT JACOB, BYTON DESIGN CHIEF
Why leave BMW, and what were the challenges?
"I had no reason to leave BMW, but it was the chance to work on something that can be a real game changer. It's exciting. It's not just designing a car, but designing the organisation and structure that will lead to it. It's fun."
How does Byton's approach differ from other car firms'?
"We are driven by an approach around innovation that is meaningful. We're trying not to design a car but a user case. Our car is future-proofed. If you look at a car today, every switch or button dictates a specific function. In our car, we have the big screen that shows this and that, but who knows? In one year, it could be different. That's the start-up mentality: it's adaptability."
What are the challenges that connected cars present?
"Bringing together products with very different life cycles. The hardware is capital intensive, while digital products and services have much shorter life cycles. How do you make a car with potential to bring meaningful updates, and not just a mid-life cycle update with a new bumper?"