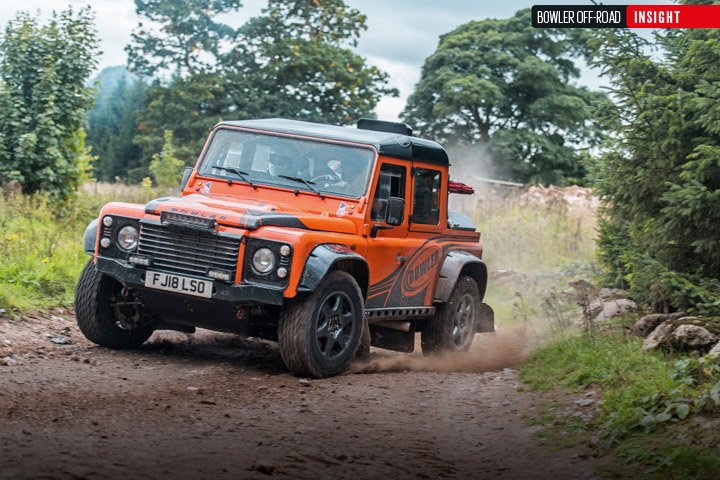 No-nonsense off-road specialist Bowler delivers honest performance – on any type of wicket. Matt Saunders steps up to the crease

Bowler Motorsport might once have been described as one of this country's better-known 'cottage industry' car manufacturers – though I'm not sure we've got one of those any more. It's a description that conjures images of boiler-suited blokes in poorly lit workshops tinkering with oily things; images which bear no resemblance to what really goes on at this remarkable place, or many others like it.
And yet it's a phrase that hints at one of Bowler's greatest unintended attractions: the element of surprise. The firm is based in Belper, a small town in Derbyshire's Amber Valley; and rather than being squirrelled away on an out-of-town industrial estate, they're actually within spitting distance of the town centre. There's an estate agent next door, a hairdressers over the road, and just down the hill the alluringly named 'Slenderella' lingerie wholesaler.
Bowler's factory itself is nothing to look at; it's about the size of a Lidl supermarket, only with considerably less parking. And yet inside, the company's designers, engineers and technicians are busy making very special, high-performance off-roaders that are fast, robust and good enough to mix it with the multimillion-pound works contenders at any international rally raid. What's more, anyone can wander in off Queen Street and put down a deposit – having first popped in a few doors away, I like to think,
for something nice in chiffon for the better half.
People who don't know us assume our cars are just tuned or converted Defenders
Bowler's idea of a VIP customer experience probably wouldn't be much like the one you might get if you were spending £135,000 (the cost of the firm's current rally raid car, the Bulldog) on a Porsche, Ferrari or Aston Martin. I'd imagine it might consist of a tour of the stockroom and a quick poke around the workshop, followed by a sausage sandwich and a cup of tea in the boardroom. Then the sort of flat-out blast around the firm's nearby off-road course that is more likely to lead a wealthy enthusiast to reach for his wallet than schmoozing by an oily salesman. Bowler's that sort of company: big on authenticity, passionate about motorsport and engineering, superbly free of bull.
In the past five years, the company has been transformed following a move from a converted barn on company founder Drew Bowler's farm in nearby Hazelwood.
In the wake of the cancellation of the 2008 Dakar Rally and the effect of the global financial crash later that year, Drew realised his firm must grow beyond motorsport in order to thrive. He settled on a long-term vision for Bowler that would involve the manufacture of both road cars and rally cars, as well as selling aftermarket conversions and accessories for the Defender. Most importantly, it would also embrace 'business-to-business' specialist vehicle engineering. Bowler, he hoped, might pick up where the specially prepared Land Rover Defender, whose demise he could already see coming, would leave off.
His vision attracted some local government and motor industry investment, and began to form in 2014 when his company doubled its workforce and relocated to Belper. Aside from running the popular Land Rover-affiliated Defender Challenge UK rally series, Bowler would spend the next three years developing the key to its future: its Cross Sector Platform multi-use vehicle rolling chassis. This underpins the Bulldog rally raider, but it's also what Bowler is offering, as part of a bespoke engineering service, to any agency, business or organisation that might have emergencies to respond to; security or protection services to deliver; border control to carry out; or aid to distribute to remote places in the world; and which might need a bespoke fleet of super-rugged utility vehicles to do it.
The CSP is quite a thing to cast your eye over. Walk past Bowler's boardroom, office space, stockroom and 'broom cupboard' (the latter is where the 3D printer is, naturally) and you come to the first of its big workshops that includes a laser cutter and a metal folding machine, each about the size of a large car, and opposite them a couple of welding bays. Sheet aluminium enters this room, fully welded chassis leave it.
The latter look familiar – a bit like a Defender's ladder frame reimagined for the 21st century; but they're fully modular, and can be made longer or shorter, wider or narrower, or even stronger on request. And while some are designed to have the tubing of an FIA-approved roll-cage welded to them, others can be made out of thicker-gauge extrusions without the full spaceframe treatment. Flexibility is the platform's key attribute, since it means the company can respond to a wide variety of requests without starting from scratch every time.
In November 2016, however, the man whose vision inspired all this tragically left the stage. Drew Bowler's sudden and unexpected death remains a deep wound, but it didn't derail the company. "It was a terrible shock, but by the time it happened, we all knew what we needed to do to deliver the CSP, and to keep our momentum going," explains David Black, Bowler's head of manufacturing and engineering. "We're still a small team [of no more than 40 employees] and we've got a lot of spirit. That's Drew's legacy."
In 2017 a new management team was formed, the Bulldog rally car was launched, and Bowler's Rapid Intervention Vehicle concept was shown at the Defence and Security Equipment International trade show in London's Docklands. The RIV concept dared to move beyond a Land Rover-derived look for the first time in Bowler's history and illustrated the potential of the new chassis. And today, while ownership of Bowler is still "settling down", expansion plans are progressing.
Right now, according to Black, most of Bowler's customers still want a car that looks like a Defender; and, since Defender body components are still easy and fairly inexpensive to acquire (handy assets for rally raid cars that tend to need body repairs with casual regularity), it's also practical to offer them that way.
"The problem that causes is that people who don't know us assume these are just tuned or converted Defenders," Black says through gritted teeth. Given that the Bulldog has a unique spaceframe chassis, fully independent suspension, weapons-grade Bilstein struts, and comes with a choice of Range Rover Sport-derived supercharged V6 petrol or V6 turbodiesel power, you can see why that might bother him; the Defender body and cabin fittings really are just a 'top hat'.
Bowler will develop its Bulldog core model beyond the Defender body parts soon enough and will 'develop' what's under the bonnet, and make the car more habitable and convenient for the increasing number of customers who want to regularly drive it on the road rather than across the Moroccan desert.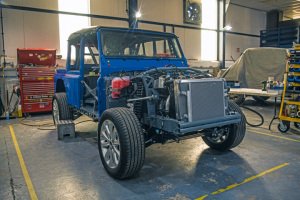 "We're currently making 20 to 25 cars a year," explains Black. "With a bit of reorganisation in the workshops, we might be able to go up to 30; but beyond that we'd have to look at contract manufacturing or licensed production. But we won't rush into growth. We're selling our services globally now, and we'll make global decisions about how and where the cars are assembled; it'll be led by demand.
"Before too long, we're all pretty confident that our business will look exactly as Drew hoped it might." A
PHOTOGRAPHY Olgun Kordal
DRIVING THE BULLDOG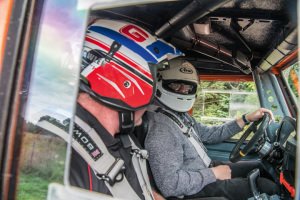 Bowler's current model, the Bulldog, is offered with a choice of V6 engines from the Range Rover Sport. The 280bhp, 443lb ft diesel is the one most customers pick for rally raiding, since its fuel tank is half the size of the petrol version in order to complete a 250-mile rally stage (though it's still 221 litres).
The car has a much wider track than a Defender, which is how you'd likely distinguish it from a distance. The interior is best described as 'functional' and includes a hammer where the radio might otherwise be, in case you roll down a dune and need to exit via the windscreen.
A weight of 1800kg (a good half-tonne less than the equivalent Range Sport) means it feels hot hatchback fast, hugely torquey and very noisy. But you quickly appreciate why owners have been petitioning Bowler for more power; the car's handling and body control are both breathtakingly good. On the road, the suspension deals with bigger bumps supremely well, and there is incredible flatness, immediacy, balance and precision to the way the Bulldog corners for something on chubby BF Goodrich all-terrain tyres.
Off-road, you won't believe the punishment that suspension can soak up; think 80mph, and fourth gear, on a rutted gravel track you wouldn't take at 30 in most 4x4s. It's addictive good fun.