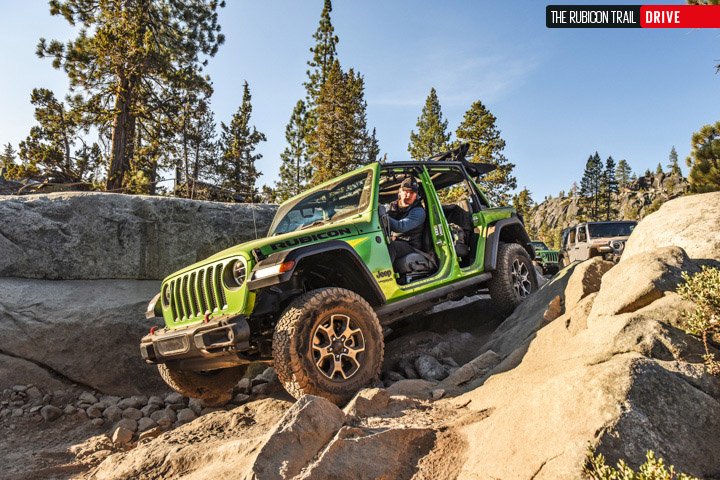 The Rubicon Trail high up in the Californian mountains is the ultimate off-road test of mettle and metal. Richard Lane takes up the challenge in what else but a Jeep Wrangler Rubicon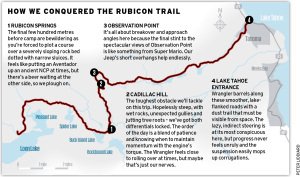 You'll know Laguna Seca: the glorious California racetrack whose legend is built on turn eight – aka the Corkscrew. A freakish left-hander taken blind, it plunges car and driver almost six storeys with a viciously steep sweep to the right. Distorting and with endless scope for error, it's nevertheless done, dusted and behind you after a few intense seconds. At least until the next lap.
Now imagine driving a Tarmac-ripper up and down the Corkscrew every day for a week, then sprinkling the track with knee-high granite rocks. Some of these rocks are sharp with dark, flinty edges but others are glass-smooth and slippery. Many are damp, and all are spread out inconsistently atop a shifting soup of smaller stones and mud. Replace the azure sky with a gloomy canopy of aromatic Douglas fir. Narrow the breadth of the track from five car-widths to barely one and sporadically escalate the downhill gradient to a stomach-churning degree. Forget about phone reception – you've had precisely nothing for hours. There's no quick and easy way out of here, so try to relax into the emulsion of sun cream and dust daubed across your face, neck and arms. Take a deep breath, then ease off a brake pedal suspending two tonnes of metal, plastic and BF Goodrich rubber.
This is the equivalent of a hot lap of the Nürburgring for those of a knobbly tyred disposition
Welcome to the Rubicon Trail. The pedal in question is attached to the latest, JL-generation Jeep Wrangler – gently tweaked, substantially improved but, to everybody's relief, fundamentally unaltered from before – and what you've just imagined is a stretch known as Cadillac Hill. In essence, this is 15 sweaty-palmed minutes of warily managing gravity in such a way that machine isn't unnecessarily damaged or beached entirely by your own ineptitude. It's one reason why the trail as a whole is regarded as the toughest off-road challenge in the world – a hot lap of the Nürburgring for those of a knobbly tyred disposition – and were it any easier, it'd be a disappointment. The prospect of axle-breakage looms large here. More so if you're driving a Land Rover, say some partisan but pleasant locals we encounter. Because of the remoteness of this point, an hour's drive south of Reno in the El Dorado mountain range, even minor maladies can mean an overnight stay before a 'trail repair' can be made. Like many a wilderness, it is spectacularly pretty at times, but it's equally brutal all of the time.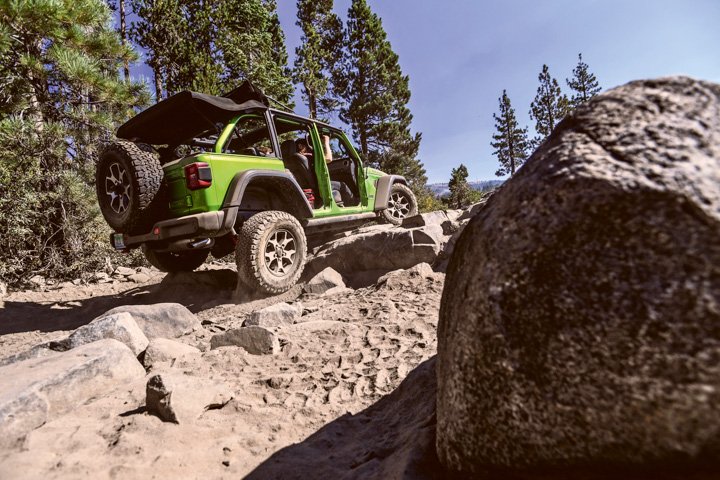 Jeep's association with the place goes back to 1953. It was then the first organised tour left Georgetown, a tiny settlement established a century earlier as a camp for hopeful gold rushers. During two days of what must at times have felt like an intolerably hard slog, more than 50 'CJ' Jeeps – popular among Second World War veterans – initiated an annual tradition that exists to this day in the form of the Jeepers Jamboree. Modern-day tours can number 400 cars, each subtly remoulding the trail with every turn of their wheels.
Today it's our turn, and our machinery is interesting for two reasons. First is that we're dealing with the Wrangler Rubicon, which is the latest, most hardcore model you can buy in factory spec. The standard car is enormously capable but here you get Dana 44 solid axles (not just stronger than before, but also wider, so the turning circle is family-hatch tight), massively flared arches for 33in all-terrain tyres and an ultra-low-range gearbox. Jeep says this is the only car in the world that's capable of tackling the trail in standard form. Suzuki may beg to differ. Mercedes, too, although one of our colleagues – a 4×4 specialist from a respected German title – concedes you'd discover a G-Wagen's unprotected sills in a terribly sorry state come the end of the day.
We've covered 7.4 miles at less than walking pace with an average economy of 5.6mpg
But that is a group test for another time. Right now, the JL generation feels a lot slicker than its predecessor. Dropping the windscreen flat historically allowed the Willys and Ford-built Jeeps to be shipped more easily to conflict zones and it's always been a hallmark of the model. It was always fiddly, too, and although ours is erected to help stave off endless plumes of dust, folding the thing is now a matter of removing a mere four bolts instead of 28. Likewise, peeling back the canvas roof (a hard-top is available) isn't quite MX-5 easy, but it's close. We have it drawn over for shade. The car's spacious interior still uses bulky switchgear but the materials are now much nicer, and there's some proper 'connectivity', too, along with an 8.4in touchscreen.   
The second reason is more subjective, and it's why we're out in the Californian wilds in the first place. In Europe, the Wrangler is mostly a style statement. Driving one on the same soil Jeep uses for development purposes reminds us that were we to take the progeny of a mountain goat and a spider, then somehow mechanise and add comfy seats, this is what you'd be left with. Like plucking a mid-engined Ferrari out of London's congestion zone and depositing it at Fiorano, not only does such a single-minded car make much more sense out here, it's duly blowing our minds with its proficiency.
What we don't have are doors, and out here that's just lovely. Useful too. There are sections where the rock banks are so threateningly narrow that sidewall brushes stone and you could easily peel an arch open. Tilting your head out helps you better guide the car's ladder chassis and appreciate the vast wheel articulation on offer – vaster still if you've pressed the button that disconnects the front anti-roll bar. The trick is to meet larger rocks with wheel rather than undercarriage – 44 gratefully received degrees of approach angle permits this – and, if necessary, let the so-called rock rails take the blow. They screech and scrape awfully, but failure to proceed in this manner leaves one Jeep jacked up on an air cushion so the guides can crawl underneath and remove a rock crimping the transmission-coolant line. Similar to track driving, you've got to let the car do the work, which in this case comes courtesy of a 2.0-litre turbocharged petrol with 268bhp and 295lb ft. It's all sent through an eight-speed automatic and automatic – but switchable – locking diffs, which we engage for the steeper, dustier stretches when wheelspin crops up. Do that and you may as well be riding a travelator, so effortlessly does the Jeep haul itself onward and upward.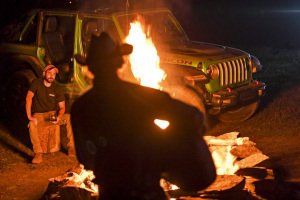 By force of road-testing habit, I reset the trip computer in the morning. Arriving at Rubicon Springs – an eerily still and quiet idyll, notwithstanding the occasional black bear – the figures tell their own story. We've covered 7.4 miles at less than walking pace with an average economy of 5.6mpg. It's been exhausting, the physical demands outweighed by the mental drain of plotting the perfect course inch by inch. But it has been colossal fun. In fact, even for somebody more excited by Cup 2s than crawl ratios, it's not difficult to see why you might invest heavily in the hardware to go nowhere in particular at a glacial pace. Especially so when the hardware is as iconic as a Wrangler, and the nowhere happens to be this extraordinary corner of the High Sierra. A
HISTORY OF THE RUBICON TRAIL

The first time anyone successfully undertook the journey to the resort at Rubicon Springs with four wheels and an engine was in 1908. Marion Walcott drove a Mitchell Model I Touring from San Francisco, frequently using planks and block to negotiate rocks. The resulting story – never again, she said – appeared that winter in the Pacific Coast Motor (The Autocar did not, alas, commission Walcott).
The road had, however, been established before then as a route for stagecoaches travelling between Georgetown to the west and Lake Tahoe, and was a Native American trial even before that. The resort closed in 1926, with the road falling into disrepair, only to be resurrected as an off-road Mecca from the middle of the century on.