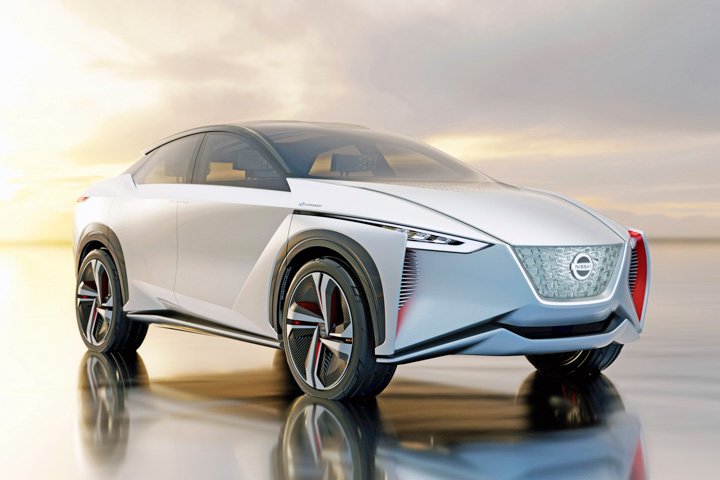 Brand is turning to mild and plug-in hybrids to increase its line-up of electrified cars
Nissan will launch a range of hybrid models to supplement the Leaf and the showroom version of the IMx Kuro electric SUV as part of its electrification plans.
The company has yet to provide details of which models will be hybridised and when, but conventional hybrids and plug-ins will be offered.
According to advanced product planning manager Warwick Daly, "the [Renault-Nissan-Mitsubishi] alliance is evaluating the best technologies available across the group for its hybrid programme", which is why it's not revealing much about its strategy now.
Considerable hybrid expertise rests with new alliance member Mitsubishi, and Nissan and Renault have more than eight years' experience apiece making and selling pure electric vehicles.
Daly said "not over-complicating" Nissan's model line-up is a consideration. The addition of hybrids and plug-in hybrids will expand the brand's powertrain choice from three today (petrol, diesel and electric) to five, with two hybrid drivetrains.
He expects around 35% of Nissan's European sales to be electrified by 2025. The company is aiming for 20% of its sales to be EVs by 2020. Assuming that this 20% EV share will have grown by 2025, we can guess that hybrids and plug-ins will account for around 10% of its sales by that point.
"We want to stay ahead of the curve," said Daly. From 2025 onwards, Daly also expects that "the mild hybrid will start to become obsolete. Our electrification offer will change over time."
Daly expects the Leaf and electric SUV to become major sellers for the brand, alongside the Qashqai and Juke. "The Leaf will play a bigger role," he said, pointing out that the latest version has 20,000 advance orders across Europe and the sales rate is 40% higher than for the previous model.
Nissan will have similar class-leading sales ambitions for the electric SUV, to maintain its position "as the number one crossover brand in Europe", said Daly.
RICHARD BREMNER

NISSAN NEEDS TO ACT FAST
Rachel Burgess
Nissan can probably lay claim to having had the earliest impact in the growth of EVs with its Leaf. But we've been so busy focusing on that – and the success of the Qashqai and Juke – that, suddenly, Nissan risks falling behind its rivals with electrified progress. The electric IMx and hybrids must arrive soon or Nissan will be forgotten as a pioneer and remembered for losing its advantage.