TESTED 19.11.18, MAJORCA ON SALE DECEMBER PRICE £27,555 (EST)
All-new high-rised compact hatch shows its hand in range-topping petrol guise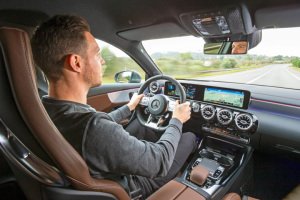 Neither the appeal of the Mercedes-Benz B-Class nor its exact purpose is immediately apparent, but with more than 1.5 million sold across two generations so far, the tall yet compact hatchback ticks a lot of boxes for a significant number of buyers. This latest model is derived from the new A-Class and is distinguished from it by a higher roofline and a slightly loftier seating position.
Why not just buy the A-Class? Accessibility to the cabin is the main draw, particularly among people who would struggle to get in and out of a low-set hatchback. Eventually, there'll be a sliding rear bench, too, which won't be offered in the A-Class. Compared with the previous generation, this new B-Class has grown in width and length, so there's more cabin space than before.
Apart from the much more modern exterior design, the most obvious improvement from old model to new is the slick, cutting-edge interior. Shared with the A-Class, it makes Mercedes' earlier compact-car cockpits feel outdated, although the AMG Line's soft leather and metal trim inserts, which lend the cabin a premium feel, don't come for nothing.
The 10.25in central infotainment screen you see here is also an optional extra (expect it to cost £1395 as part of an upgrade package), but even without it, you get Mercedes' latest MBUX multimedia system. It features a touchscreen, a laptop-style finger trackpad located on the centre console and a plethora of buttons on the steering wheel (almost 20 buttons, scroll wheels and paddles, in fact) with which to navigate the various menus, but the whole system is far less daunting to operate than its apparent complexity would suggest.
Along with the rest of the industry, Mercedes has seen a shift away from diesel towards petrol within its compact line-up. This B200 is the top-spec petrol at launch, its 1.3-litre four-cylinder turbo unit developing 161bhp yet returning a claimed 51.4mpg. Paired to a seven-speed dual-clutch gearbox, it is refined and well mannered in normal driving and it even feels muscular throughout the mid-range. However, if you extend it beyond 4000rpm, it forgets its manners entirely and becomes noisy, coarse and borderline unpleasant. It's just as well the typical B-Class driver is unlikely to explore the upper reaches of the rev range on anything like a frequent basis.
The newer eight-speed dual-clutch gearbox is available on diesel models only, but the B200 doesn't seem to miss it for the most part. The seven-speed unit is smooth and unfussy in normal driving and reasonably responsive in manual mode, but quite why it has been calibrated to kick down two or even three gears whenever you ask for only a little more acceleration, eliciting a frantic burst of excitement from within the engine bay, is anyone's guess.
On upgraded 19in wheels and optional adaptive dampers, the ride quality is fine without being exceptional. Switched into a firmer mode, those dampers do a useful job of containing the car's mass vertically as well as in cornering, so far from falling apart hopelessly when the road begins folding back on itself, the B200 is actually a pretty willing companion. The steering is always light but accurate and there is plenty of grip, all of which means the B200 has handling reserves that most buyers will simply never tap into.
Prices haven't yet been announced, but they will be very much in line with those of the A-Class. That suggests this B200 AMG Line will cost around £27,555 when it goes on sale in December. The B-Class certainly isn't a better car than its more conventional stablemate, but those buyers who really would appreciate its more accessible cabin need not be saddled with a demonstrably worse one.
DAN PROSSER
The reflection in the side windows of the outer pair of ventilation ducts, which glow in low light, can obscure your
view of the door mirrors. DP
MERCEDES-BENZ B200 AMG LINE
With a first-rate cabin and mature dynamics, it's a fine alternative to the A-Class if you prefer a taller car


Price  £27,555 (est)
Engine  4 cyls, 1332cc, turbo, petrol
Power  161bhp at 5500rpm
Torque 184lb ft at 1620rpm
Gearbox 7-spd dual-clutch automatic
Kerb weight 1410kg
0-62mph 8.2sec
Top speed 139mph
Economy 51.4mpg (WLTP combined)
CO2, tax band 124-129g/km, 25-26%
Rivals BMW 2 Series Active Tourer, Volkswagen Golf SV