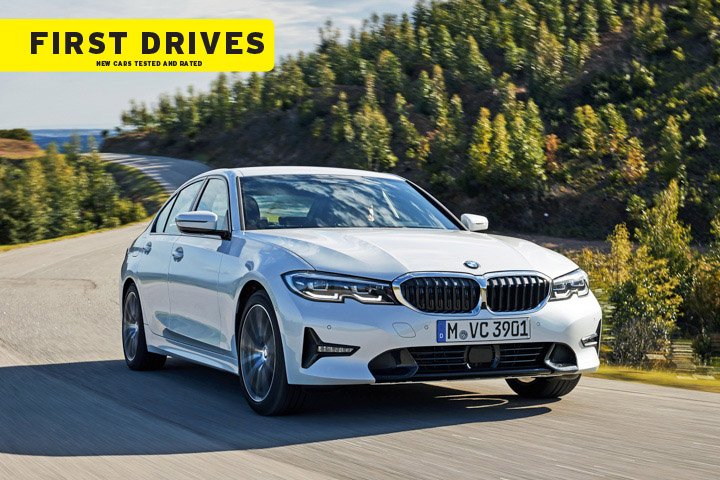 TESTED 30.11.18, PORTUGAL ON SALE NOW PRICE £36,700
Seventh generation of the 3 Series is bigger but is it also better as

a result of BMW's bid to inject it with a more sporting demeanour?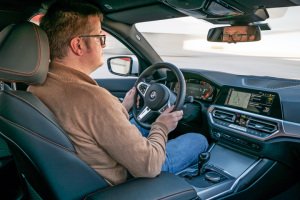 In our current era of identity politics, when some of the most powerful men and women on the planet think they're entitled to their own facts as well as their own opinions, this is pretty small fry – and yet it still seems an extraordinary piece of revisionist rhetoric to me. "The BMW 3 Series has epitomised the concept of sporty driving pleasure in the global premium mid-size class for more than 40 years." That claim is contained within the press release on Munich's new seventh-generation Three. In fact, it's the opening line. And yet it's palpable nonsense.
Similar lines of description were glibly repeated at the press launch of the G20 iteration of the 3 Series a week or so ago so prominently and so often that you almost distrusted your instinct to question them. So when did the 3 Series become 'mid-size'? Hasn't it spent most of its famous 40-year history being the world's defining compact executive saloon?
Nope. Apparently, by BMW's own say so, it's 'mid-size'. Well, I'm sure it didn't used to be. It's not clear when the shift happened exactly, although I've got a reasonable idea why. And what might it mean now, you may very well wonder, for the character of a car so many of we Brits have come to know better than that of almost any other German car in the world? The answer is quite a lot and nothing at all – depending how you look at it.
The car is up to 55kg lighter, model for model, than its F30 predecessor
This latest G20 3 Series is the first to tiptoe over the 4.7m mark on overall length – and, within its own particular executive saloon niche, only the current Audi A4 is longer. The 3in growth spurt the 3 Series has been through in transition from its last model incarnation is actually the second significant one in as many big redesigns. The car now sits between BMW's second- and third-generation 5 Series on overall length; but it has put on more at-the-kerb centimetres over the past two major model overhauls than it did cumulatively over its first five full model generations.
It's partly the existence of the 1 Series that has freed BMW's hand to add inches to what remains its biggest-selling model globally – but it's mostly one critical, commercial reality: China has become the biggest market in the world for this car and now approaches three times the size and importance of the car's next biggest single global market territory.
China wants the 3 Series big – and China quite evidently gets what it wants, even if that means buyers elsewhere in the world, so familiar with the just-so proportions of the E30 and E46 generations of the 3 Series, get a new car that looks, in profile, just a little bit as if a foot pump has been taken to its cabin. Might that also be why the G30 has slightly more dressy-, busy-looking body surfacing than the last Three, I wonder, as well as a bigger kidney grille that many single out as an aesthetic weakness? Does BMW's market research suggest China will prefer it like that? Now I'm being unkind as well as pedantic – but I rather suspect so.
Perhaps it was partly as a diversionary tactic, then, that BMW quickly directed the attention of gathered European testers last week towards the equally wide-reaching transformation that the 3 Series has been though under the skin. Having been switched onto the same Cluster Architecture platform used by the rest of Munich's longways-engined showroom range, the car is now made out of a mix of aluminium and steel and is up to 55kg lighter, model for model, than the F30 was. Its body-in-white is also 25% more rigid.
Below that body structure, BMW's chassis engineers were given permission to bring the 3 Series back towards its sporting roots in a dynamic sense; by adopting wider axle tracks, stiffer springs and suspension mountings, and more front axle camber for all versions of the car. Their biggest single innovation, however, are the new 'lift-related' dampers fitted to all 3 Series models as standard (which you can swap for adaptive dampers at extra cost). These clever shocks use structures within their reservoirs to provide extra damping support at the extremes of wheel travel, allowing BMW to tune the car for a slightly more fluent ride over the smaller imperfections in the road that all suspension systems most commonly deal with. They work quite well. The car doesn't feel tetchy or aggressively damped, although it's certainly now plainly a firmer-riding prospect than the average German saloon. But we'll come on to that.
The new 3 Series will arrive next March with a line-up of five engines, ranging from a 148bhp 318d diesel up to a 255bhp 330i turbo petrol – with both a range-topping M340i xDrive (see opposite page) and a plug-in hybrid 330e due before the end of the year. The big-selling four-cylinder diesel engines have had the most under-bonnet changes, switching from twin-scroll turbo induction to sequential twin-turbocharging; and it was the 320d we elected to test, with the same headline power and torque outputs as the equivalent F30-gen 320d (187bhp, 295lb ft). The engine is alleged to have made decent strides on both fuel efficiency and throttle response, though – allowing this 3 Series to become rated at better than 60mpg in fuel economy tests
but also (in eight-speed automatic form) making it capable of getting to 62mph from rest in less than seven seconds.
The new 3 Series is easy, enjoyable and engaging to drive quickly
It's hard to take issue with the performance of a car of such wide-ranging strength that it can do both of those things. If you were out to find fault with the 320d's new four-pot diesel, you might observe that it's still not the quietest or smoothest of its kind. Just like the 320d motor in the F30, however, this one's more willing than most to spin beyond 3500rpm, allowing you to get very close to the 5000rpm redline before wishing the auto 'box had already shifted up. It does seem a little bit keener to respond to your right foot at low revs than the old B47 four-pot used to, although I'm not sure you'd know this is a sequentially turbocharged engine if you hadn't been told. There's no detectable flat spot or sudden rush in the power delivery when the bigger turbo wakes up; just a really linear and usefully wide spread of torque.
So does that suspension overhaul deliver the handling dynamism needed to cover for the new 3 Series' greater size and longer wheelbase? Pretty emphatically so.
Even without M Sport suspension modifications, the 320d handles really well, with a balance and precision that few rivals can touch. There is greater immediacy and incisiveness about its cornering manners than the F30 managed, although deliberately not quite as much in an Alfa Romeo Giulia. BMW was plainly keen to produce a steering rack with good on-centre stability, a clear sense of tactile load and with linear handling response as you add lock – all of which it has very successfully delivered.
The new 3 Series is therefore easy, enjoyable and engaging to drive quickly. It's also a car with an apparent although entirely palatable compromise on ride comfort. It rides quite firmly: not coarsely, harshly or awkwardly, but with a slight yet recurrent sense of over-excitement over smaller lumps and bumps, and a businesslike vigour over bigger ones. Impatient might be the best word for it; fiddly, perhaps, at its worst. Over most surfaces, I dare say it won't bother the majority of 3 Series regulars one jot – although it'll take a good drive on UK roads before we can declare that with any certainty.
And what if those regulars are bothered? Well, assuming the newly sharpened cutting edge of the 3 Series' handling appeal isn't recompense enough, they'll be getting a car with a more rich, sophisticated and accommodating cabin than they're used to, one with some very impressive infotainment features, too (see separate story, below); and with engines every bit as strong and appealing as ever they have been.
Whether they like it or not, they'll also be getting a bigger 3 Series, of course. One, to these eyes, without the perfection of design proportion it has shown in the past, but whose size seems to leave the driving experience entirely unencumbered.
MATT SAUNDERS


TESTER'S NOTE
The 320d will be one of the 3 Series available with xDrive four-wheel drive from launch but won't be offered with the M3-derived active locking differential available on more powerful models. MS
'HEY BMW, TELL ME ALL ABOUT YOUR VOICE RECOGNITION'

The BMW 3 Series is the first car from Munich to come with the company's very latest voice recognition technology. BMW Intelligent Personal Assistant allows you to talk to your car in a way so far uncharted by other car makers.
Use of the system can begin by choosing your own name for the car. (Starting any question with 'hey BMW' will always wake it up for an imminent command, but you can teach the system to learn any name you choose.) And it might end with you asking anything from 'is the oil level okay?' to 'take me to the airport at Stansted' to 'I'm tired' or 'I'm cold'. BMW says you can even engage in casual conversation with it, by asking questions like 'how does the high-beam assistant work?'.
The system learns your habits and preferences, and its functions will be updated by BMW via the 3 Series' over-the-air data connection.
BMW 320d SPORT AUTO
Probes the limits of credibility on compactness but an outstandingly engaging driving experience


Price  £36,700
Engine  4 cyls, 1995cc, twin-turbo, diesel
Power  187bhp at 4000rpm
Torque 295lb ft at 1750-2500rpm
Gearbox 8-spd automatic
Kerb weight 1455kg
0-62mph 6.8sec
Top speed 149mph
Economy 62.8mpg
CO2, tax band 117g/km, 24%
Rivals Mercedes C220d Sport, Alfa Giulia 2.2TD Speciale