TESTED 5.6.18, Cotswolds ON SALE Now PRICE £30,240
Upmarket new hatch stretches its legs with 221bhp and multi-link rear suspension
It has come a long way, the A-Class. All the way from the 1990s car and its infamous elk-avoidance issues to this: the all-new Mk4, which looks to be so posh that it's virtually a shrunken CLS. A haughty hatch, perhaps, but in a good way.
From launch, the A-Class is available as an automatic only and offered as an A180d diesel, or as A200 and A250 petrol models. Manual gearboxes and more powerful diesels and petrols are due to flesh out the range by 2019.
The A-Class gets torsion beam rear suspension on everything up to and including the A200. The A250 we're testing here gets multi-link rear suspension as standard.
The A250 has a moderate amount of zing to it, as you'd hope from a 1445kg model equipped with a 221bhp 2.0-litre engine. A pleasingly throaty rasp fills the cabin as the engine builds revs smoothly and with enough willingness that you're often tempted to stick it in Sport and wring it out. For all that, if you toggle to Comfort, then you can float about in an impressively refined, calm manner, too, if you want.
The seven-speed dual-clutch automatic can get panicky about steep descents but, most of the time, it's slick and well judged, and it responds snappily to paddle pulls, too, which is good because there's no manual 'box coming to this model.
As ride and handling balance goes, the A-Class hits a sweet spot, provided you want a comfy daily driver with neat and tidy manners when you find a road worth making the effort for.
Sling it through some corners and it tucks in, settles down and fires you out the other side in a gratifyingly precise fashion. It's easy to enjoy this sure-footed front-wheel-drive car, even if it feels like Merc could have added real sparkle with a bit more effort on the anodyne steering. More texture and better weighting would have gone a long way.
So it's no Volkswagen Golf GTI, but then the A250 isn't really trying to be a hot hatch. It's more of a moderately bubbly commuter that's aiming to set standards for comfort and interior poshness, which it does quite convincingly.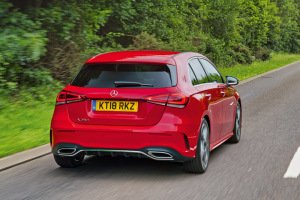 Ride comfort – even over roads with gaping potholes and that high-frequency, corrugated road surface that the UK specialises in – is great. It's usefully better than that of a Golf GTI. There's some body float, and a fair bit of noise as the suspension works, but the damping is supple and precise and isolates you from all but the really gnarly bits of Tarmac.
And the interior? It looks and feels great. Practicality and roominess are just fine, but an Audi A3 will give you better rear passenger space and much better rear visibility.
This A-Class  sets new standards for infotainment and interior lustre in this class, and it's about the comfiest, too, even if it's not the most thrilling to drive at this price.
VICKY PARROTT

TESTER'S NOTE
It's worth spending the £1395 on the 'Executive equipment line' pack to get the huge media screen. Without it, the two small standard screens are lost in a slab of plastic. VP
Mercedes-Benz A250 AMG LINE
Provides high-brow tech, serious brand swagger and an easy yet satisfying driving experience
`

Price  £30,240
Engine  4 cyls, 1991cc, turbo, petrol
Power  221bhp at 5500rpm
Torque 258lb ft at 1800rpm
Gearbox 7-spd dual-clutch automaticH
0-62mph 6.2sec
Top speed 155mph
Economy 45.6mpg
CO2, tax band 141g/km, 29%
Rivals Audi A3 2.0 TFSI S tronic Sport, BMW 125i M Sport, Volkswagen Golf GTI