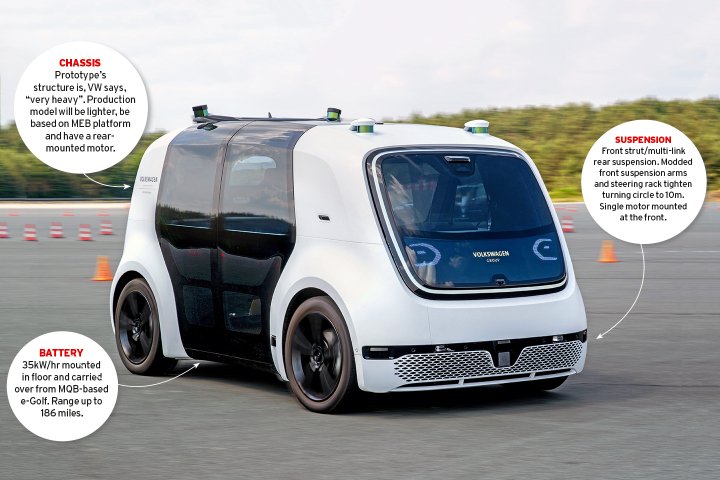 Minibuses for business use are likely to be the first fully autonomous Volkswagens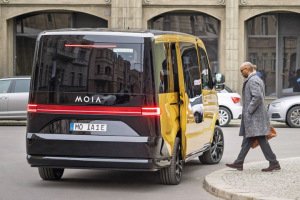 Volkswagen's driverless car technology is on course to be launched in 2021 with level four/five capability (level five is fully autonomous) and most likely on a fleet of Transporter-type minibuses in the US.
VW's chief digital officer, Johann Jungwirth, is moving to San Francisco to establish the operation, which will offer a fleet "of many vehicles" and is likely to operate under the Moia banner.
The aim is to make up ground on Google's Waymo operation, which has pledged to introduce a fleet of self-driving Chrysler Pacifica minivans in Arizona later this year. Jungwirth acknowledges Waymo as "the best advanced of anyone on self-driving technology".
Jungwirth's return to Silicon Valley had been misinterpreted as him leaving the company altogether, but he confirmed to Autocar that he is staying with VW to implement "mobility solutions".
"We have completed the development stage. Now it's time to set up a real mobility operation and I'm moving there to do that," he said.
The vehicles for Moia's fleet haven't yet been confirmed, but the cost of equipping a vehicle in the early stages of the technology can only be borne by a fleet vehicle, like a T5 or possibly the ID Buzz concept, part of VW's ID electric family. As parts costs drop in the future, they can trickle down to private-buyer vehicles.
"The cost per vehicle is likely to be around $10k-$15k extra. In the early stages, that can only be justified for business users," said Jungwirth.
But the cost of adding self-driving tech to level four/five on a fleet vehicle can be offset by not having to employ drivers.
VW has demonstrated the Sedric, a self-driving pod, which is slated for launch after 2023 (see story, below) together
with several aspects of its level four/five technology.
Two milestones are due this September in the Sedric project: proof of concept and a user study into the interior and exterior, including the human-machine interface (HMI).
The fundamental engineering work is being carried out on a fleet of battery-electric e-Golfs modified with five roof-mounted light radars (lidars), four bumper-mounted lidars, a forward-facing video camera and four short-range radars adapted from automatic cruise control.
In-car control is by a neural network computer, which is powerful enough to process up to 20TB of data a day.
Significant work is going into calibrating the forward-facing camera as the 'eyes' of the self-driving technology to recognise pedestrians and be capable of stopping on zebra crossings, for example, and predicting if a pedestrian will suddenly step into the road.
JULIAN RENDELL
WE RIDE IN THE CAR OF THE FUTURE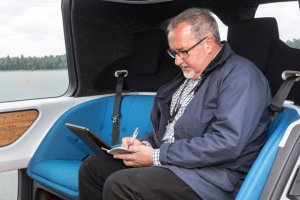 Drama-free, smooth-riding and a new concept in travel are three descriptions of Autocar's brief ride, four-up, in a Sedric self-driving pod.
Based on a current e-Golf chassis, this prototype Sedric smoothly negotiated a very short, flat course on a perfectly smooth test track taking a series of wide S-bends at no more than 30km/h (19mph). It generally steered with a line closer to the left lane of cones but in some corners took an unnaturally wide line, unnecessarily steering towards the middle of the lane, before tightening again.
Compared with the Gateway Pod in which Autocar rode recently in London, the Sedric is more convincing as a consumer product, with good rolling and powertrain refinement.
However, the Gateway was demonstrated in much tougher real-traffic conditions that put its sensing system under much more duress. The Sedric ride told us nothing about how VW will deal with conflicts with pedestrians, for example, or manoeuvre in confined spaces – the real test of a self-driving system.
Although the Sedric is driverless, the occupants control the start with a button mounted on a control panel. Seatbelts have to be worn, otherwise Sedric will not move off.
The view forward is through a transparent OLED screen that displayed the route in our test ride, although adverts or a paired smartphone could display screen content in bigger scale.
"The details of this HMI are still to be finalised. There are many ideas," said VW.