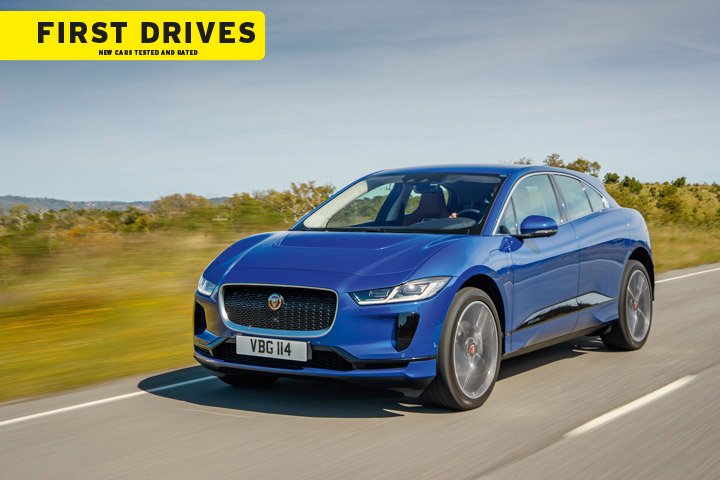 TESTED 22.5.18, Portugal ON SALE Now PRICE £63,495
Jaguar's first electric vehicle promises to deliver the performance, range and luxury to give Tesla a proper run for its money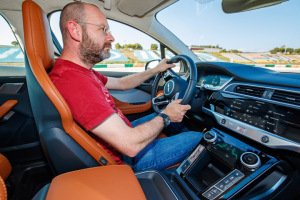 "What is it?" is exactly the question Ian Callum, Jaguar's design director, leads into with the I-Pace. "Is it an SUV? Is it a saloon? Is it a coupé? Is it a sports car? It doesn't matter."
He's probably right. He usually is. The lines between different types of car are blurring even to expert eyes, let alone those who actually go out and spend money on cars and who couldn't care less about arbitrary segments. The only thing they'll have to know about the I-Pace is that it's a battery electric vehicle (BEV), and the first premium, long-range, practical EV from an old-school car maker, if that doesn't sound overly specific.
What I mean is that it joins the Tesla Model series and a host of plug-in hybrids as the long-range, posh-badge electric choice and has felt like a long time coming. It's curious how the established industry chose to launch EVs with semi-affordable prices and short ranges first, seemingly aimed at those with the least money and the least ability to charge them at home. Anyway, now, here we are: a £60,000-plus EV with a 300-mile range or thereabouts and 394bhp, from a company with more experience than Tesla at making cars in large volumes.
One of the reasons there are two motors is so Jaguar could put the wheels where it wanted
It had no particular experience of making EVs, though. That's why it recruited Wolfgang Ziebart, a proper boffin type, formerly of BMW, then Continental (electronics, not tyres), Infineon (a semiconductor/ control systems company) and Artega (remember the electric Artega GT sports car?). He's really enthusiastic, quite intense and clearly incredibly clever, with a Doc Emmett Brown demeanour. You'd really like him. Anyway, Ziebart knows his way around this sort of thing. "The goal," he says of the I-Pace, "was simple: to design the best electric car on the planet." And, Marty, take it to 1955.
Okay, not that.
The basics of a BEV aren't all that hard to get your head around, either. The simplest and cheapest powered wheeled vehicles on the planet are BEVs, and most cars with internal combustion engines have plenty of electric motors in them, too. There must be dozens in a Range Rover. It's in the details where it gets complicated.
For the I-Pace, then, the basics are the kind of 'skateboard' architecture that you'll find underpinning almost every EV. The batteries lie between the two axles and Jaguar has specified two electric motors – the same at each end – of its own design. There are more than 10 patents on the motor, and it's a permanent magnet type, with the DC-AC inverter attached to it, because you want the AC cabling to be as short as possible for efficiency reasons. The difference between an inefficient and a really efficient electric motor is only something like 5%, but it all counts. Next time around, Jaguar wants to put the inverters into the motor itself.
Anyway, one of the reasons why there are two motors rather than one is so that Jaguar could put the wheels where it wanted. Apparently, with only one set of driven wheels, the rear wheels would have had to be farther forward in the body if the car was going to drive halfway normally. This way, there's four-wheel drive and a 50/50 weight distribution, with a wheel out at each corner, much to Callum's satisfaction.
"The I-Pace was driven, outside the realms of the chassis, by design," he says. "And because it's an SUV, we can have big wheels, which delighted me greatly."
One-pedal operation encourages smooth driving, but don't for a minute think the I-Pace is slow
The I-Pace is a relatively compact five-seater. At 4682mm, the car is only 10mm longer than the XE, and yet its 2990mm wheelbase is 30mm longer than the XF's. It's 15mm wider than the XF, too. The front wheels are suspended by double wishbones, the rear by an integral link. You can have coil springs with passive or adaptive dampers, or – the only set-up we've tried so far – air springs with adaptive damping.
Between the axles, surrounded by a predominantly aluminium body structure (torsionally stiffer and with more aluminium content than any other Jaguar), sit 90kWh worth of lithium ion battery cells, enough for a 298-mile range on the new European WLTP drive cycle. How fast you'll actually get through them and how fast you'll charge them depends on the kind of driving you do and what sort of charger you have access to.
Anyway, because of the relative simplicity – of the mechanicals, if not the intricacies of the hardware and control systems to run the car – there's a lot of interior room in the I-Pace, given its medium outward size. Those in the back will have the kind of knee room, if not quite as much head room, as they'll be used to in a genuine executive car. Those in the front have plenty of head room, too, mind, and are surrounded by an interior layout that is recognisably Jaguar, with only a few novel twists.
It's not like being in, say, a BMW i car, which likes to throw new materials at you to make you feel like you're sitting in the future. (You can even have wood trim, for heaven's sake.) The I-Pace's seats are big and comfortable, covered in faux leather at no cost or leather for a couple of grand (it's remarkably easy, as with most premium cars, to add £10k or £20k to the basic price very quickly) and there are all-digital instruments and a new infotainment layout. At the top is a touchscreen that deals with the navigation, audio, telephone and quite a lot of options. Lower down, the console is part touchscreen and part dials to deal with the secondary stuff – and there are a few other switches because, unlike Tesla, Jag would rather not deal with everything via one big touchscreen.
I see the sense in that – but then I also see how quickly the mapping, and directions to chargers, for example, work on the Model 3, whose big touchscreen's controls are seriously impressive. Somewhere between all these systems, there's one perfect one.
As with the outside, the interior is all designed with verve and elegance, though. Fit and finish are strong, and the mechanical layout means there's a lot of oddments storage. It has also given Callum's team some flexibility on the outside. The cab is further forward than a combustion-engined car's, the car looks agile and it retains a big grille, even though it doesn't need all of it for the three independent cooling systems (motors, battery, interior). The top bit flows air through a gap and onto the bonnet, maintaining easy, laminar flow to the body – whose black sides break up the bulk and which you'll see on future Jaguar SUVs – to the back, which is, from a design standpoint perhaps, the least striking bit of the car. But to have a Cd of 0.29, it's a necessity. "It's high. It's square," says Callum. "I said to the design team: 'Accept the physics. Make it work'." It encloses a spacious, 656-litre boot, mind, and there's a 27-litre compartment at the front, too.
The weight keeps the I-Pace from being a real driver's car, but its handling is impressive
To drive, then? More vehicle-ish than a Tesla, in that there's a key and a start button, plus a parking brake switch on the dashboard, although you'll probably never use it. Push D, swing the medium-weight steering (about 2.5 turns between locks) and either pull away using the creep function, which makes it feel like one of those old-fashioned automatic combustion-engined thingies, or you can turn that off and pull away using the throttle. It's smooth. It's quiet. It's the kind of thing that
would be perfect for a Rolls-Royce. Or the next-generation Jaguar XJ, not coincidentally.
You can turn the sensitivity of the throttle up or down a bit, and you can change how much regenerative braking you get. On the higher setting, there's so much of it that, Jaguar reckons, you can dispense with 98% of all actual brake use, and you get used to it quickly. It's why the brakes can be small. (Perhaps it's also why a Tesla Model 3 didn't perform very well in emergency brake tests by a US magazine the other week. The I-Pace seemed fine, but we'll stick the datalogger on it in the UK.)
Throttle response is set about halfway between how razor-sharp it could be and what we're used to from a combustion-engined car, so that you don't kangaroo along like you would in a Ferrari F12 TdF with a sticky accelerator. It's quite compelling but, well, not unlike most other EVs, from that perspective. As the industry and the capabilities of the cars themselves get more interesting, will the way they drive get more similar? I suppose that's going to be the challenge.
In normal mooching, the rear motor does the accelerating, so you don't get any steering corruption or front-wheel scrabble, and the front one does the regeneration under deceleration because that's where the weight shifts. After a mile or two, it becomes a doddle to drive using only one pedal, all the way to a stop.
That encourages you to drive smoothly and efficiently, but don't for a minute think the I-Pace is slow. Lumme, it's not. Because power is seamless, peak torque of 513lb ft is from zero revs and the motors spin to 13,000rpm (with a single-speed 9:1 reduction gear), overtaking urge is brilliant, and as you ask a lot of the chassis, it can shuffle its power – half of all available – to any wheel it wants.
We've tried this car in ridiculous places: through a riverbed (it has a wading depth of 500mm) and up a steep gravel hill, where an electric four-wheel drive system shows huge potential, because it can stop and go at will and put as much or little torque as it wants to any corner. We also took to a race circuit, where trailing the brakes (or, more realistically, a combo of the brakes and the front motor) means the car rotates nicely into a corner. Then when you come back on the power, it's metered out pleasingly. The weight keeps it from being a real driver's car, but it's impressive.
It's equally impressive on the road, where it's very quiet, although you can turn up or down the enhanced 'whoosh' noise it makes under acceleration. Drawbacks? There's the ride, predictably. There's great weight distribution and a low centre of mass, but the perennial EV problem is that there's so bloody much of it. This is a 2208kg car before you stick any options on it. The low centre of gravity means roll control is good, but you're aware of body movements, and the will to control it means it's sometimes unsettled.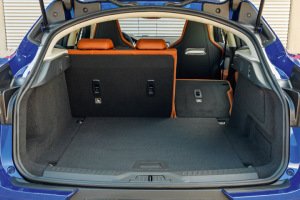 That may be inevitable, but it's a shame, as ever, because elsewhere the I-Pace is seriously refined and relaxed. And from a company that deals in real chassis deftness with its big saloons, you miss that.
Still, there's not much else to dislike, except the big caveat common to all BEVs: if they don't fit into your life, this one won't, either. But if they do, make no mistake: you're looking at the best of them.
MATT PRIOR
PACK MENTALITY: GOOD FOR 13 YEARS
The I-Pace uses Korean LG battery packs, one of only three suppliers the firm thinks is currently up to the job of providing lithium ion batteries to the right standard.
Key to the performance is making sure they're matched well, because a pack is only as good as the weakest cell. There are 432 here, in 36 boxes of 12. It's possible to replace individual cell packs, although apparently it's rarely necessary, and the performance and range are intended to be as good in 13 years' time as today.
If you can plug in at rest, the Jaguar can heat its batteries in advance, so that even in winter the range shouldn't drop — although if you can't, inevitably it will.
Jaguar thinks there's still a lot of work to do on the UK charging network — not just the number of chargers and availability of high-intensity (100kW) chargers but also so you don't have to have different charge cards and accounts.
Talking of future aims, the EV400 tag suggests a naming structure is in place for further variants.
TESTER'S NOTE
Air springs can raise or lower the body. But engineers say they like the honest driving characteristics of coil springs and passive dampers, too. I'd be intrigued to try it. MP
JAGUAR I-PACE EV400 S
The best long-range battery electric vehicle on sale. Refined, good to drive and quick



Price £63,495
Motor Permanent magnet
Battery 90kWh
Power 394bhp
Torque 513lb ft
Gearbox Single-speed auto
Kerb weight 2208kg
0-60mph 4.5sec
Top speed 124mph
CO2, tax band 0g/km, 13%
Rivals Porsche Cayenne E-Hybrid, Tesla Model X