tested 12.4.18, Croatia on sale Now price £28,280
All-new version of the entry-level Mercedes puts limo-like technology, refinement and comfort in a small, desirable package
Although the C-Class remains Mercedes-Benz's biggest-selling car, you could argue that it's actually the A-Class and those derivatives which live with it on the lowest rung of the Mercedes ownership ladder that are now the most important products in the portfolio of the world's largest premium car maker. Which means the success of each new generation is simply essential, and nowhere more than in the UK, the world's biggest market for the A-Class.
So forgive Mercedes for not much varying the formula for this fourth-generation A-Class. The first two hit their sales targets but internally are now perceived also to have damaged the brand with their awkward looks, curious dynamics and sub-optimal quality. However, the last one played the key role in Mercedes overtaking BMW and Audi to become the most popular brand of its kind in the world. How? By lowering the average age of the A-Class buyer by more than a decade and ensuring that 60% of its sales were to people who'd never bought a Mercedes before. And sell one car to one young person and you might then sell them 10 or more in their lifetime under your cosy, corporate umbrella.
It's the most comfortable, luxurious and sophisticated family hatch the world has seen
The new A-Class is bigger in every important direction save a slightly reduced wheelbase, but 20kg lighter, which is commendable given the enhanced content it must carry.
At launch, there will be only an A180d diesel and A200 and A250 petrol models, all with seven-speed dual-clutch transmissions, but an A180 petrol will be on sale before the end of the year, as will a manual six-speed gearbox. A200d and A220d diesels come on stream in early 2019. As we shall see, if your ideal model is not available at launch, you might be well served not to compromise but wait until it is.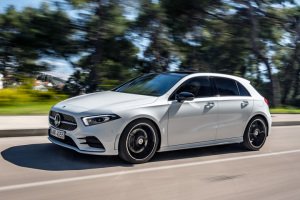 And now a word of caution. As journalists, we can only review the cars we test and in the spec in which they are supplied and, as is so often the case with new car launches, Mercedes chose to provide only the most luxuriously appointed A-Classes, all laden with myriad options, some of which, like the driver assistance systems, won't be available in the UK until September. The less irksome consequence of this decision is that I have no idea what the interior ambience of an entry-level car might be, with two smaller TFT screens in place of the impressively monstrous items on the cars we tested.
More troubling is the fact that this is the first Mercedes designed with torsion beam rear suspension, a design deployed on all affordable hatchbacks partly for space efficiency but mainly because the design is cheap as buttons compared with a fully independent rear end. A multi-link rear axle exists, but only on the A250 as standard. It's available on the A200 only if you choose the top-spec AMG Line trim level: SE and Sport customers miss out, and if you order an A180d, as most in the UK will, it's not available at all. Frustratingly, you can buy an A180d in mainland Europe with the more sophisticated rear suspension because it's part of the pack you get when you specify adjustable dampers, but there are as yet no plans to offer that in the UK.
Yet despite this profound change in suspension philosophy, Mercedes saw fit to bring not one beam-axle car to the launch. Its chief engineer, Jörg Bartels, insists it's almost impossible to tell the difference and I believe he believes that. Everyone else, cynical hacks included, will reach their conclusions about the decision not to let journalists see for themselves.
The ride is superb, at least with the expensive rear suspension, and probably class-leading
In the meantime, welcome into the most plush, sophisticated interior ever seen on a car of this kind. The perceived quality is fabulous and the design streets ahead of the rather predictable cockpits of even its best rivals. Groaning under all the goodies it was carrying, the 180d test car did take some figuring out, but the graphics are gorgeous and, once learned, the functionality is pretty intuitive if you except the 'Hey Mercedes' voice recognition software, of which more in a separate story overleaf. Suffice to say for now that three of us, all veterans of the new car launch circuit, had multiple stabs at simply telling it to turn off the radio. All failed.
The engine in the A180d is a 1.5-litre motor supplied to Mercedes by the Renault-Nissan Alliance and produces a modest 114bhp and a claimed 68.9mpg. This is a poorer figure than the 74.3mpg of the similar unit it replaces and comes with a commensurate hit in CO2, but only because the NEDC2 figures now have to be reversed back out of new WLTP data and not because in the real world the car uses any more juice. Mercedes says that in typical driving, the new car uses less fuel than the old. Compared with the 2.1-litre diesel engine in more powerful versions of the old A-Class, it's a paragon of refinement, although Merc's all-new 2.0-litre diesel will likely combine both proper power with proper manners within the year.
The problem for diesel hunters in the meantime is that this 180d motor offers very modest performance. Overtaking needs to be planned well in advance even though the Getrag transmission works tirelessly and effectively to make the most of what little urge is available. The 1.3-litre 161bhp joint-venture petrol engine in the A200 offers a rather strained-sounding step in the right direction but it's only when you saddle up Merc's excellent home-grown 221bhp 2.0-litre petrol engine in the A250 that the A-Class offers both the performance and character you might hope and expect to find in a Mercedes-Benz. Interestingly, the A250 has a Benz gearbox but, so far as I could see, it is no better or worse than the Getrag in its less powerful siblings.
But for those happy to leave the overtaking to others, the A180d has much to offer, even beyond the realm of its glitzy interior and a usefully enlarged rear cabin offering more space in every direction save leg room, which remains unchanged. For example, the ride is quite superb, at least with the expensive rear suspension, dramatically better than the old A-Class and probably class-leading. It's compliant yet controlled, and I could fault only the very slight vertical movement found when you drive the wheels off it on a very difficult road, and I can't see too many owners being unduly troubled by that.
It's also a quiet car – exceptionally so, in fact. Cruise at any speed compatible with the retention of your driving licence and you'll hear a distant thrum from the motor, very modest amounts of road noise and hardly anything from the wind at all. Class-leading again? Without rivals present, I cannot say, but I'd be surprised if it were not.
Where the car falls down, unexpectedly and badly, is in its steering. What is hard to understand is that the previous A-Class, while no BMW 1 Series, always responded to your inputs as you might hope and expect. But the new A-Class's steering feels far more remote and less connected to the road. I don't mind that it's light at parking speeds, but I want some resistance to build up as soon as the wheel moves off centre to give you something to push against and, bluntly, it doesn't. At higher speeds and despite a fine chassis that's stable when you need it and adjustable when you don't, you still find yourself thinking far harder about placing the car on the road than you'd choose. The brakes are over-assisted, too, although unlike the steering, you acclimatise that particular foible in time.
It's a shame because there's a decent driver's car waiting to get out of this A-Class – yes, even down here in the A180d cheap seats – but until Mercedes decides to sort out the steering, a compromised driving experience is the best that can be hoped for. It makes me wonder what approach AMG will take when it releases the hot 300bhp-plus A35 later this year and positively scorching 400bhp-plus A45 in 2019. And I'll bet plenty right here that they do not steer like this.
This, then, was a launch that asked almost as many questions as it answered. What compromises, if any, are brought by the beam rear axle? Does the base interior still feel as a Mercedes cabin should? Are the best engines still to be launched? Does the fact that I ended up hurling an expletive at Hey Mercedes that it heard as 'fan off' and shut down the ventilation say more about me or the car I was driving? All this, I am afraid, for another time.
For now, though, let's consider what Mercedes has achieved here, which is the most technically advanced, quiet, comfortable, luxurious and just plain sophisticated family hatch the world has seen. And yet I left the launch event with a sense of not just how good this car is – and, make no mistake, it is a very good car – but also how much better it could have been and might yet become.
Many customers won't care if the steering lacks feel, the brakes are over-servoed and the small diesel motor is rather gutless, but few, I think, who also read Autocar. To you and me, this stuff matters.
Should it be allowed to eclipse everything else that has been achieved here? Of course not, but it should at least be borne in mind. In many areas, this A-Class sets new standards of hatchback design, but with a bit more attention paid to the way it stops and steers, it could have been a landmark.

ANDREW FRANKEL
Mercedes-Benz A180d AMG Line DCT
Tremendous static qualities and huge showroom appeal. But poor steering degrades the driving experience


Price  £28,280
Engine  4 cyls, 1461cc, diesel,
Power  114bhp at 5000rpm
Torque 192lb ft at 1750rpm
Gearbox 7-spd dual-clutch automatic
Kerb weight 1445kg
0-62mph 10.5sec
Top speed 126mph
Economy 68.9mpg
CO2, tax band 111g/km, 27%
Rivals Audi A3 1.6 TDI Sport S tronic, BMW 118d M Sport
THE SMALL CAR THAT'S BIG ON TECH
So long as you're prepared to spend the money, the technology now available on the A-Class would be mind-boggling on any car, let alone Mercedes' entry-level proposition.
It's called MBUX – short for the Mercedes-Benz User Experience – and comprises all the semi-autonomous driving functions so far seen on the E-Class and S-Class, including the ability to overtake and regain your original lane on the motorway with no more than a press of an indicator stalk. But this is merely the start: it can also be specced with 'augmented reality' nav that uses cameras to show you the street ahead and then overlays graphics showing you, in the most literal sense, which way to turn. It works fantastically well.
Less impressive is the voice recognition software that should execute every command prefaced by 'Hey Mercedes'. In practice, however, and after much trying, the only phrase it never got wrong was 'go away'.