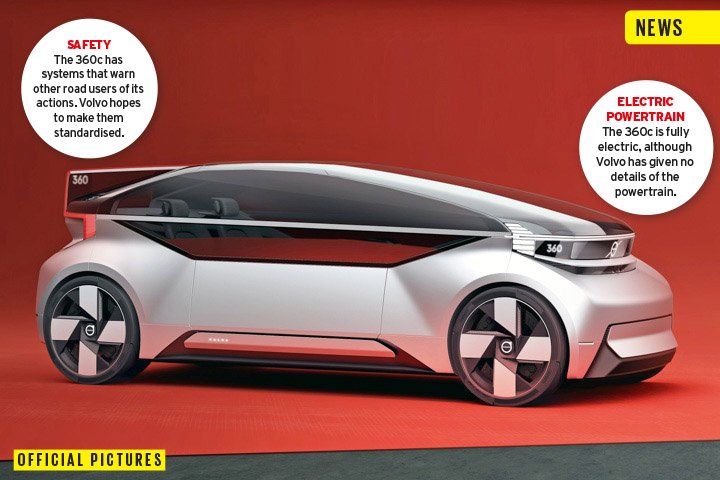 New 360c previews how autonomous vehicles "will change the world" in Volvo's view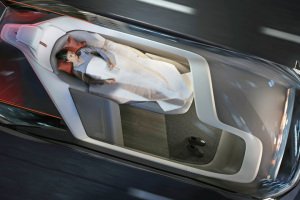 Volvo has revealed the 360c autonomous concept car, which, it says, imagines a world where self-driving vehicles could replace short-haul air travel.
Mårten Levenstam, Volvo's head of corporate strategy, called the 360c a conversation starter designed to offer "a glimpse at how autonomous drive technology will change the world as we know it". He added: "The possibilities are mind-boggling."
The 360c is a fully autonomous electric car similar in size to a Volvo XC90 that "reimagines how people travel, how they engage with friends, family and contacts, and how they can recapture time while travelling".
As a fully autonomous vehicle that requires no driver input, the 360c's cabin abandons a traditional car interior layout and can be configured as a mobile bedroom, office or a casual space.
"Fully autonomous drive has the potential to fundamentally change our society in many ways," said Levenstam. "It will have a profound impact on how people travel, how we design our cities and how we use infrastructure."
Volvo believes the use of self-driving vehicles could become preferable to aircraft by travelling at night, in effect turning them into business-class cabins with a flat bed. The brand suggests the 360c could prove quicker end to end than flights of around 200 miles.
More important, Volvo says autonomous vehicles promise improved safety, reduced pollution and lower levels of traffic congestion. As a consequence, this will lead to healthier and higher-quality lives for city dwellers.
Although Volvo has not committed to a date for producing the 360c, the firm's R&D boss, Henrik Green, said he thought fully autonomous cars could be a reality in the early 2020s, adding that he was optimistic by nature.
RICHARD BREMNER
WE VIRTUALLY TRY THE 360c
You can't be driven by a Volvo 360c on the roads yet, but an interior mock-up fitted with virtual reality goggles and electrically adjusting seats allows the 360c to be experienced in 360deg.
Our journey starts in a housing estate, before the cabin is filled with lavender smells and pictures of the plant projected on the widows. The idea is to create a sense of calm as the 360c sets off into busy traffic.
You can watch a screen and have a cappuccino from an on-board coffee maker while working. We then see the 360c transform into a party car with champagne bar.
Even better is to experience the cabin configured for a one-person business-class road 'flight'. Your dinner is stowed in a drawer to your side and, when sleeping, a safety blanket tethers to the cabin to keep you safe. The seat folds flat and the Milky Way, complete with Northern Lights, is projected onto the ceiling.
It's a semi-real experience that leaves you wanting more – although fully autonomous cars are still several years away.