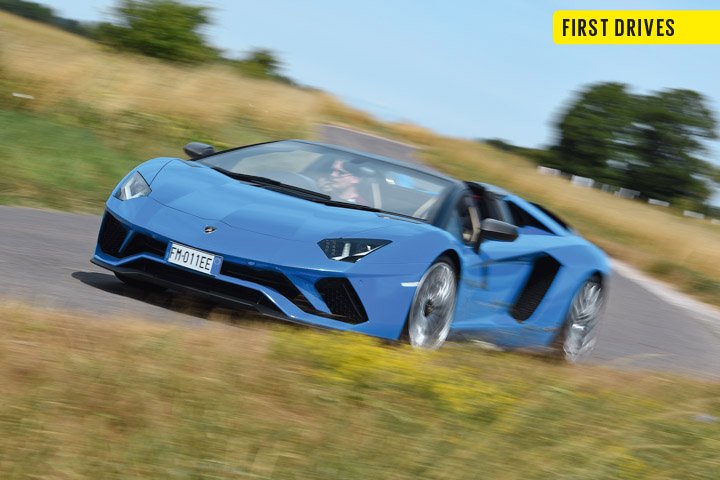 TESTED 30.7.18, Wiltshire ON SALE Now PRICE £251,462
Significant tweaks make Sant'Agata's old-school V12 supercar even more evocative
Options for those who would like an open-air supercar with no fewer than 12 cylinders are thin on the ground. There is the fantastical £2.3m Huayra Roadster by Pagani or there is Lamborghini's Aventador Roadster, which is now available in heavily revised S form.
Even at £251,462 before some exorbitantly priced options (it costs £820 to have the calipers painted black) the latter is a snip relative to its compatriot and, but for a pair of 25kg carbonfibre roof panels that unclip easily enough and slot into braces in the luggage compartment under the bonnet, is mechanically identical to its much-improved coupé sibling.
As such, were you to strip away the carbonfibre and aluminium bodywork, you'd find pushrod suspension with retuned inboard spring-and-damper units and driveshafts leading to all four corners. There is now four-wheel steering, and 90% of torque can now be put through the comically broad 355-section Pirellis at the rear.
Of course, under that bodywork you'd also find a naturally aspirated 6.5-litre V12. It spins out to 8500rpm and develops 730bhp a scant 100rpm before that point. Those figures alone tell almost everything you need to know about the frenzied experience of driving an Aventador S Roadster. Its response to throttle openings isn't as savagely immediate as that of the Huracán Performante's V10, but the tone it produces is broad, grittily metallic and seemingly without even a gram of fat.
With the roof off, it is a continuous delight. With the panels installed, a job that takes about two minutes, the tiny rear screen can be lowered via a switch on the dashboard and allows in a tremendous amount of cam scream and exhaust blare anyway.
Taller drivers won't appreciate the pillbox-style view ahead, and on the road the car feels big and intimidating in a manner absent in lesser supercars. So extensive is the chassis that for those first few hundred metres the steering column feels 10 feet long and adjusting the rudimentary air vents that bookend the dashboard requiress a whole-hearted lunge, arm outstretched.
Those plain, plastic vents are illustrative of an ageing interior smattered haphazardly with switchgear and an infotainment display that's pitifully small. As for rear visibility, forget it. Even so, the performance is extraordinary, and heightened by not only the grandeur of the engine but also buffeting from the wind, which is conspicuously bad at motorway speeds. Were it not for that and a paucity of stowage space, the Roadster might make a decent tourer. So stiff is the chassis that the dampers can operate free from background interference and they cushion the bodywork in a firm but controlled manner.
New to the Aventador Roadster is 'Ego' driving mode, which allows you to mix and match the settings for the nicely weighted electrohydraulic steering, magnetic dampers and engine mapping. On British roads, we found a respective combination of Strada, Sport and Corsa to offer the best response, usability and, if you can bear the 'clack-clack-clack-boom' that accompanies every lift of the throttle pedal, bravado.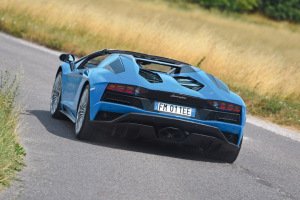 Less palatable is the transmission, a perennial Aventador bugbear. It's an automated single-clutch manual that interrupts the power delivery to such an extent that it erodes your patience and often unsettles the chassis. In S guise, the Aventador Roadster is otherwise a vastly competent, satisfying steer and irresistibly theatrical, which is just as well for anybody whose buying criteria matches that described at the start, because the Pagani is sold out.
RICHARD LANE
When the car is stationary, the gearbox eventually slips into neutral. If you forget to pull the paddle for first gear, all you'll get is a fit of revs when it's time to pull away. RL
LAMBORGHINI AVENTADOR S ROADSTER
Let down by some details but otherwise hits all the right high notes, more so with the roof off


Price £251,462
Engine 6498cc, V12, petrol
Power 730bhp at 8400rpm
Torque 509lb ft at 5500rpm
Gearbox 7-spd automated manual
Dry weight 1625kg
0-62mph 3.0sec
Top speed 217mph
Economy 16.7mpg
CO2, tax band 394g/km, 37%
RIVALS Ferrari 488 Spider, Ferrari 812 Superfast, McLaren 720S