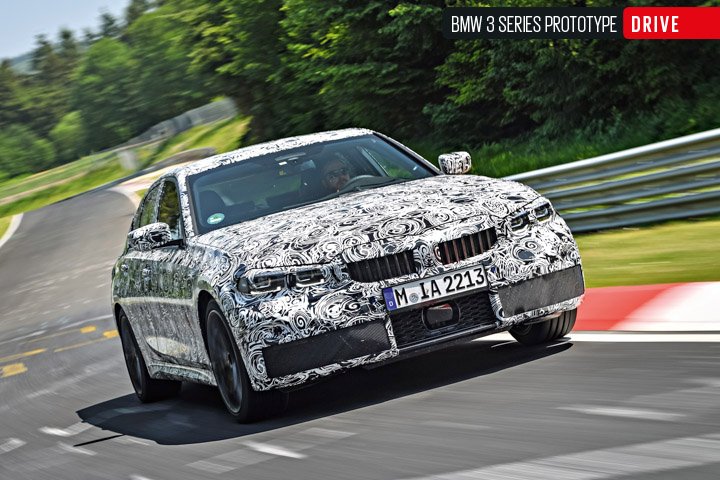 Will the G20-generation BMW 3 Series mark a return to the bestselling wundercar's sporting roots? Matt Saunders test drives a prototype to find out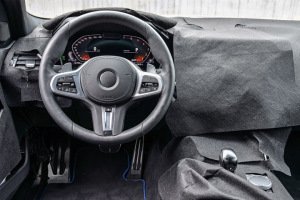 In a car market that almost always makes it harder for a successful brand to stay on top than to get there in the first place, the BMW 3 Series is beginning to look like a car of gradually waning fortunes. Will the good times ever roll for it quite like they did in the car's late '90s and noughties-era pomp? For all sorts of reasons – not least because it's hard to think of another car in recent decades that has achieved such critical acclaim and sales popularity in equally phenomenal proportions – we might wonder.
For the next-generation Three, due to be unveiled at this autumn's Paris motor show and to appear on UK roads in early 2019, reasserting the compact executive saloon segment dominance that its various predecessors have enjoyed looks a particularly tall order. It faces a Mercedes C-Class good enough in its latest iteration to comprehensively outsell the outgoing 'F30' 3 Series. Also, an Alfa Romeo Giulia and Jaguar XE, neither of which existed at the launch of the sixth-generation 3 Series seven years ago, and both of which are plainly out to purloin BMW's mantle as the maker of the best-handling compact saloon car in the world. Up until now, you might say that mantle has been 'on loan' – first at Gaydon, then more recently in Turin. But soon it'll be the time for Munich either to reclaim it or to give it up more permanently.
Unlike us, of course, BMW's own executives, designers and engineers have not been wondering, or indeed worrying, what the future holds; confident in the strength and equity built into the 3 Series brand over more than four decades, they've clearly been getting on with the job of bringing the world the seventh model generation of the car whose name has become shorthand for the part of the market in which it appears.
The Three feels capable, almost indefatigable, when driven hard
And they're almost finished. With only the finer points of software calibration and tuning still to do, they recently made the new 3 Series available to us in prototype form for a short test around Germany's Eifel mountains, and a not-so-short couple of laps of the Nürburging Nordschleife.
It'll be another few weeks yet until BMW is ready to release the exact technical details of every way in which the new 3 Series saloon, codenamed 'G20', will depart from the template of its forebear. As background for this preliminary taster, however, we were told that it's a slightly longer and wider car, with a longer wheelbase; and that, having been built on BMW's Cluster Architecture, it's made of a higher proportion of aluminium, magnesium and high-strength steel than its predecessor, and is at once a slightly lighter (up to 55kg) and torsionally stiffer (15-20%) car to boot.
The 3 Series' axle tracks have both grown, with MacPherson strut suspension used up front and a multi-link arrangement at the rear. A wide-ranging overhaul of the car's suspension and steering hardware has left little untouched. There's a new variable-ratio 'variable sport' steering box (though it isn't speed-sensitive 'active steering', which hasn't featured on a BMW Three since the 'E90' generation). There are new optional adaptive dampers from Tenneco if you want them; and firmer springing and bushing for cars with M Sport suspension than of like-for-like current-gen cars. But there are no air springs (at least, not for the saloon) and no four-wheel steering either. Contrary to what you might have read elsewhere, Munich is clearly content to leave features
such as those at the more expensive end of the executive saloon spectrum.
BMW has, in fact, made an effort to rationalise its investment of new suspension componentry and development resource with this version of the 3 Series; to focus on the hardware that customers actually buy; and moreover to attempt to imbue this version of the car with a simpler, more direct and more discernibly sporting character than its forebear had. Dynamically, at least, to head back towards the 3 Series' roots – and, as roots go, they were pretty good. For an admission of the fact that BMW is in defensive mode here, ready to protect the market territory it has owned for so long from the likes of Alfa Romeo and Jaguar, look no further than that.
By and large, 3 Series drivers don't buy adaptive dampers, and so devoting a large proportion of development time to fine-tuning those dampers, as BMW has in the past, just doesn't make sense. Generally, 3 Series customers tend to prefer passive suspension, often with an alloy wheel upgrade. And this time around those customers will get struts with both main and auxiliary springs, and clever shock absorbers that provide additional damping support at the extremes of wheel travel (for improved rebound control at the front axle and better compression support at the rear).
"The suspension hardware means we've been able to increase the effective spring rate of the M Sport suspension quite a lot, so there's now twice as big a gap in terms of handling response and body control between cars with standard suspension and M Sport suspension than before," explains Jos van As, who led the car's driving dynamics engineering team.
They may very well have made the best driver's car of its kind
"But we've also been able to take initial, low-level damping interference away in the stiffer-sprung version, because we've
got more progressive control available later in the suspension stroke. That actually makes the car's ride flatter and more supple, because the suspension's freer to work and to move to begin with; the body doesn't jostle or fidget as much. Other manufacturers use 'selective' dampers in an attempt to achieve something similar, but those can 'freeze' when the suspension inputs pass a certain pretty arbitrary frequency – and when they really needn't."
The new 3 Series' engine range isn't likely to change too much, according to project insiders, who admit that – in spite of the uncertainties associated with the future market acceptance of diesel engines or indeed any sort of non-hybridised powertrain – they haven't attempted to fix what isn't believed to be broken. The advancements relevant to the 2.0-litre four-cylinder petrol turbo-powered 330i they gave us for test are, we were told, a reasonable guide for what to expect more widely. It benefits from a seven horsepower improvement in power (taking it above the 250bhp barrier) and a 37lb ft increase in torque (up to 295lb ft), with incremental like-for-like gains on emissions and lab test fuel economy likely (though as yet unconfirmed).
While less powerful versions of the car will come with manual gearboxes as standard, at 330i/330d level and above all will be eight-speed automatics. Selected engines will be offered with xDrive four-wheel drive, and one or two might be xDrive only – although BMW won't say which at this stage.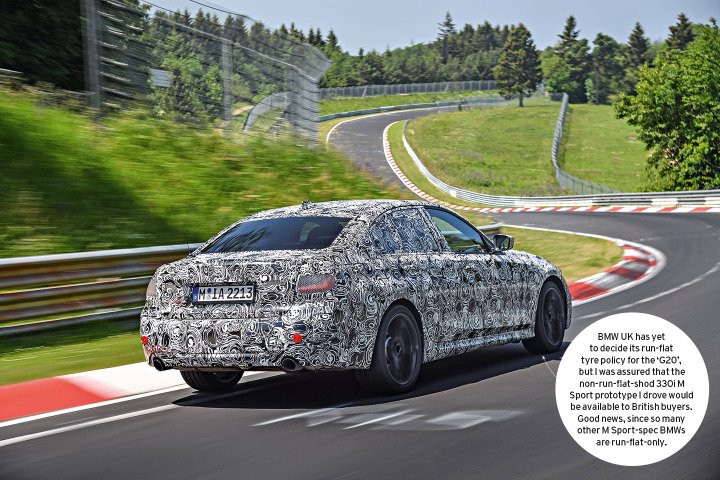 Stick to 'standard drive' and M Sport trim in your 3 Series, however, and you'll be offered something that's effectively been confined to BMW's dealer-fit accessories catalogue for a while now: a limited-slip differential. The new G20 has a simplified version of the e-diff you'll find on the current M3, which uses clutches to vector torque between the inner and outer rear wheels. It will be available only as part of a package of options, and only in tandem with the car's more powerful engines. Still, it seems like a very dependable and promising telltale that BMW is serious about luring any enthusiast drivers who've strayed back into the fold, doesn't it?
Whatever kind of sporting driving experience they're looking for from their executive saloon, owners of the new 3 Series will, I suspect, find what they're after in this car. Our test drive was quite short, and it only took in one engine, and one combination of wheel, tyre, suspension, steering, transmission and differential. Our 330i prototype had the M Sport passive sports suspension that BMW has worked so hard on, as well as 19in mixed-width M Sport alloy wheels, Michelin Pilot Sport 4 S non-run-flat tyres, an automatic gearbox, variable sport steering and that new torque-vectoring e-diff.
First impressions? In this configuration, that an Alfa Giulia probably remains a more compact- and lighter-feeling, marginally more incisive and naturally agile saloon than this. But then modern BMWs are relatively complicated, more 'specification-sensitive' cars than most of their executive rivals – and I wouldn't be at all surprised to find out that, in just the right mechanical trim, this car could dive and swivel left and right just as keenly as its Italian challenger.
It might even entertain better ultimately, given Alfa's refusal to supply a Giulia with fully switchable electronic aids below £60k Quadrifoglio level: something BMW's chassis man van As, with whom I drove, can't resist commenting on. "The amount of money that's gone into the Giulia's suspension is very impressive," he says. "It's a great-handling car – though I'd have tuned it differently. But why spend all that money and then not include a proper 'off' button for the stability control? That's crazy to me. It's a waste."
Though the interior of our 3 Series prototype was covered with disguise almost as thoroughly as its exterior, it was possible to note a few themes about the new cabin. For one, it will have some surprisingly flashy, ritzy material touches – no doubt in response to the public's apparent appetite for the more lavish/chintzy (delete depending on your own personal taste) C-Class. There's certainly more glossy chrome-effect plastic to be found around the car's air vents than there is in the current 3 Series.
Lower down on the centre console, it seems as if BMW has had a rethink on how it presents the car's drive mode buttons, preferring a row of discreet Comfort, Sport, Eco and 'DSC off' keys to the old rocker switch of the current car. And up ahead, our prototype had a proper digital instrument screen unlike that of its larger BMW model contemporaries because it doesn't feature fixed chrome bezels. Although we didn't have the time to fully explore its modes, that fact alone should greatly add to its flexibility, and to the number of ways in which the display can be configured.
Only certain drive modes were available to try on our test drive, and on a passively suspended 330i M Sport on 19in rims – especially one described in the 'firmed-up' terms we've already detailed – experience teaches you to have realistic expectations of the car's Comfort setting. But the new 3 Series rides with a surprisingly settled suppleness and dexterity for something of an explicitly sporting brief.
It does feel a little bit firm at low speeds, and slightly busy over smaller ruts and bumps taken at pace. But it certainly has suspension seemingly capable of working hard within the wheel housings without mithering the level poise of the body until it really needs to. Plenty of Tarmac imperfections are therefore heard but not felt too much from the driver's seat – and despite the progressive settings of both spring and damper, the car's ride frequency feels honest and predictable as the bumps get bigger. The suspension's outright ability to absorb punishment without running out of travel, meanwhile, is quite remarkable – up there with a really well-sorted hot hatchback.
After a switch to Sport+ mode (the only other available to test), the 330i's steering gets meatier and a touch more precise just off-centre, without risking the over-assisted pace of the Giulia's rack or even the initial directness of the XE's. "At big autobahn speeds, those cars just don't seem stable enough to me," says van As. He explains that BMW always tries to cater for the customer who wants to relax a little at 200km/h; maybe even take one hand off the wheel for a moment when needed.
In Sport+ mode, in a familiar story, the 330i's engine is drowned out by artificial engine sound when you'd still sooner listen to the car's motor, however plain-sounding – but it feels gutsy enough: capable of that level of real-world pace beyond which extra power and pace is hard to use. Responsive too.
It may not be quite gutsy enough, though, to easily bring to life a chassis that ought to be among the most throttle-adjustable in the class, particularly considering BMW's equipment of that e-diff. But on that score, we'll have to wait and see. That's partly because the 3 Series' delicacy of handling balance will almost certainly be better on smaller rims than our prototype's optional 19s – but also because our test car's 'DSC off' driving mode (in which the car's active diff will take on its most aggressive software calibration) wasn't one of those deemed to be production-ready.
What can we conclude, then? Not a great deal, perhaps – particularly as regards the lower-end petrol and diesel Threes that the majority of UK owners will drive over the next seven years. And yet we can be encouraged by plenty. The 3 Series is plainly the work of people stirred by competitive instincts, who've set out to make the very best driver's car of its kind – and they may very well have succeeded.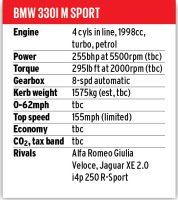 As tested, their 2019 debutant has a carefully honed blend of low-speed agility, high-speed stability, level body control, traction and drivability that makes it feel assured, capable – almost indefatigable, even – when driven hard. Both on road and track, it showed off levels of outright grip, handling precision and dynamic composure all worthy of a proper 'performance car' billing; that will likely surprise plenty of people coming from a mid-range option; and that you won't find in any other like-for-like executive saloons – whether one or two of them yet prove to be slightly more engaging or otherwise.
It's too early to be sure, but the signs are there: just when it needs to most, the humble 3 Series may be about to rediscover its sporting 'A' game. A