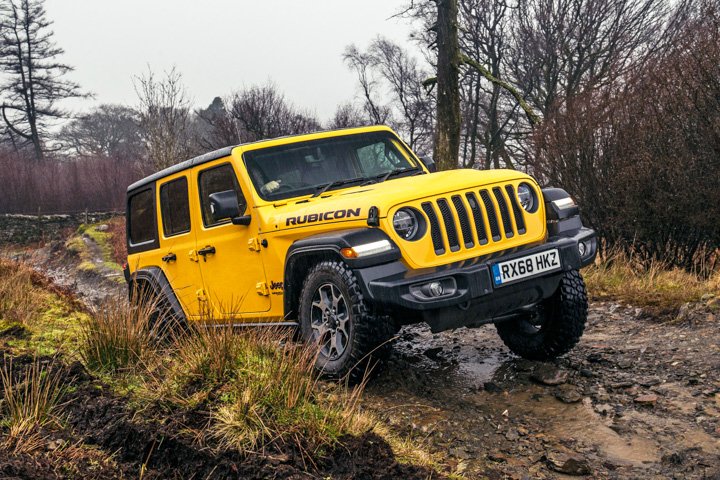 Sales figure analysis reveals a reversal of fortune in Europe's off-roader market
The balance of power in Europe's 'proper' off-roader market is undergoing a seismic shift, with Jeep models outselling Land Rover for the first time last year.
Traditionally Land Rover has ruled the roost in Europe while Jeep dominates in the US, but the 2018 figures are brutal for Land Rover. Last year it shifted just over 150,000 units across Europe after sales dipped 10%, while Jeep demand shot up 56% to leapfrog Land Rover with sales of 166,500, according to data from industry analysts JATO Dynamics.
Until now Jeep has remained a marginal brand in Europe while its centre of gravity was fixed in the US, but that changed when Fiat took over parent company Chrysler in 2011. The newly created Fiat Chrysler Automobiles (FCA) designed models such as the Renegade specifically for Europe and shifted some manufacturing to an underused Fiat factory in Italy. European sales leapt.
But any comparisons with Land Rover need to be qualified with a look at the British car maker's positioning relative to Jeep. They both lean heavily on off-road heritage – the 'currency of capability' as Jeep calls it – but really they're no longer competitors. Last year the average price of a Jeep sold in Germany, France, Spain, Italy and the UK was £27,176. Land Rover's average price in the same countries was more than double, at £54,600, JATO's research shows.
Jeep's success is largely down to the Renegade and, as of last year, the new Compass, a Nissan Qashqai rival. Fewer than 20,000 of Jeep's sales were taken by the big Grand Cherokee, the Wrangler and the barely registering Cherokee. Land Rover may have problems, but it sold 25,097 Range Rover Sports alone in Europe and slightly more of the almost-as-expensive Velar.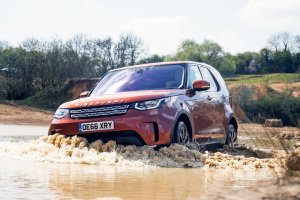 Jeep is highly dependent on Italy, just as Land Rover is highly dependent on UK sales. Half of all European Jeeps were sold in Italy last year, while the UK took half of all Land Rover's European sales. Frankly, we're just not that into Jeep: only 4% of all Jeeps sold in Europe came to the UK last year.
Jeep might lose out to Land Rover this year after the launch of the new Range Rover Evoque, traditionally the brand's biggest seller. "The sustainability of Jeep's growth depends on how fast the company brings more models," said Felipe Munoz, global analyst for JATO. "The Compass will not be able to drive the growth by itself."
Jeep is planning big growth in areas where Land Rover plays, however. The new Wrangler has beaten the new Defender to market, and a long-promised large seven-seater Jeep arrives next year. Last year Jeep also announced a smaller 'low' seven-seater targeting the Discovery Sport.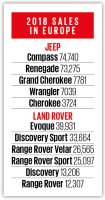 Electrification is a key area, too, with both brands working to comply with tough new CO2 targets. The go-anywhere brand identification starts to fall apart when you're tied to a plug, something Land Rover highlighted with its April Fool's press release of the UK's most remote charging point.
Even so, Jeep is promising four pure EVs by 2022, but not for Europe. Both brands are pushing plug-in hybrids, with Jeep promising eight for Europe by 2022, starting with the Renegade and Compass next year, while Land Rover is extending its PHEV reach to include the Evoque next year.
The two famous off-road brands might have diverged in recent years, but electrification and the slow death of diesel have created challenges far tougher than those presented by the great outdoors.
NICK GIBBS
NO EVOQUE EV FOR FIVE YEARS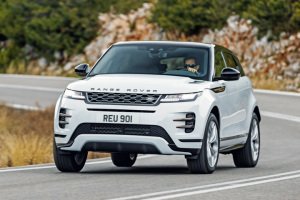 A full electric Range Rover Evoque won't arrive before 2025, as the brand focuses its efforts on hybrid technology in the mid-term.
Jaguar Land Rover's UK boss Rawdon Glover said there will be a market for "a small to medium-sized electric SUV", but it won't arrive before the next generation of entry-level Range Rover.
The second-generation Evoque now accommodates mild-hybrid and plug-in hybrid powertrains. However, it is understood the platform – heavily modified from the previous Evoque – cannot accommodate a fully electric powertrain. The PHEV, due in 12 months, will be powered by a 197bhp three-cylinder petrol engine and a 107bhp electric motor.
Glover described the Evoque PHEV as a "fleet game-changer" for Land Rover, predicting that it will make up a third of sales when it arrives.