The Last Overland will go on to Cameron Highlands then Penang before heading for Thai border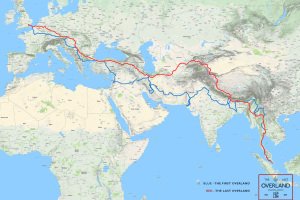 On Monday 26 August, Day 2, The Last Overland expedition was in Kuala Lumpur and Land Rover owners and enthusiasts gathered at TPCKL to meet the team. Unfortunately, Tim Slessor, 87, one of the six men who made the original 16,000 kilometre drive in 1955, was hospitalised just before they departed from Singapore. He will join the team when he recovers. Send Tim Slessor your best wishes for a speedy recovery with #GetWellTim! Get well soon, sir!
The story of the six young men of the Oxford & Cambridge Far Eastern Expedition and the two Land Rover Series 1s, named Oxford and Cambridge, is well-documented. The BBC made three films about it and there was also a book, The First Overland authored by Tim Slessor.
Less well-known is the fate of the two Land Rovers after Singapore. On a trek in the Middle East, Cambridge (SNX 761) went into a ravine and is presumed lost. Oxford went on an expedition to Ascension Island and was later taken to St Helena where Adam Bennett found it in 2017, being used as a chicken coop. He bartered a Land Rover Defender 300Tdi in exchange and shipped Oxford back to England where he restored and refurbished it. He then presented Oxford to Tim and Alex Bescoby for the Last Overland mission.
We met the Last Overland team in Kuala Lumpur, minus Adam Bennett and Tim Slessor, as they passed through. Here are 10 things we learnt about this expedition:
After restoration, Oxford passed its MOT first time and its original UK registration, SNX 891, was reinstated.
Oxford is almost 100 per cent factory spec, with one modification: it now has an overdrive gear.
Medical note #8 from First Overland: use proper toilet paper and burn or bury it afterwards to prevent it from blowing about.
Mechanical note #12 from First Overland: loud horns, preferably French, are very worthwhile. English manufacturers don't know what loud is.
The Last Overland team's first in-person meeting was in Singapore.
The Last Overland convoy consists of Oxford, and two Land Rover Defenders, 130 and 90, as support vehicles.
The Defender 130, for luggage, supplies and equipment, was flown in from the UK. The medical support Defender 90 is from Singapore.
The 100 days includes short breaks, press and marketing events, allowance for mechanical breakdowns and waiting for visa clearance to cross borders as they go through 20-plus countries.
The expedition will not be retracing the route taken in 1955 as the current geo-political situation is too dangerous.
Almost the entire route has 3G and 4G cellular coverage. Thérèse-Marie will post updates on Twitter (@thelastoverland), Facebook, Instagram (#TheLastOverland) using a portable Wi-Fi router.
From Kuala Lumpur, the Last Overland convoy set off for Cameron Highlands, where a large number of Series 1, 2 and 3 Land Rovers are still in daily use. Then it's Penang and the rest of the world.
Although we had unrestricted access to Oxford for photography, we did not take any photos of the interior. The windows were open but too high for the photographer to stick a camera in and we were scared to open the doors in case we pulled something off and caused a delay. It was, after all, only Day 2.