TESTED 5.7.18, Austria ON SALE September PRICE £48,000 (est)
Off-road icon enters a new, more modern generation. Is it still a true Wrangler?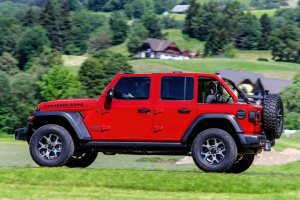 "Jeep is arguably the only true off-road company in the market," says Jeff Hines, head of the Jeep brand in Europe. I can imagine one or two other companies having something to say about that and, listen guys, don't think we haven't driven a Renegade.
But I also kinda see his point, when it comes to the Wrangler, at least. It occupies a unique space in the market, particularly now that Land Rover has temporarily limped out of that arena and hasn't told us how it's going to stroll back in. For now, Jeep (and maybe Mercedes-Benz and Suzuki) looks like it's the one that knows how to look after its icon.
By which I mean that it looks the same as the others, for a start. The round lights, seven-bar grille, sticky-out wheel arches, a separate ladder frame and body.
If you only want to drive around suburbia, for heaven's sake don't buy a Wrangler
Jeep's designers visit the Moab Jeep Safari every Easter. They talk to owners and they see what's new, what's modified, how people use these cars. And so here's the first new Wrangler in a decade: more USB ports, a more sensibly laid out interior, more leg room, more efficiency.
But also: a windscreen you can drop flat after removing just four bolts, a more easily removable roof (three-piece solid, full canvas or, coming later, an electric canvas hood), better off-road angles, more ground clearance, tighter turning circle, lighter doors with a grab handle inside so you can lift them off more easily, and a stamp identifying what size Torx tool you need to undo them. Five-link suspension with solid axles, low ratio, locking differentials and mega wheel articulation. More of the most customisable, the most customised, car on the planet. Just more… Jeep.
So they say, anyway. Let's see. The Wrangler comes in a few flavours. It starts with Sport, which is basic. Then there's Sahara, which is a more suburban choice in the US, to which Overland trim, exclusive to Europe, can be added, to make it more habitable still. We tried that version for a short while.
Then there's the Rubicon, the one I'm most interested in, with the biggest off-road tyres and the most serious intent. You can have a two-door or four-door. We've got a two-door, because it's the coolest. We've tried that a lot.
The Wrangler is lighter but bigger than the previous version. They claim 2086kg at the kerb. At 4.3m long, its length is still pretty compact (a Ford Focus is longer), although at 1.89m wide, it has a fair amount of girth.
You climb up into its cabin, but not as high as in a Land Rover Defender. The driving position is lower, so there's reasonable head room, decent elbow room, and a new-found semblance of car-ness, order and quality, to a point. The switches are still chunky, the door mirrors could still feature on a dressing table, the footwell is slightly cramped and rear accommodation tight in the two-door.
It's fine, but if you buy a Wrangler thinking it'll replace your Volvo XC60's luxury, think again. Sure, there's sat-nav, a reversing camera, blindspot sensors, cross-traffic reverse sensors on the right versions. But it's built for a different purpose.
That's something you'll remember when on the road too. The ride, even on the more refined Sahara-spec tyres, is like sitting in light turbulence. The captain has switched on the fasten seatbelt signs.
The 255/75 17in all-terrain BF Goodrich rubber of the Rubicon hums like a military convoy or a wind farm. The 3.7-turns steering does little through its first 0.2 of a turn. Rain falls like it does on a tent on the canvas roof, while on the windscreen it cracks like sizzling bacon. The new 2.2 diesel engine is actually relatively quiet; and just powerful enough, at 197bhp and 332lb ft. The eight-speed auto copes with it too. There's a lot of wind noise. It's wide. It's susceptible to crosswinds.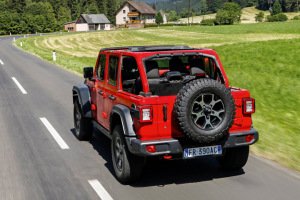 And none of this matters. Off road, the Wrangler is still magnificent. The turning circle (10.4m) is brilliantly short, articulation superb, and the anti-roll bars can be disconnected at the touch of the button, so it rides off road with the grace of an Ariel Nomad. It feels unflappable, unstoppable. Sure, there are compromises on the road. It would be impossible for there not to be.
So if you only want to drive around suburbia, for heaven's sake don't buy a Wrangler. If you want the real thing, don't buy anything else.
MATT PRIOR
RUBICON'S OFF-ROAD PROWESS IN NUMBERS
Part of the Wrangler's off-road capability is about numbers, so here they are.
The Rubicon lowers the standard car's 2.72:1 crawl ratio to 4:1, and it gets Tru-Lok locking differentials as standard. The approach angle on the two-door Rubicon is a fairly whopping 44deg (previous version 42deg) with a departure angle of 37deg (up from 32.3deg) and a 27.8deg breakover (25.8deg).
The new Rubicon can wade up to 760mm, too, and ground clearance is 277mm.
TESTER'S NOTE
Both glovebox and centre cubby are lockable. If you remove bolts for the doors or windscreen, there's a place to store them. This kind of stuff matters. MP
JEEP WRANGLER 2.2 DIESEL RUBICON 2DR
Bigger, better and more Wrangly than ever. If you think it's for you, you'll love it. If you think it's not, it's not


Price  £48,000 (est)
Engine  4 cyls, 2143cc, diesel
Power  197bhp at 3500rpm
Torque 332lb ft at 2000rpm
Gearbox 8-spd automatic
Kerb weight 2086kg
0-62mph 9.6sec
Top speed 99mph
Economy 38.1mpg
CO2, tax band 195g/km, 37%
Rivals Few. In spirit, Suzuki Jimny, Mercedes-Benz G-Class