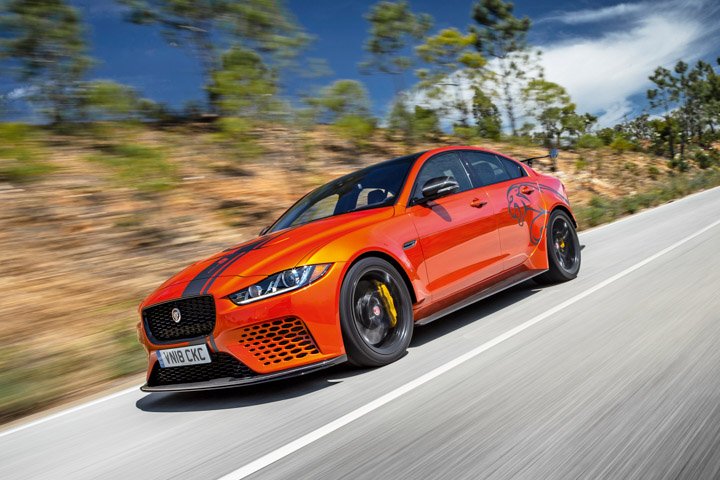 TESTED 24.5.18, PORTUGAL ON SALE NOW PRICE £149,995
Limited-run 200mph XE is a hardcore, track-honed four-door for the price of a supercar. So would you want one? (Hint: yes)
Almost a year has passed since Jaguar first showed off its steroidal arch warrior at the Goodwood Festival of Speed. We've seen videos of it tearing around race tracks, most notably that long and wiggly one in a hilly corner of Germany where it set what Jaguar says is a saloon car lap record. More recently, we've ridden shotgun around Goodwood circuit and heard, in the words of the people who developed the thing, exactly what it is that makes the Jaguar XE SV Project 8 so brilliant.
Now, at long last, we'll decide that for ourselves, in the south of Portugal, where we have access to the brilliant Portimao race track as well as the tight, twisty roads that dissect the surrounding hills.
Parked up beneath Portimao's concrete pit building, the Project 8 looks right at home. Those flared arches with semi-pornographic cutouts, the jutting front splitter and that unapologetic rear wing all scream motorsport. In fact, the Project 8 looks like a touring car that's been driven so fast its door roundels have peeled off.
SVO has put Jaguar's biggest and most powerful engine into its smallest and lightest car
The Verbier Silver car assigned to track driving duties today is about as racy as the Project 8 will get. It's equipped with the optional £10,000 Track Pack, which junks the rear bench for a half roll cage and adds fixed-back carbon bucket seats up front with four-point harnesses, all of it saving 12kg.
First, though, I'm guided towards the Valencia Orange Project 8 that I'll be testing on the road. On the very wet road, incidentally. The rain is fine, but persistent. This car is not equipped with the Track Pack, so it has two seats in the rear rather than a cage, and adjustable chairs up front. Think of it as the more reasonable of the Kray twins, whichever one that was.
Even without the Track Pack, this Project 8 looks far too track-focused to possibly work out on the road. But don't be misled. Jaguar's most hardcore passenger car works surprisingly well away from the flat expanse of a race track. With springs that are four and a half times stiffer than those fitted to a conventional XE, the ride is, of course, tight and firm. Sitting in a BMW M5 or Mercedes-AMG E63 immediately after driving a Project 8 would be like floating in a swimming pool on a lilo. However, the Jaguar's ride isn't too unyielding for the road. In fact, there's enough compliance and bump absorption to deal with most road surfaces. It's far from cushy, but not uncomfortable, either.
Even when the test route turns onto an ancient single-width back lane, as narrow and gnarly as the worst British B-road, the Project 8 hums along with impressive composure. The damping really is exceptional. It skilfully prevents a firm ride from ever becoming overbearing. At no point does the car threaten to leap into the scenery.
That's the first surprise. The second is how well mannered it is in these wet conditions. A number of high-performance cars would be close to undrivable in this rain on Michelin Pilot Sport Cup 2 tyres, as fitted here, but the Project 8 makes them work. There is good turn-in bite and very stable, consistent cornering grip, which means you don't feel at all nervous leaning on the chassis in bends. Traction is very strong, too, thanks to the clever four-wheel-drive system (see separate story, below).
What those spring rates guarantee is a very stable and solid platform, a level of body control that no other super-saloon can come close to and astonishingly sharp steering response. There can be no tougher test of a track-focused car than a wet and hideously bumpy back road but, even in these desperately challenging conditions, the Project 8 gives you the confidence to press on.
What the Project 8 really wants to do is rocket towards the next

corner with eye-widening ferocity
It's all by design. "We wanted to build a car that was approachable and friendly to drive at speed," says vehicle dynamics manager David Pook'"not something that tried to bite you." That's why he and his colleagues settled on four- rather than rear-wheel drive. As he points out, they've put Jaguar's biggest and most powerful engine into its smallest and lightest car. Pook wasn't interested in building a tyre-smoking wheelspin machine.
This car is the latest limited-edition trinket from Jaguar Land Rover's Special Vehicle Operations (SVO), the division that's responsible for high-performance SVR-branded Range Rovers and F-Types, as well as low-volume specials like the 2014 F-Type Project 7. No more than 300 Project 8s will be built, all in left-hand drive, with between 60 and 80 expected to stay in the UK.
The car shares its body-in-white with all other XEs, but the Project 8 is so comprehensively re-engineered that it's really an XE in name only. The flared wheel arches cover tracks that are wider by 24mm at the front and 73mm at the rear. Only the lower suspension arms are carried over. Everything else – upper arms, springs, helper springs, damper units, anti-roll bars, knuckles and anything else you care to point at – is bespoke to this car.
Even the headlights were relocated. The two light units, as well as the bodywork around them, were dragged forward by 14mm to make space for the 20in Cup 2 tyres. "If we didn't manage to get those Cup 2 tyres to fit," says Pook' "there wouldn't have been a Project 8 at all. They were the only tyres that would have worked on this car."
Squeezing the 5.0-litre supercharged V8 into the engine bay was less of a struggle, but SVO did have to develop new billet engine mounts to stop the 400kg hulk from writhing around beneath the lightweight bonnet. The engine develops 592bhp and 516lb ft, delivered to the road via an eight-speed automatic transmission. Jaguar quotes a 0-62mph time of 3.7sec and a 200mph top speed.
The only panels the Project 8 shares with the regular XE are the front doors and the roof. The bonnet is made from carbonfibre, saving 3kg. Elsewhere, there are bespoke carbon-ceramic brakes with 400mm discs on the front axle that look like dustbin lids, the wheels are forged, the differential in the rear axle is electronically controlled so it can open fully on the way into a bend to reduce understeer and lock on the way out to give maximum traction, the dampers are adaptive, the ride height is adjustable for either road or track use and the front splitter and rear wing, at full extension, generate 122kg of downforce at 186mph.
This might well be the most comprehensively re-engineered four-door performance saloon of all time. It exists because SVO wants you to know exactly what it's capable of. "We built a car that all of us at SVO wanted to drive," says Pook.
Time for the Verbier Silver car. The sun has long since broken through the gloomy clouds and the track surface is close to bone dry. Within two corners, it's clear that the Project 8 is unlike any other super-saloon. Of course, it is: no other super-saloon is this aggressive, or this expensive. In fact, you very quickly realise that to discuss the Project 8 in super-saloon terms is to miss the point. It isn't one. It's much more akin to a Porsche 911 GT3 RS or a BMW M4 GTS. It just happens to have four doors.
The adaptive dampers remain more or less unchanged as you flick between the Comfort and Dynamic modes, but in the Track setting, they switch to a much more aggressive map. Suddenly, there's less roll in the car, far less vertical movement and even tauter responses. On sticky-warm track-biased tyres, the Project 8 finds enormous levels of grip, enough that you choose your turn-in speed and trust the front axle to find a way through the corner. The steering is intuitive and uncannily precise, the body stays almost entirely flat and, through the apex, the car is perfectly balanced. In quick fourth-gear corners, you feel it rise onto the balls of its feet and sweep through from entry to apex in the subtlest four-wheel drift, both axles slipping across the track surface at the exact same, infinitesimal rate, like an old racing car. It's one of the sweetest sensations in driving.
Exiting a corner, there's simply no power oversteer. If you unsettle the car on the way in and stand abruptly on the throttle pedal, you can make it drift, but it doesn't come naturally. It doesn't slide very willingly even in Track mode, which favours the rear axle right up until the point it starts to lose traction. What the Project 8 really wants to do is slingshot itself away from the bend with no loss of forward momentum whatsoever, 592bhp and 516lb ft rocketing 1745kg of limited-edition XE towards the next corner with eye-widening ferocity. The big carbon stoppers don't ever fade, and with the four-point harness pinning you into the wrap-around carbon seat, you feel everything, keyed in, at one, nothing passing you by. You're dialled into the car in a way you've never experienced in anything with four doors and numberplates before. Track driving is torture for most road cars, but the Project 8 is built for it.
The engine has almost as much character as it does power. To drive a very fast car today with a supercharged engine that feels more and more energetic the harder it spins is like rediscovering a forgotten favourite album. Shouldn't it always be this way? The gearbox, finally, isn't the quickest or most responsive auto, but it does its job well enough.
Never mind how fast it is, or how grippy the tyres are, or how flat the body stays in corners. Those are merely the details. What's most important about the Project 8 is that it is absorbing, rewarding and hugely good fun to drive. When diehard car guys are left to get on with it, the results speak for themselves.
DAN PROSSER
HOW SPIN DOCTORS TAME THE PROJECT 8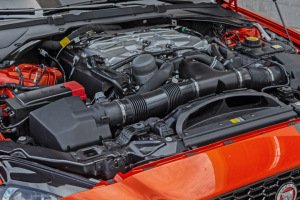 So that the Project 8 can deploy the 592bhp it has at its disposal to the road, SVO's engineers laced it with trick hardware.
The four-wheel-drive system, similar to that in the F-Type SVR, is managed by the car's Intelligent Driveline Dynamics system, which rapidly diverts torque to wherever it can be put to best use. In normal driving, torque is sent to the rear axle only, which means the Project 8 behaves like a rear-wheel-drive car on the way into a corner. On the way out of a bend, up to 50% of drive can be sent forwards.
In addition to four-wheel drive, there is torque vectoring by braking on both axles and the rear differential is electronically controlled. The TracDSC mode, finally, allows a reasonable amount of slip before cutting in. Armed with all of that, the Project 8 feels close to unspinnable.

TESTER'S NOTE
Project 8s will come with a toolkit so owners can adjust ride height and aero settings. Very motorsport, but hardly the work of a moment. DP
JAGUAR XE SV PROJECT 8
Almost as rewarding as a sports car on a circuit, very usable on the road and, Track Pack aside, very practical


Price  £149,995
Engine V8, 5000cc, supercharged, petrol
Power  592bhp at 6500rpm
Torque 516Ib ft at 3500rpm
Gearbox 8-spd automatic
Kerb weight 1745kg (Track Pack)
0-62mph 3.7sec
Top speed 200mph
Economy 25.7mpg
CO2, tax band 245g/km, 37%
Rivals BMW M4 GTS, Mercedes-AMG C63 Black Series