TESTED 1.6.18, ITALY ON SALE Now PRICE £252,765
Track special is as playful as a Toyota GT86 yet faster and more capable than any mid-engined V8 Ferrari road car yet built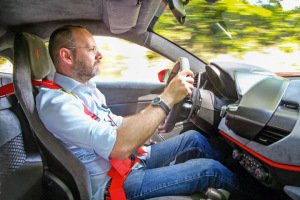 There are two sports cars they just don't get wrong. Most manufacturers, even these ones, occasionally turn out a duffer, but in the case of two vehicles – the GT3 RS version of a Porsche 911 and the special-series version of Ferrari's mid-engined V8 – they don't miss a trick.
This is, I suspect, because they're engineers' cars. Purists' cars. The first 911 GT3 RS (2003) only came about because Porsche needed to homologate two suspension links for racing. And the first mid-engined Ferrari special, the 360 Challenge Stradale (also of 2003), helped justify the Challenge race series. Throughout their iterations since, they haven't missed a beat.
This, then, is Ferrari's latest, the 488 Pista. 'Pista' means 'track', or, apparently, 'get out of the way!', but I suppose either is appropriate enough.
The Pista is lighter, faster and more aggressive than the 488 GTB everywhere
The requisite link to motorsport is there, anyway. The Pista's engine is – like a GT3 RS's – effectively a race car motor, here from the 488 Challenge car. It was always in the plan that way: develop an engine that makes 50bhp more than the standard 488 GTB, prove it in the one-make racing series car, and eventually drop it into the 'special' variant.
Special doesn't mean totally limited in production number. It'll just join the rest of the 488 range while that's still on sale, albeit at relatively low volume. It retains a 3.9-litre V8 but now makes 710bhp at the same 8000rpm rev-limiter, and 568lb ft at 3000rpm, but only in seventh gear. Torque is limited in lower gears to make what, since its launch, has been the best sporty turbocharged engine in the world feel less turbocharged, more naturally aspirated.
It drives the rear wheels via a seven-speed dual-clutch gearbox. Remember when these were first launched, and they told us that upshifts were, effectively, instant because one clutch would engage while another disengaged? Well, they're still tweaking them: although the time between clutch activations isn't being reduced much (there's not much to reduce), there's now an overboost on upshifts, and in the appropriate aggressive drive mode – a dial on the steering wheel scrolls through them – it punches downshifts in racier fashion, with more engine braking than before.
Specify the right options – including carbonfibre wheels at more than £10,000 – and the Pista can weigh as little as 1385kg (kerb, not dry), up to 90kg less than a GTB. McLaren reckons a 675LT is 1320kg at the kerb, which, with its carbonfibre tub rather than an aluminium structure, sounds about right.
The Pista does get carbonfibre, though: for the bonnet, bumpers, intake plenum and rear spoiler; part of a raft of weight-saving additions that include an Inconel exhaust, a lighter flywheel, a lithium battery and titanium conrods. Among the bodywork modifications, which have shades of Ford GT (perhaps unsurprisingly, given that's a car entirely developed for endurance racing), there's an S-duct at the front and a higher, longer wing at the back. The result is 20% more downforce than a 488 GTB, 240kg at 124mph, with only a 2% increase in drag.
The weight and the power and the aero and a newly developed Michelin Pilot Sport Cup 2 tyre (which leaves rubber on the road in rather more places than you'd realistically expect, so Lord knows how soft they are) mean that the Pista is lighter, faster and more aggressive than the 488 GTB everywhere.
The 488 Pista is just as accessible as the 488 GTB, but way, way faster
But it is not, says Ferrari's leading GT engineer, Raffaele de Simone, any more difficult to drive. This is not a car like the F12 Tdf or the 599 GTO, which you might kindly describe as a right old handful. It's meant to be just as playful and accommodating as a regular 488 GTB, says de Simone, which, given the GTB has 661bhp and is almost as docile as a Toyota GT86, would be quite an achievement given its power output starts with a seven.
But, well, turns out he's right. This car. Chuffing hell.
Our first go, as it sometimes is, is around Ferrari's Fiorano test track. The Pista is said to be two seconds faster than a 458 Speciale around here, which, given a Speciale's lap time is only 83.5sec, is a leap. It's in a different performance stratosphere from the Speciale: 0-62mph is 2.85sec (Speciale 3.0sec) and 0-124mph in 7.6sec (Speciale 9.1sec).
But it does not take long to realise that the Pista is no more frightening than a GTB, but merely faster, everywhere. The steering rack, ratio, everything, is the same as a GTB's. Anti-roll bars are unchanged, and although there is a stiffening of springs, it's minor and comes with only a marginal decrease in ride height. The GTB's friendly nature, then, is largely intact. In fact, because of the new tyres, which have stiffer sidewalls, steering response – Ferraris use a really quick, light, 2.0-turn rack, and McLaren and Porsche usually do it better – is if anything less nervous, more stable.
So it is just as accessible, but way, way, faster. The reduction in kerb weight means that a car that was already willing to turn is even more agile. Ferrari uses an e-differential and its latest-generation Side Slip Control program involves even more software, so if you turn in sensibly, the diff stays relatively unwound, the Pista rotates beautifully and, as you come back on the power, it drives the Pista brilliantly, breaking traction easily if you have traction control off, but with the Side Slip Control system allowing a lovely degree of adjustability. Turn everything off and the Pista's character is still docile. Peak torque – and there's 568lb ft of it – comes in at just 3000rpm, the car revs to the same 8000rpm as the GTB and throttle response is better than any other turbocharged car's, of that I'm pretty certain. So it's just brilliantly adjustable and responsive.
What's perhaps more remarkable, though, is that this comes without any huge detriment to the experience on the road. Well, to the ride, at least: there's a lot of road noise, owing to a lack of carpet and other soundproofing, so along with tyre roar, you can hear stones being flicked up and chattering into the body, while the air conditioning struggles on anything except its most shouty setting and the extended front and rear body addenda give you more than usual to think about on slopes and speed ramps.
But the dampers retain two settings and, even on the firmer one, the Pista is far from unsettled on twisty hillside roads. On the softer 'bumpy road' setting, it's remarkably compliant, yet controlled.
The roads in these pictures are part of Ferrari's development drivers' test route, so you can see why the steering ends up being so fast – you seldom need to take your hands off the wheel on hairpins – but it also explains why Ferrari likes using an e-differential. That, while heavier than a pure mechanical differential, or an open one (like a McLaren), unlocks to ease tight corner entry and locks up to provide brilliant exit-straightening.
These roads would really expose some laggy, harshly sprung track specials, but the Pista is brilliant here, riding with deftness and cornering with composure and loads of feel and finesse. It'll understeer if you're clumsy, and spin its wheels more than you expect if you're lead-footed, but generally it's more approachable and playful than its competitors. And although its engine is less intoxicating, to my ears, than Porsche's naturally aspirated 9000rpm GT3 RS unit, and the Lamborghini Huracán Performante's V10, it has the measure of the 911 GT2 RS and any current McLaren.
More than that, though, it helps exploit one of the greatest chassis in the business. One that doesn't feel night-and-day different from the regular GTB, which is a car that, for me, anyway, is still preferable to a McLaren 720S (although I'm in a minority on this mag). This feels like GTB plus 20%, rather than a different animal. Put carpets and inertia-reel belts rather than harnesses in it and it could even just be the next 488, rather than a motorsport-derived special.
That, though, is important to those who buy them. V8 Ferrari owners, even track-special V8 Ferrari owners, do not tend to live on race tracks like owners of, say, GT3 RS Porsches. They'll go once or twice, just to remind themselves they've made the right decision. I imagine that won't take long. About three corners ought to do it.
MATT PRIOR
IT DOESN'T SIMPLY GO WITH THE FLOW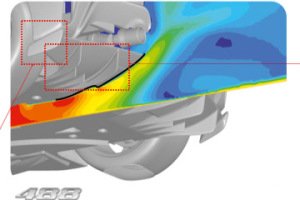 The weight reduction is probably the biggest notable thing you'd feel about driving a 488 Pista compared with a 488 GTB, but it's the aero improvements that really allow it to be all it can be. For one: it wouldn't be able to be this much lighter were it not for the improvements in cooling, allowed by some clever air manipulation.
In the nose, the radiator is now ramped up at the rear, rather than the front, and with new frontal treatment throwing more air at it, it's only 2% bigger than before yet 7% better at cooling the water that flows through it. The air that has passed across it, meanwhile, is now thrown out lower down the bodywork than before.
That means this warm, turbulent air is left clear of air passing across the upper body, some of which has passed through and been accelerated by the S-duct. And there's so much high-speed air across the body now that the engine's air intake can afford to be by the rear wing, rather than in the scoops behind the doors. Those scoops are instead now exclusively for radiators and intercoolers, apart from a small area at their topmost point: this removes a boundary layer of turbulent air just upstream of the engine air intake, meaning that faster-moving air makes its way into the airbox.
The cabin is stripped to just the right amount: minimal, without being too bare and harsh an experience. MP
FERRARI 488 PISTA
Everything the 488 GTB is, only much, much more so.


Price £252,765
Engine V8, 3902cc, twin-turbo, petrol
Power 710bhp at 8000rpm
Torque 568lb ft at 3000rpm
Gearbox 7-spd dual-clutch automatic
Kerb weight 1385kg
0-62mph 2.9sec
Top speed 211mph
Economy 24.6mpg
CO2, tax band 263g/km, 37%
Rivals Lamborghini Huracán Performante, Porsche 911 GT2 RS