Two-seat coupé gains a punchy turbo petrol four-pot and, it's claimed, greater agility for less money. Is it too good to be true?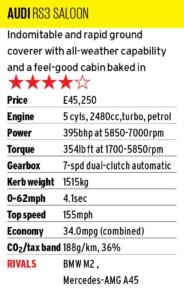 "The feisty young brother" is how Jaguar describes this, the new F-Type 2.0-litre. Which is both encouraging and slightly worrying. Have you ever spent any time around a younger brother who could broadly be defined as 'feisty'? Annoying, isn't he?
But, yes, it sounds encouraging, too. The F-Type 2.0-litre marks the arrival of Jaguar's four-cylinder Ingenium engine in 296bhp petrol form, so here it gets plonked into Jaguar's sports-GT car. You could think of it as downsizing – which usually turns out okay, as with Ferrari and Mercedes-AMG, for example – but sometimes doesn't. There's the reassurance here that, if you don't like it, the bigger engines, V6s and V8s, stay on sale, too.
You might remember the 'four-cylinder engine in a six-cylinder car' idea from such projects as 'the Porsche 718 Cayman'. The biggest problem with the four-pot in the German car is the way it sounds.
A single tailpipe, rather than several, visually marks the 2.0 as it drops into the front of an F-Type. It drives the rear wheels only, and through an eight-speed automatic gearbox only. There's no four-wheel drive or manual 'box option for the 2.0. Jaguar's engineers decline to say if they've tried a manual. It wouldn't surprise me if they had, and I'm sure it'd be even lighter again than this car – which is 52kg lighter than the V6. But while a light, stripped-out, manual variant sounds the kind of car that people like us love, it also sounds like one nobody would buy.
The 52kg reduction here pretty much all comes in the nose. When we road tested a V6 F-Type, we found it weighed 1755kg, of which 52% was over the front, so although the four-pot will remain very marginally forward biased, it should make a sizeable difference to the way it drives.
Jaguar's engineers will discreetly tell you that this is their preferred F-Type when it comes to handling, in the same way that, with the old XK, the 5.0-litre naturally aspirated V8 was preferable to the supercharged cars, because it was quick enough yet felt that bit more agile when you turned.
We're testing a coupé although a convertible (only 20kg heavier, it's claimed) is available, too. As standard, you get 18in wheels – again, a format that dynamics engineers quite like – but go for R Dynamic trim, which this is, rather than the base model, and you get 19s, with 20s an option. What the 2.0 also doesn't get is adaptive dampers. But, again, there's the engineering wink and nod: this car's just dandy without them.
So let's see. The V6s and V8s in F-Types usually fire with a real visceral bark, spinning up to around 3000rpm. Apparently, they all do it, these engines, even in Range Rovers, and need to, as part of a clean start process. But the exhausts just make the sports cars far more audible. The four-pot is that bit more restrained, as you'd expect. If you have easily irritated neighbours and early starts, perhaps this is the version for you.
If you like your sports cars or GT cars to sound rich, powerful and expensive, though, perhaps it isn't. How best to describe the sound? Very obviously not a V6 or a V8, I suppose, which is the trouble with fours.
The combustion note of a four, especially a turbocharged one that doesn't rev to the heavens is, typically, so plain that you're left chasing tricks to try to up the ante. It has worked here, to an extent. There's an active exhaust, and some pops and burbles on the overrun if you flick the switchable exhaust's mode to angry. There's some semi-raucous growl as you accelerate, too. And there's some sound augmentation through the loudspeakers, although it's so subtle that you'll hardly realise it's there. Look, it sounds fine. But it sounds like a four-pot and, as with a Porsche 718, that's just not very exciting.