Fifth-generation hot hatch finally hits British roads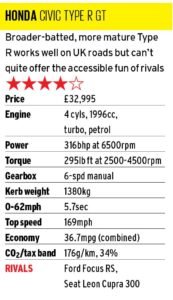 The Type R has landed. Faster, stronger, more powerful and more advanced than any of its forebears, the hot Civic is now rolling off its Swindon production line. This fifth-gen version is the first in more than a decade to move back to all-independent suspension and the first to be developed as a performance car from the ground up.
Like all of Honda's current Civics, the Type R is a big car, feeling a size larger than most immediate rivals. The car's new platform does allow for an improvement of its driving position, but you still don't sit as low in it as some would like.
The steering, clutch, gear lever and brake pedal all feel carefully honed, well weighted, positive and feelsome. But there's a softness to the throttle response that's at odds with the encouraging precision and tactility of the rest of the controls, not to mention the Type R's long-standing reputation for hair-trigger sensitivity.
Still, the problem only spoils your enjoyment for so long. Once you learn to compensate for the engine's penchant for a dramatic pause, you'll find it has greater range and a more compelling delivery than most four-pot turbos. Yes, the car is generously fast, but it's characterful, too.
Ride and handling are worthwhile improvements over what went before, but on neither front does the Civic threaten to unseat the class's ruling powers. The 20in alloys and low-profile tyres make for a motorway ride that is noisy but much more supple than before. Off the motorway, bump compliance is good with the adaptive dampers set to Comfort, but a hint of woodenness is evident as firmness is ramped up. The chassis is taut, precise and decently absorptive in Sport; it breathes better and better with the road as you pile on speed.
Through corners, the Civic has a plainly very grippy set of Continental tyres, excellent body control, good handling response, a limited-slip diff that's keen to make its presence felt and a rear axle that's gently mobile on a trailing throttle. It all makes for a rewarding car to drive hard. The junior BTCC car vibe that dominated the appeal of the previous Type R remains the new one's defining trait.
Rivals probably offer the more accessible thrills that many would argue ought to be a hot hatch's mission to provide. Will that prevent this Type R from getting the better of them in a back-to-back comparison? Tune in next week to find out.
MATT SAUNDERS