TESTED 6.11.18, CAMBRIDGESHIRE ON SALE NOW PRICE £167,940
BAC adds some token practical concessions to its revised single-seater, but the driving experience remains undiluted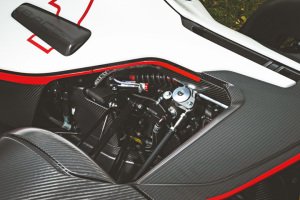 Superlatives are wheeled out for the latest supercars, but the rapier-like creation before you offers an experience so different from the norm that it's hard to know where to start. A coffee might have been nice, but after watching the Mono roll off its transport, the caffeine hit seems unnecessary. This car's footprint is small – it sits within that of a Fiesta ST – but everywhere you look are aggressive, intricate details that give it an inflated, combative presence. It's a skeletonised watch with numerous complications, all designed to help achieve or deploy a Veyron-matching power-to-weight ratio of 525bhp per tonne.
In the case of the ever-evolving Mono, to which Liverpool-based Briggs Automotive Company has made constant updates and revisions ever since it started the ball rolling in 2012 and now constructs nearly 40 a year, those complications are mouth-watering. First you notice the entirely exposed rear suspension, which, like so much about this 'A-to-A' offering, is pure track-car, with a pushrod-activated double-wishbone design and two-way remote-reservoir dampers from Sachs ensconced within race-spec Eibach springs. At the front, the same set-up remains artfully exposed through tightly cropped apertures in the carbonfibre body panels, but then everything affixed to this carbon-steel spaceframe, which is now slightly wider and wrapped in slimmer body panels for a sliver of extra room in the cockpit, is impossibly neat. The dazzling new Dymag wheels are carbonfibre too. Or at least the 17in rim is, with an alloy billet centre section. They save 2.5kg at each corner and were a world first, says BAC. They're also a £12,000 extra – an ultra-lightweight forged OZ Racing piece is standard. Composite brakes, as fitted to this car, save a further 20kg, and cost another £12,000. This isn't the last time you'll raise a pecuniary eyebrow, but what an entrance.
While the Mono is a toy, you need to respect both the machine and the conditions
So you slide in, eager to discover everything, but even here there is process. Many owners have the fixed-position carbonfibre Tillett seat (it's the pedal-box that slides) made to measure, and so removing the quick-release steering wheel (also moulded to the hands), placing it atop a useful deck of all-weather 'suede' in front of a trivial windscreen and sinking deep into cockpit will be a case of hand meets glove. BAC has widened the carbonfibre safety cell by 56mm since the early days but it's still snug. Not so much as to require bodywork cutouts for the driver's arcing knuckles, à la Adrian Newey's Red Bull F1 cars, but cosy enough to make accessing the otherwise useful zippered side-pockets a contorting experience. And ideally you'll have somebody on hand to encase your strangely low, reclined torso in the tight Willans five-point harness. And I do mean tight.
By now your heart will really be beating. Not only is the ambience unfamiliar but so are the details. Set within the fastidiously aligned matt-carbonfibre panels are dials for brake bias and a five-stage traction control system. There is also a button for a plumbed-in fire extinguisher and one to prime the fuel pump and other electrical systems. The 290mm wheel itself is relatively straightforward and achingly pretty. Just like a Ferrari, it houses all the controls a road-car might need. Jutting into the edges of your vision are wheel arches sheltering custom-compound 205/40 Kumho tyres. Let's just hope they'll be up to the job on a wet, leaf-strewn day in Cambridgeshire…
If you've remembered to remove your helmet from the narrow 80-litre front boot, now's the time to don it. Then open the AP Racing clutch, fire the engine via a starter button dead ahead, hold down the Kermit-green neutral button with your left hand and pull the right-hand paddle to engage first. With a firm but linear clutch action, the featherweight Mono then eases into motion with all the drama and inertia of a crisp packet blown off the pavement. Loud? Very. Intimidating? Hardly, but also unequivocally distinct from anything else with licence plates.
As the 2.5-litre Ford Duratec warms, you have the chance to grasp the more prosaic elements of the driving experience. Over-the-shoulder visibility would be superb if only the harness would permit such an act. T-junctions are therefore tricky. The tiny side mirrors, held out on stalks, are useful at a trundle, but the car's ferocious, high-frequency vibrations, which also find their way unfiltered into your sternum, render them largely decorative as the pace quickens. Using them is like trying to sip a cup of tea while running. This car's competition DNA is also detectable in the unassisted steering's 1.7-turns lock to lock, and so five-point turns are the norm. Also important is to dip the clutch when changing gear at lower engine speeds (don't fret, flat upshifts will ensue), just to give the Hewland-sourced six-speed sequential a bit of help. It is, after all, pneumatically operated and lifted straight from a Formula 3 car, for which the body and suspension take-up points are still visible.
There is nothing at all prosaic about the way a BAC Mono goes down a road once your confidence and familiarity have reached a certain level. In fairness, this doesn't take long, because the precision shot through the controls and the car's resulting range of responses gives you the unmistakable impression of a device that's geared 1:1. You call, it responds. It's noisy, and there is wind buffeting, but even next to something as pure as a 911 GT3 RS, the Mono feels astonishingly lean and alert, which seems a ridiculous comment to make but one that is undeniably true. Very quickly you appreciate the wonderfully articulate way in which the conversation between that 305bhp motor and such an exact suspension set-up plays out. As the driver, you play the puppeteer – a sensation amplified by the airborne feeling imparted by sitting so close to the road and in full bathtub repose.
Mind you, on a day like this the Mono certainly isn't a car in which to go blithely chasing the throttle and an 8000rpm redline. Grip levels are high but the chassis' inherent stiffness means the front can struggle for purchase in the wet; failure to rev-match on the way into slower corners can also have the lightning-quick gearbox initiate a brutal clutch-kick that spits the rear axle sideways. Much of the car's mass is inboard so any weight transfer is incisive – and just waiting to catch you out. Such a tight steering rack also demands accuracy with throttle inputs when you're pressing on. This is a task made simpler and more enjoyable without the corrupting effects of turbocharging, but the point is that while the Mono is a toy, you need to respect both the machine and the conditions.
Outright performance is top drawer, at 2.7sec to 60mph and 170mph flat out, although the Mono never feels quite as quick as the latest Atom. Granted, that's like saying Van Halen never quite matched up to Page. Both cars are blisteringly fast – enough to leave you literally gasping – but if the Ariel's handling is also the more expressive on the road, then the single-seater's method is that much more intense. Pedals, paddles, steering: each is beautifully positioned and weighted. It means the economy of movement achievable at speed is not only absorbing but also an utter joy, and can flatter the driver with the impression – false or otherwise – that you're really working a formula car. On a dry circuit, away from the corrupting influence of ruts, cambers, mud smears, your slack-jawed fellow motorists and the need to keep things reasonably sensible, the Mono must be sublime. It's something we'll look to confirm with a full road test and track telemetry next year. On this evidence, though, no hypercar's lap time looks safe.
The BAC Mono costs £167,940 before options, but because the conception is so extraordinary you'll struggle to find a less expensive alternative. A second-hand Formula Ford qualifies but you're limited to track days. And while both are single-seaters, in terms of finish the striking Mono is chateaubriand to the racer's burger-van patty. A Caterham 620R or the Ariel give nothing away in performance but don't mentally teleport you onto a formula grid every time you climb aboard. A Ducati Panigale? That's the thrill level we're taking about, but this is Autocar not Autobike. Best start saving.
RICHARD LANE


TESTER'S NOTE
It shouldn't surprise us that such a unique product ends up around the world, but BAC says four of its cars have ended up as far afield as Mexico, where their owners use them on the road. Bravo. RL
BAC MONO 2.5 2018
No-expense-spared, beautifully realised single-seater offers something profoundly different



Price  £167,940
Engine 4 cyls in line, 2488cc, petrol
Power 305bhp at 7800rpm
Torque 227bhp at 6000rpm
Gearbox 6-spd sequential
Dry weight 580kg
0-60mph 2.7sec
Top speed 170mph
Economy na
CO2, tax band na
Rivals Ariel Atom 4, Lotus 3-Eleven