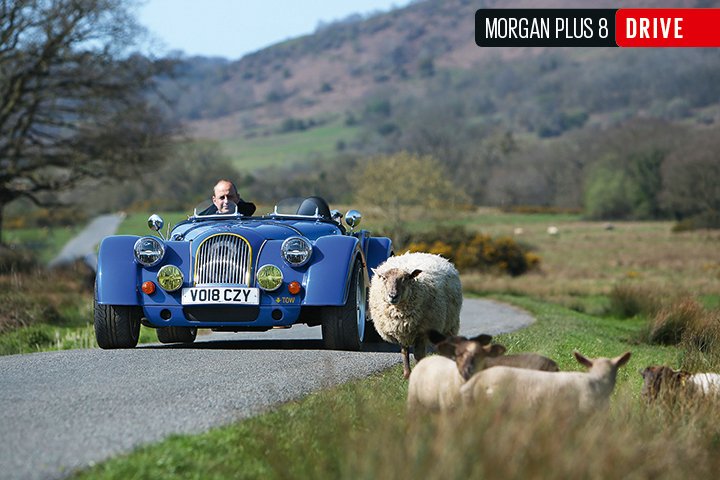 This 50th Anniversary Edition Morgan Plus 8, among the last of its kind, represents a bygone era – not only in how it looks but in how it drives too. And, as Andrew Frankel discovers, therein lies its charm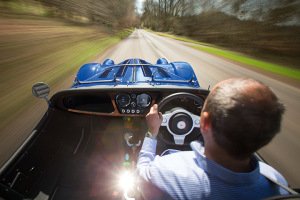 Perhaps the biggest problem today for the motoring hack facing a clump of empty pages armed with nothing more than a new car to review is that such cars are usually irritatingly complete, rarely terminally flawed and as a result almost always poor objects at which to aim your trenchant criticism.
So how refreshing it is to review a new car that is manifestly flawed in most regards and properly deficient in one or two. Then again, the Morgan Plus 8 is not new at all. This year marks its half-century and, to celebrate, Morgan is going to kill it stone dead. But not before it's knocked out 50 of these anniversary models, one for each year of its life.
The car is mechanically standard but presented so as to evoke the memory of the original and most famous Plus 8, a well-raced car known as MMC 11 after its numberplate. So alongside the usual plaque, there's a domed aluminium cover where you'd have once seen a spare wheel, a front towing eye painted yellow, wheels designed to mimic closely those of the original Plus 8, white tipped 'cannon' exhausts and white brake calipers. There is bespoke instrumentation and upholstery too. The car comes in two colours – green for those equipped with a conventional soft top and blue for the Speedster version seen here.
Yet there is something of the smoke and mirrors about this car, because the only thing about today's Plus 8 that's actually 50 years old is the name. The car itself died in 2004 when supplies of the Rover V8 that had powered it since 1968 ran out. What you're looking at here is an Aero 8 attending a retro-themed Plus 8 fancy dress party that's been going on since 2012. It has the Aero's bonded, riveted aluminium chassis and, while its 4.8-litre motor is a V8, it's supplied by BMW. So there's no ash frame, nor even sliding pillar front suspension. It's all far more modern than that. Then again, a new Porsche 911 is probably even less closely related to an original so maybe nobody cares.
And the Plus 8 certainly feels suitably aged. In fact, whether by design or not, at times it feels absolutely ancient. The door handles are the same as those on my elderly Land Rover, the primary dials all but illegible at speed. The tub may be made in a relatively modern way but it still wobbles like a custard tart over potholes, while the steering flies in the face of the modern vogue for ultra-aggressive off-centre response: turn the Plus 8's wheel and you'll be shocked by how little happens at first. Oh, and the brakes are overservoed, there's no storage space for anything on board nor any luggage space, the modern BMW column stalks look ridiculous in here and if you're going to take the Speedster on a motorway, you'll look ridiculous too because unless you're insane, you'll have a full-face crash hat protecting your bonce if not your dignity.
And yet. I'm not that sensitive to a car's appearance because I'm always more interested in how it drives, but in this spec even I can see the anniversary Plus 8 looks fabulous. Low, wide and with something of the vintage hot-rod about it, its shape suggests a certain kind of rarefied driving experience, something more physical, challenging and engaging than the modern norm. I already knew it would be terribly flawed because I've not driven a Morgan that was not, but did that make me want to drive it any less? On the contrary.
Besides, let's not forget what's in front of us here, namely an 1100kg sports car directing the power of a 4.8-litre V8 motor through a manual gearbox (an auto is available but why would you?) to the rear wheels alone. If someone published that spec as a prospectus for a brand new sports car, we'd all be leaping around the room with excitement.
And it's not as if it's gained nothing from its Aero underpinnings. The last time I had a proper go in a Plus 8 was in 1989 (pictured above) when I drove around the Lake District noting that, even by the standards of nearly 30 years ago, the car "hops wholesale across the road as soon as look at a bump". The ride was "truly appalling" while the steering could "generate kickback that wrenches the wheel from your hands". By those standards, this Plus 8 has the chassis sophistication of a McLaren.
Most importantly, this is a car where the numbers just don't matter. Yes, it has 367bhp and will reach 62mph from rest in a not-that-impressive 4.5sec, but the engine is a woofling, rumbling delight and its slow but positive six-speed transmission perfectly in keeping with the car's character. The power delivery is delightfully lazy, awash with torque from 2000rpm so you change gear mainly because you can.
I was surprised also by how much grip was available: with a standard limited-slip diff and suspension modifications made for the Aero 8 in 2016, it clings on grimly in the curves. Actually, I'd rather it had a lower limit because, by the time you start the all-in wrestling as the car starts to slide, you're going fairly rapidly, and for me that's part of the fun with the Plus 8.
Instead of the car doing it all for you like so many moderns, with the Morgan it's the driver who ends up helping out the car. You have to anticipate how the steering will react to any given input, make sure your entry speed is not too high, then rely on torque and traction to spit you out the corner. And because the car is actually fundamentally stable, it first needs a bit of provocation and then some accurate helmsmanship with its somewhat approximate steering when it finally breaks loose. It is one of those cars whose character is derived not from what it does well, but what it does badly. And it is nothing if not involving as a result.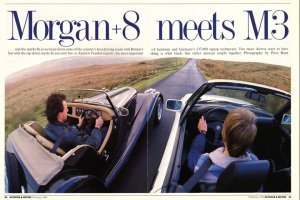 But what I liked most about this final Plus 8 is that it knows what it is. It's not pretending to be a track-day warrior, any more than it might try to con you into thinking it's an everyday car. It is an honest, back-to-basics, road-going sports car and if you don't try to force upon it roles it was never designed to do, it will not disappoint. In short, if you take it at face value, there's still a lot of fun to be had here. But £129,000-worth of fun? Not for me, but I'm not the target audience. For someone wanting a no-nonsense, belt-and-braces traditional British roadster of a kind unavailable anywhere else, the Plus 8 not only looks the part, it does the business too – not despite all those flaws but, in the main, because of them. A
PHOTOGRAPHY Stan Papior
MORGAN PLUS 8 50th ANNIVERSARY
Flawed and expensive, the final Plus 8 relies on charm to talk you round. On the right road, it does just that

RATING


Price £129,000
Engine  V8, 4799cc, petrol
Power  367bhp at 6200rpm
Torque  370lb ft at 3600rpm
Gearbox 6-spd manual
Kerb weight 1100kg
Top speed  155mph
0-62mph  4.5sec
Economy  23.0mpg
CO2, tax band  282g/km, 37%
Rivals Jaguar F-Type SVR Cabriolet, Mercedes-AMG GT Roadster
MORGAN TODAY
The Morgan business is split three ways between the Three Wheeler, the so-called 'Classic' line and the Aero 8. For these purposes, the Plus 8 counts as a Classic despite its Aero underpinnings. Perhaps unexpectedly, Morgan's bestseller is not the Three Wheeler but the ultra-traditional Classic, which still comes with an ash frame and a front suspension design that dates back to the Great War. Plus 8 aside, it comprises the 110bhp 1.6-litre 4/4, the 154bhp 2-litre Plus 4 and the 3.7-litre, 280bhp V6 Roadster.
But the interest today lies in the Aero, which dies alongside the Plus 8 this year as supplies of BMW's venerable N62 V8 finally dries up. And Morgan is not saying very much about what happens next. But we know there will be a new car, we think with a new name and we know it will be here later this year.
It is also certain to remain highly traditional in style and outlook – this is emphatically not the moment Morgan goes state of the art. It seems possible the engine will be turbocharged, though with Ford supplying the four- and six-cylinder motors in the Classic range, the normally aspirated V8 in the Mustang cannot be ruled out.