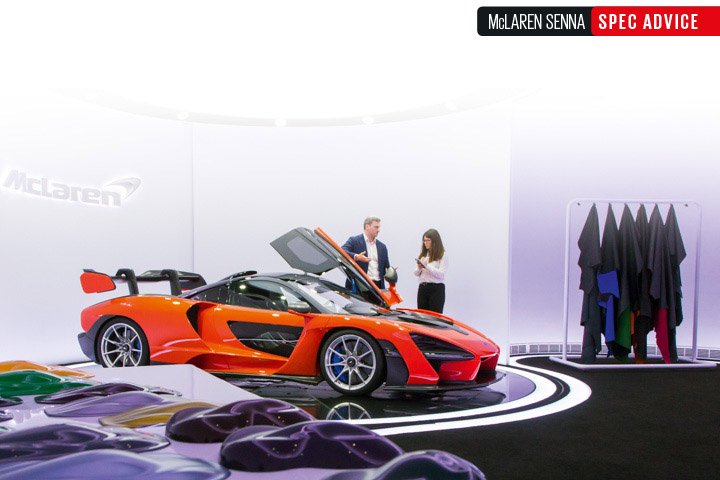 Having just read our track test of the McLaren Senna, you'll want one. But what spec to choose? Rachel Burgess savours the prospect at McLaren's customisation suite
Walking into McLaren's customisation suite is, I expect, a little like entering the Batcave. Housed on McLaren's high-tech campus in Woking, the room is accessed by a flourish of the hand. There are no buttons or handles to get in, just high-gloss white walls all around. Open sesame, and you find yourself in a simplistic room with high-gloss white furniture full of car options, a large screen to showcase how your customised car looks in CGI and, the pièce de résistance, a real-life Senna, McLaren's latest hypercar.
Named after Ayrton Senna, the car was revealed at the Geneva motor show in March and the first of 500 customer cars will be delivered in July. So McLaren is well under way entertaining the first round of Senna buyers, showing them endless options: paints, carbonfibre, seats, seatbelt harnesses and push-to-drink systems complete with carbonfibre bottle (yes, really). The ultimate goal (other than money-making) is to ensure no two Sennas are the same.
"We've seen 150 clients so far and each typically spends a couple of hours with us," says Jamie Weir, McLaren Special Operations bespoke sales manager responsible for helping people customise their Ultimate Series hypercars. "Most clients come here for their session, but for global Senna customers, we've already travelled to Japan, Switzerland, the US and more.
That's £170k for the carbonfibre and £40k for the paint job
"They know all about the technical aspects of the car already. This is more about sitting in the car, getting an idea of the proportions."
It's not just existing McLaren owners who get a chance to buy a Senna, either. "It's a good way of pulling people in," says Weir. "It's 70% existing customers and 30% new."
We're here to specify our own Senna, although sadly it won't become a reality. The possibilities are overwhelming, which is why McLaren has created five key themes for the Senna to help people along their way. There are also five livery options, but really the sky's the limit.
The most popular options are the lower and upper glass panels on the door (£5000), a Bowers & Wilkins sound system (£5500) – without it, there are no speakers in the car – and the telemetry pack (£3600). There are plenty of no-cost options, too, as you'd hope in a £750,000 car: for example, a touring seat that gives you an extra 45mm of hip room, three different wheel finishes and an exhaust heat shield. You can also lose the air-con to save weight. "No customer has done that yet. We advise them not to," says Weir.
The most expensive option? The £170,000 carbonfibre finish for the entire body. A carbonfibre finish is standard on parts of the car, including the wing, front splitter, rear bumper and side skirts, but if you want it all over, it's a different ball game.
"A customer from Geneva wants a visible carbonfibre stripe around the car, so we need to do the entire car in carbonfibre finish, then do the paint job, leaving the stripe," says Weir. "That's £170,000 for carbonfibre, then £40,000 for the paint job. It's 300-400 hours of work."
A bright green catches my eye in the box of paint swatches, which amass to at least 100 paint options, although realistically you can have whatever you want. "We were once sent a pink hairdryer from China to match," says Weir. It turns out my chosen green was matched from Ayrton Senna's helmet and, for that reason, has become a popular choice. Weir says: "A lot of people are quite keen to have a connection to Ayrton with the car."
So what would the man behind the car's design choose? McLaren design boss Rob Melville says: "I really like Pure White. The car is very stripped back, with strong graphical elements, and I think the white helps accentuate that. It's a real race-car colour." A
PHOTOGRAPHY LUC LACEY
WHAT WE CHOSE

Laurel Green exterior paint

£9500

Black Alcantara interior with

Laurel

Green perforation to driver and passenger seats

£9500

Black Alacantara steering wheel

with Laurel Green race band

£2519

Gearshift paddles with symbols in Laurel Green

 

£1333

Extended carbonfibre door sill with 'McLaren' logo painted in Solar Yellow

£1600

Solar Yellow vinyl detailing to front splitter, side skirts and rear diffuser

£3333

Bespoke 'Autocar' headrest stitch in Laurel Green

£3000

Bespoke key in Laurel Green with silver McLaren logo

£1500


TOTAL (incl base car)

   

£782,285
THREE MORE BESPOKE ARMS
Bentley, Ferrari and Rolls-Royce also have customisation depts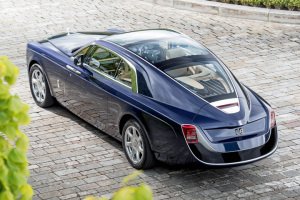 ROLLS-ROYCE
The firm claims that every model that leaves Goodwood is unique. Last year, it showed its one-off Sweptail, built for an anonymous patron and reported to cost £10m.
FERRARI
Its Tailor-Made service means a trip to Maranello to meet your personal designer, who'll help you spec your car. Or be lucky and get one of three one-off models made per year.
BENTLEY
Mulliner by Bentley is the firm's customisation arm. Its duties arch from details such as embroidered family crests to coachbuilt limousines for HRH The Queen.