Tested 1.3.18, Belgium On sale July Price £18,995
Third-generation performance supermini takes a step in a more grown-up direction while hoping to retain its more playful side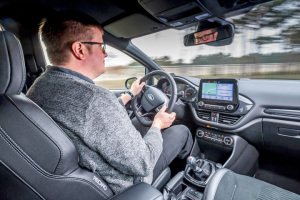 Remember when hot hatchbacks felt like a break from the rigorous commercial norm of the car business? Oddballs and extroverts like the Mitsubishi Colt Cyborg R, Citroën AX GT and Renault Clio V6. They certainly don't make 'em like that any more.
The modern descendants of these cars might still be fun to drive but, at least as far as the industry is concerned, they're now not only serious cars but also serious money-making machines. Being seen as key 'brand-builders' by the companies producing them, hot superminis are now twice as popular in Europe as they were just five years ago. As a result, both the specification of this new, third-generation Ford Fiesta ST and the evident time and effort lavished on it by in-house tuning department Ford Performance echo that loud and clear.
Coming along just a year after the launch of the seventh-generation Fiesta hatchback on which it's based, the new ST has a list of hardware upgrades and performance features more lengthy and impressive, in many ways, than that of the car with which 'Team RS' built its modern reputation: the 2002 Focus RS. That it's the first fast Fiesta to be available with a helical limited-slip differential for its driven front axle will be the headline-grabbing titbit plucked by many from its specification sheet (it's optional, and supplied by Quaife). But this is actually a car with so much new and interesting technical content that I'll do well to cover all of it and find enough room for driving impressions over the following pages.
The ST has a three-cylinder engine capable of running on two: a car industry first
The car's departure point is a Fiesta chassis braced in key areas on the underside of the body-in-white, which is itself 14% more rigid than that of the standard car. The new ST also has the fastest steering rack and the stiffest torsion beam yet to be fitted to a performance Ford. It has particularly interesting suspension, too, which is well worth examining before we move on.
Frequency selective dampers from Tenneco feature front and rear. They are double-valved in order to better handle both high- and low-frequency inputs than a conventional passive damper could but they're not 'adaptive' as such – just clever. Moreover, Ford fits asymmetrical, directionally wound springs onto the car's rear axle, which are in effect bent into their fittings in order to apply a stabilising lateral force onto the rear wheels as well as performing the usual load-bearing job.
The springs address a key problem that hot hatchbacks with twist-beam rear suspension have always had: that, in order to effectively locate the rear axle and deliver top-level handling precision, you have to fit very rigid suspension mounting bushes which have a detrimental effect on the ride. These 'torque vectoring' springs, says Ford, do as good a job as a Watt's linkage in solving that problem and permit the fitment of much softer bushes. They're also significantly lighter than a Watt's linkage would be.
The Fiesta ST has a dedicated front hub design of the sort becoming common among cars of its ilk. It has allowed Ford to lower the car's ride height without lowering its front suspension roll centre too much, and it keeps control of front kingpin angle and wheel offset as necessary in order to avoid too much torque steer and bump steer. The spring rate is slightly higher than that of the outgoing car but, as the engineers behind the car's chassis development will tell you, the new damping and bushing in combination contribute to a more mature, rounded feel to the new car's ride – and all without taking the all-important playful handling balance and cutting-edge response away from the handling.
Those engineers will also tell you that while they loved the last Fiesta ST, it certainly had a yobby, antisocial ride that they simply couldn't justify transferring directly onto this new version. But before you doubt them, these are the same engineers who, halfway through the development programme, sent the Pilot Sport 4S tyres originally intended for the car back to Michelin and insisted only grippier Pilot Super Sports would do.
The ST's new engine is one about which, I dare say, you may already have read: an all-aluminium, three-cylinder, 1.5-litre turbocharged motor which gives the car identical peak power and torque figures to those of the outgoing ST's 1.6-litre four-pot, but which can also deactivate its middle cylinder and run on 66% of its normal swept volume in conditions of light load. That's a three-cylinder engine capable of running on two: a car industry first. Upshot? A 20% improvement on lab-test fuel economy and CO2 emissions compared with the old ST. Perhaps of more interest, the new motor is also lighter than the one it replaces.
This is also the first Fiesta ST to have selectable driving modes: Normal, Sport and Track. As you cycle through them, that engine gets fruitier and fruitier-sounding as its active exhaust and engine sound synthesising system combine to bring additional layers of noise. There's a distant flavour of the original five-cylinder Focus ST both about the way this engine warbles and its torquey mid-range feel.
I'm not totally sold on the time it takes the crankshaft to slow down from high revs, I have to say (it's a function of the counterbalance measures that three-pots need in order to run smoothly at low engine speeds). Can't help wondering, either, how much faster the engine would spin, and how much more power it would develop, if Ford dropped the flywheel completely. Still, perhaps that's just me. All in all, there's certainly plenty of urgency, plenty of character and, in spite of the torque, a likeable willingness to rev.
In lots of ways the Fiesta feels like the car it replaces: it has meaty, fixed-ratio steering with which it's easy to gel in spite of its pace, as well as supreme handling response and brilliantly flat body control – which we'll get to. But the way it rides is something else.
Having only driven the car at a test track I can't tell with certainty how it might deal with a British B-road, but there's quite a lot more suppleness and ride dexterity here than there used to be. Over what lumps and bumps I could find on our test drive, over which the outgoing ST's dampers might have bristled and its body fidgeted, the new model's suspension just sucks up the punishment and lets you get on with it. Perhaps more importantly, on surfaces over which drivers of the old ST might have felt the need to apologise to their passenger for the selfishness of their buying decision, I suspect you won't in the new one. And that's a bit of a revelation: a Fiesta ST that passes the girlfriend/mother-in-law test. Hurrah.
Equally brilliant is the car's handling – although that much we expect of a Ford Performance product. The ST feels a shade more precise in its steering response than the last one did, turning in more crisply, gripping harder and staying slightly truer to your intended path than its forebear did as the lateral load builds into the rear tyres. It's certainly capable of carrying more cornering speed than the old car and it has a bit more mid-corner stability, while traction on corner exit is subtly but notably stronger than it was thanks to the machinations of that Quaife limited-slip diff.
But fear not: the car is still a barrel of fun when you disengage the stability control and unload the rear axle. On a trailing throttle, the Fiesta can be teased into easily tamed oversteer more dependably and willingly than any other hot supermini I can think of. Its handling balance and adjustability remain exceptional, and in a way that speaks volumes about the philosophy of chassis engineers who think a front-drive performance car that isn't sensitive to controllable lift-off oversteer just isn't worth their time and who can't understand why so many of their rivals seem to be so afraid of the phenomenon that they try to engineer it out entirely. Lucky for Ford, I guess, that they are.
Given how many new arrivals have lately come into the market niche that the last Fiesta ST so plainly bossed, and how short our initial test drive was, we'll leave the decision as to whether this car is another Ford Performance class-leader and world-beater for another day. It's right up there, mind you, and as good as any ST-badged Ford I've yet driven. And it's none the worse as a driver's car for what's pretty plainly an attempt to give it a slightly broader sales appeal. When this year's very best affordable performance cars are weighed and measured, the Fiesta ST will take some serious beating.
MATT SAUNDERS


Tester's note
Why, if you're bothering to engineer an active exhaust, would you also fit your new hot hatch with audio system engine noise synthesis? The Fiesta ST is one of many performance cars doing it, although even at its noisiest, it doesn't sound too contrived. MS
FORD FIESTA ST
Plenty of pace and character, a sophisticated ride and outstanding poise. A class leader in waiting



Price  £18,995
Engine  3 cyls in line, 1500cc (est), turbocharged, petrol
Power  197bhp at 6000rpm
Torque 214lb ft at 1600-4000rpm
Gearbox 6-spd manual
Kerb weight na
0-62mph 6.5sec
Top speed 144mph
Economy 55mpg (combined, est)
CO2, tax band 114g/km, 23%
Rivals Volkswagen Polo GTI, Renault Clio 220 Trophy RS
FULL OF THE JOYS OF SPRINGS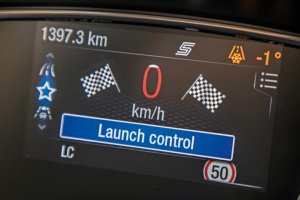 Ford's latest idea to address the fundamental limitations of a twist beam rear suspension – the force-vectoring spring – is simple, light and comparatively cheap.
From underneath the Fiesta ST, the force-vectoring spring looks as if it has been bent into its mountings but is in fact wound asymmetrically. It applies a lateral force on the rear wheels that increases as the spring flexes. With one spring on each side, this force is equalled out when the rear suspension has no lateral load, but then works to resist the lateral forces that are building into it as you turn the steering wheel.
With those forces in play, there is less burden on the rear suspension mounts to hold the rear axle in place and deliver good handling precision – and they can therefore be more compliant and deliver a better ride compromise.