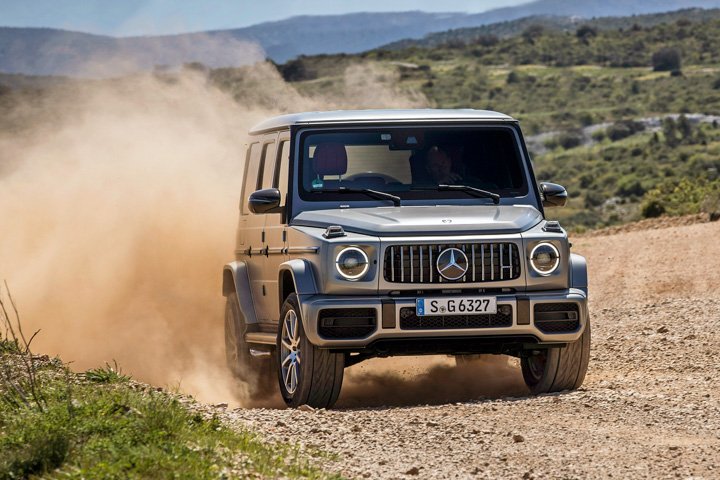 Tested 24.4.18, France On sale Now Price £143,305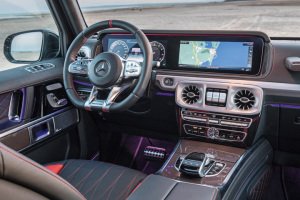 Gunnar Güthenke – head of G-Class at Mercedes-Benz, where he's known internally as Mr G – believes the people who buy this car fall into one of three categories. There are the 'true off-roaders', who, for either professional or recreational reasons, require a device capable of forging a path many would consider too challenging to undertake on foot. Then there are the aesthetes, who feel they can't get a machine of such unique geometry and bravura anywhere else. The last group will be familiar to West Londoners, because this is the buying demographic that craves the most extravagant, bombastic creation to wear the three-pointed star. It's a role that's been comfortably filled since AMG began fettling the G-Class in 1999.
The car's history goes back rather a lot further in time than that, of course. Having been introduced in 1979, the G-Class is Mercedes' longest-serving model, and it's also the only one to have no specified 'end of production' in the diary. What you see before you represents the most significant upgrade the G-Class has undergone – one that aims to keep all three cliques happy – and it's no stretch to call it a 'reinvention'.
However, the biggest problem in reinventing an icon lies in knowing what to keep and what to change. In this case, Mercedes has improved almost everything underneath the aluminium skin but left the car's demeanour well alone. It must have been tempting to increase the rake of the windscreen – less wind noise, more space for the vast digital dials embedded in the dashboard – but the change amounts to less than a single degree and so the fantastically elevated, abrupt view from the front seats remains. Similarly, the hinges of the doors remain visible, and much of the opening and closing mechanism has been carried over so owners can continue to enjoy that richly mechanical crunch.
This is still a machine those of a retiring disposition will tire of quickly
That's precisely the sort of thing that matters to so many of those prepared to hand over the best part of £150,000. No surprise, then, that the bonnet-mounted indicators also remain, despite costing five times as much to develop as originally planned. Mercedes has safety regulations to thank for that. They stipulate that the housing must be deformable from any angle and the light emitted be visible from road level less than a metre from the front of the car. Your passenger will still have the security of a broad dash-mounted grab handle too, although this being 2018 it's now inlaid, most likely with carbonfibre. All occupants will also benefit from substantially more leg and shoulder room than before. Step from the old W463-generation car into the new one and the growth spurt is palpable. In fact, the new car has grown in every dimension, being 53mm longer, 64mm wider and 15mm taller than before.
The other fundamental change to the G-Class is found within the interior. The architecture retains an old-school feel, with its squared-off panels, but that's juxtaposed against two 12.3in displays mounted side by side. There are various parts borrowed from the E-Class but, for a hand-built car, it feels suitably opulent, not to mention comfortable.
There is little here to upset the design junkies, then (moreover, this car looks far more convincing in the metal than in the pictures), although it is the driver who stands to gain most from the wholesale changes Mercedes has wrought. With the help of a new brace that links the front suspension turrets, the torsional rigidity of the ladder frame and bodyshell has increased by more than half. The G-Class has historically been guided by a low-geared recirculating ball set-up so infamously indirect that having only just turned the nose of the car in you'd need to begin unwinding the lock simply to avoid running horrifically wide on the exit. Owners have long complained about this, so there's now electromechanical rack and pinion steering.
Laying the foundations for such a change, Mercedes relinquished a rugged solid front axle in favour of using double wishbones mounted directly to the ladder frame (no subframe here). It has not been an easy job. To maintain the G-Class's tremendous ground clearance, the AMG engineers tasked with the design have had to position the lower wishbone's attachment point as high as possible, fighting for every millimetre. Incidentally, ground clearance between the axles has increased by 6mm, to 241mm, and continues to better that of a Toyota Land Cruiser. You could fill a book with this car's off-road vital statistics – breakover angles, wading depth and so on – but suffice it to say that when going gets tough, the new G-Class is superior to its predecessor in every measurable way, if only by a small margin.
By contrast, out on the road – and particularly along those in Languedoc, whose bitumen flows effortlessly – it is quickly apparent that this car now possesses an attribute that has for decades evaded it entirely: handling. In addition to the modernised front axle, there's a new rigid rear axle that's placed by four trailing arms with the continued use of a Panhard rod to prevent any undesirable lateral movement. There is body roll and it can be substantial if you're really working the Goodyear Eagle F1 rubber fitted to AMG models, but the roll rate is suitably commensurate with steering inputs, allowing you to work the contact points. Likewise, with such a high centre of gravity to fight against, it's not long before the front tyres are chirping with understeer, but the remarkable thing is that you can accurately predict when that point will arrive and drive accordingly. Play by its rules – be patient on corner entry, basically – and you can get the G63 to adopt a satisfying rear-led balance as you knead progressively more torque into the road surface. It's old-fashioned if slightly cantankerous fun – farcically quick too – and the decision to adjust the torque split from 50/50 to a rear-biased 60/40 certainly hasn't hurt the dynamics.
The ride quality has dramatically improved too. All G-Class models will use adaptive suspension, and although there's still a consistent low-frequency jostle, it's subtle enough that you might just consider this car as a long-range rival for a Range Rover or Porsche Cayenne. Barring the odd clunk from a differential and the wind noise at speed, usability and refinement are now a significant part of the G-Class package.
But let's return to the subject of torque, because it's remarkable that it has taken so long to get to the heart of the matter. In the case of the G63, that heart is Mercedes-AMG's M178 4.0-litre twin-turbo V8. Tuned for duties in a two-and-a-half-tonne off-roader, it develops 577bhp at 6000rpm and a bewildering 627lb ft at 2500-3500rpm, making it more potent even than its dry-sumped sibling in the Mercedes-AMG GT R supercar. Top speed is 137mph, but it is a 0-62mph of 4.5sec that widens the eyes.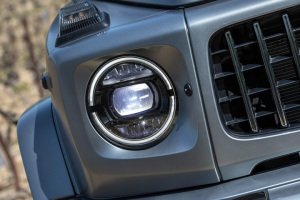 The engine operates through a Mercedes 9G-Tronic torque-converter transmission with quite outstanding aural pomposity, and while not quite as serrated as the 5.5-litre M157 unit, its more hulking tone matches the old boy for sheer volume. Cruise anywhere remotely near a parallel structure and there's no doubt the exhausts exit to the sides, so for all its new-found sophistication, this is still a machine those of a retiring disposition will tire of quickly. The G500 and G350d variants will differ in this sense, but neither is yet confirmed for the UK.
With so much to take in, a full road test of this G-Class is certainly warranted. What's clear is that it's a machine that has comprehensively redefined its bandwidth while richly retaining its core character.
RICHARD LANE

Tester's note

Remember the G63 6×6 of the previous generation? Or the 4×4 Squared? Or that grotesque amalgam, the G650 Landaulet? Güthenke refers to these extroverted models as "a tradition", meaning we can expect future variants based on this new G-Class. RL
MERCEDES-AMG G63
G-Class has been tamed and yet also permitted to express its extraordinary character in all the right places


Price  £143,305
Engine  V8, 3982cc, twin-turbo, petrol
Power  577bhp at 6000rpm
Torque 627lb ft at 2500-3500rpm
Gearbox 9-spd automatic
Kerb weight 2485kg
0-62mph 4.5sec
Top speed 137mph
Economy 22.8mpg
CO2, tax band 299g/km, 37%
Rivals Range Rover Autobiography, Porsche Cayenne Turbo

OFF-ROAD ELECTRONICS BUT OLD-SCHOOL FEEL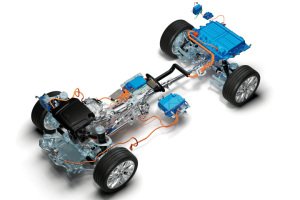 For those of a certain linguistic persuasion, the mere act of being seen in one of these cars will mean they have themselves entered 'G-Mode'. As far as Mercedes is concerned, the term refers to the driving program initiated when one of the car's three 100% differential locks or off-road reduction gear is engaged. In the interests of increased precision on unforgiving terrain, the damping, steering, gearbox and throttle characteristics alter to give the G-Class the best chance of scaling whatever obstacles lie ahead. You won't find 'push-button' settings such as hill descent control in here because Mercedes wants to retain an old-school feel.
It was also interesting to hear that, during testing of rivals, the development team found the Range Rover to be hamstrung by its hyperactive electronics on the most extreme terrain: it'd simply freeze on the spot. This is one reason why the G-Class relies on the dependability of three locking differentials.