McLaren has revealed the name of imminent three-seat hypercar
McLaren's next hypercar, until now codenamed BP23, will be called the Speedtail. Due to be revealed later this year, the model is the spiritual successor to the F1, which was launched in 1993.
McLaren said the name is "evocative of a peak speed higher than any McLaren yet and sinuous, highly streamlined design". The Woking-based car maker hasn't confirmed exactly how fast the Speedtail will go, but said it will exceed the 243mph of the F1. It has also said it will be "the most luxurious" McLaren so far.
The Speedtail's twin-turbo V8 combustion engine will be augmented by an electric hybrid system, meaning its overall power output will far exceed the F1's 627bhp.
The Speedtail is the third car in McLaren's top-tier Ultimate Series, following the P1 and the recently launched Senna. This new model features a centrally mounted driving position flanked by two seats, an arrangement inspired by the F1 road car.
Andy Palmer, vehicle line director for McLaren's Ultimate Series models, told Autocar that the car's advanced aerodynamics will help to "really move things on from an acceleration perspective".
Unlike the Senna, however, the focus of the Speedtail won't be on track performance. Instead, it will be pitched as a class-leading all-rounder in the hypercar segment.
Palmer said that the aim of this car is "to give customers the ability to have a high level of luxury, bespoke elements, high performance, high speed… [it is] very much a road-focused grand tourer".
"The centre driving seat is an amazing thing," he added. "The attraction is not only the driving position, but you can take two passengers and luggage on a long journey. I've sat in the back and it's not a bad place to be."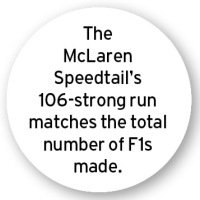 McLaren boss Mike Flewitt told Autocar that the Speedtail is "a long way along" in terms of its development: "We're running the powertrain in a 720S mule. We haven't got a full-body prototype yet."
All 106 examples of the car, priced at £1.6 million plus taxes, were already allocated before the Speedtail was officially announced in November 2016. Those customers will be invited to see the model first ahead of a public unveiling. Production will begin in early 2019 at the McLaren Production Centre.
Each Speedtail will be personalised by McLaren Special Operations, the bespoke engineering division.
RACHEL BURGESS
In the back of the F1
In 1993, a pair of Autocar journalists filled the passenger seats of a McLaren F1 with racing driver Jonathan Palmer at the wheel. The car topped 175mph at Silverstone and Palmer said it was "the most accelerative thing I've ever driven. Above 150mph, it feels like it accelerates quicker than a grand prix car."