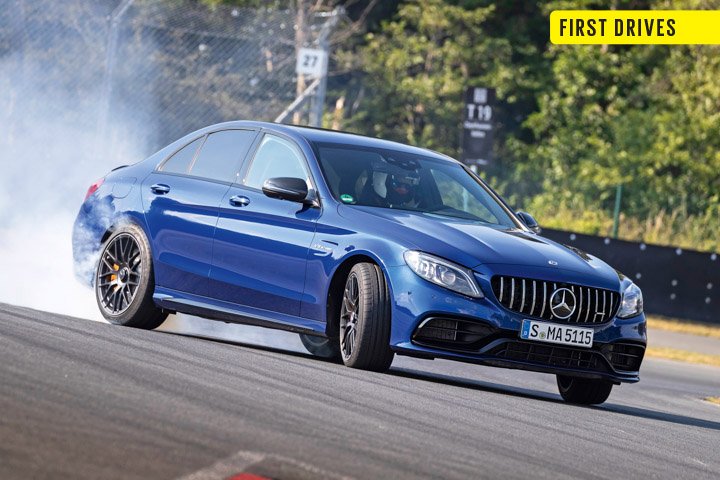 TESTED 19.7.18, GERMANY ON SALE AUGUST PRICE £77,500
Facelifted performance flagship is now even easier and more fun to drive flamboyantly on track yet also more suited to road use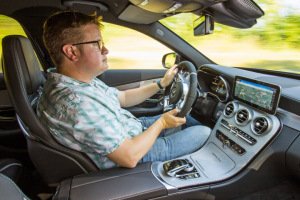 When Mercedes-AMG introduced the current C63 in 2015, the car had more power than any of its direct super-saloon rivals and more torque – and it was the only car of its kind with a V8 engine.
Fast-forward three years and, despite plenty of activity in the C63's model niche (and ignoring the soon-to-be-discontinued Lexus GS F and left-hand-drive-only Cadillac CTS-V), it can still make an outright claim to two out of three of those titles and assert shared ownership of the third. This midlife facelifted version of the car certainly didn't need any more grunt. And neither has it got any.
What is new is to be found downstream of the 4.0-litre 'hot vee', where the old C63's seven-speed torque-converter automatic gearbox has been replaced by a new nine-speed 'box (featuring a wet start-up clutch instead of a torque converter). Further downstream still, AMG has junked the mechanical slippy diff of the lower-powered C63, fitting instead the torque-vectoring e-diff (formerly the preserve of the S models) to both C63 derivatives.
There's a new multi-modal brake-based torque vectoring set-up on the car called AMG Dynamics, as well as a nine-stage traction control system that will be familiar to owners of the Mercedes-AMG GT R. The suspension and steering have been subject to a few gentle tweaks too.
This AMG's status as the true hot rod of its class is utterly beyond question
If you want the full-fat AMG experience in your C-Class, though, only the C63 S gives you the most purposeful specification: the dynamic engine mounts that, AMG claims, have such a big influence on handling precision; newly designed 19in wheels; GPS track telemetry; AMG Performance seats; and a top speed increased from 155mph to 180mph. Likewise, you only get that new traction control set-up as standard on a C63 S – and that's true whether you plump for a saloon, estate, coupé or cabriolet.
Ah, yes, the bodystyles. None of the C63's rivals offers so much choice on those. Mercedes UK sells more C63 coupés than anything else, and when you look over all four derivatives in the pit lane of a German circuit, it's easy to see why that might be. The coupé is a low-slung, swollen-arched, beautifully curvaceous car, and it's available with an aerodynamic styling kit that takes its visual appeal even further beyond that of its siblings. It also has  wider tracks, wider wheels, a lower body profile and firmer suspension tuning than the saloon – although, interestingly, it's 65kg heavier than the four-door. We drove both C63 S saloon and coupé and actually preferred the former, for reasons we'll come to.   
On the inside, the revised C63 gets digital instruments and Mercedes' latest Comand infotainment system. There's an updated steering wheel design to go with it, complete with handy thumb-pad controllers. They're accompanied by a trio of AMG-specific controls fitted into the lower orbits of the steering wheel: a new rotary knob, bottom right, to select your chosen drive mode (or, in ESP-off mode, your chosen traction control level); and a couple of toggle buttons placed conveniently for your left thumb whose function can be set (exhaust mode, gearbox mode and so on) according to your preference. The cabin remains a fantastic advert for the car, and Mercedes' digital instruments are just the tech-rich tonic it needed to maintain a lead over its rivals for luxury ambience and perceived quality.
There's another rather good advert for the C63 S saloon under the bonnet: a throbbing Rickenbacker of a V8 whose bassy thrum would take an awfully long time to go sour on your eardrums. It responds so crisply and revs so evenly and keenly that you'd never guess it was turbocharged, either.
That's not accounting for the torque, of course. Only turbocharging could produce such a swell of mid-range urge as the C63 S can summon up. Between that and the silken savagery on tap at the top end of the engine's rev range, this AMG's stature as the true hot rod of its class is utterly beyond question. Want the best engine available in a sub-£80k fast four-door? The C63 S is what you buy. I will brook no argument on the subject.
Does Mercedes' new nine-speed gearbox bring more of the brilliance of that V8 to bear than the old seven-speeder managed, though? It depends a bit how you drive. The speed and quality of the shift has improved in the sportier driving programs, and if you treat an empty winding A-road as invitation to dial up manual mode, effectively retiring every ratio above fifth, you can easily convince yourself that some decent progress has been made. There's certainly nothing wrong with the way the gearbox copes with hard track use, or the urgency with which it can batter its way down through intermediate ratios when you want.
Where the transmission struggles to convince is at that middling ground-covering pace, when left to juggle ratios by itself. Even in Sport and Sport+ driving modes, it tends to upshift too far by a gear or two, and simply gives itself too much to do to find the perfect ratio for the bend or overtake you're lining up, making responses to bigger accelerator applications seem just a touch clumsy and slow. That is true, mind you, of just about every other eight-, nine- or 10-speed modern automatic gearbox you could mention.
AMG isn't shouting too loudly about the suspension revisions it has made to the C63, I suspect for strategic reasons. If it was widely known that the firm had allowed its 503bhp thunder saloon to go slightly soft in advancing age, perhaps some people wouldn't buy one. But the truth is, a dose of dynamic realism hasn't harmed the C63 one jot.
The car wasn't actually the firmest, sharpest or dartiest of handlers before, and the change has been sufficiently subtly executed that few moving from the old C63 to the new one will even notice it. But the signs are there. You can now use Sport and Sport+ modes on the road, allowing for the firmer damping they impose, without any unpalatable compromise on bump absorption or ride composure. I'd say the C63 S has become a better road car as a result.
It steers with perfectly judged, intuitive pace and weight, just as the last one did. It doesn't have Alfa Romeo Giulia Quadrifoglio-level agility or body control. But does it ever handle sweetly. It stays composed over bumps and grips more than hard enough to take its ambitions as a precision instrument really seriously. But then, with the aids deactivated, it slips so progressively into power oversteer that's so addictively controllable and benign that you feel like bathing in it. It's the kind of oversteer you don't just ride out but grab another gear as it develops to prolong the indulgence. And now, if you want to tap into a bit of that oversteer but leave a distant electronic safety net in place, go ahead, sir: that's the difference the new traction control system makes. In its most dialled-down settings, it's a hugely permissive but still reassuring presence.
Although the C63 S coupé has flatter body control, quicker responses and better outright lateral adhesion than the saloon, it doesn't have the same delicious grunt-over-grip hot-rod character; and it doesn't slip into endless drifts quite as willingly when the chance arises.
For that reason, and also because I think it's a more classic look, I'd definitely have the four-door. I'd have it over any of its German, Italian, Japanese or American rivals. And I'd also treasure it as a simple, communicative, steel-sprung, rear-driven Mercedes-AMG 'bahn-stormer – and hope very much that Affalterbach goes on making cars just like it for a long time yet.
MATT SAUNDERS


TESTER'S NOTE
The C63's new steering wheel is well shaped; more sculpted around the grips and less flat-bottomed than the old one. You can have it upholstered in nappa leather or Dinamica 'suede', with gloss black or carbonfibre trim if you want it. MS
MERCEDES-AMG C63 S
Facelifted C63 doesn't need a power hike to retain its dominant status among the super-saloon crowd


Price  £77,500
Engine  V8, 3982cc, twin-turbo, petrol
Power  503bhp at 5500-6250rpm
Torque 516lb ft at 2000-4500rpm
Gearbox 9-spd automatic
Kerb weight 1755kg
0-62mph 4.0sec
Top speed 180mph
Economy 28.5mpg
CO2, tax band 227g/km, 37%
Rivals Alfa Romeo Giulia Quadrifoglio, BMW M3 CS