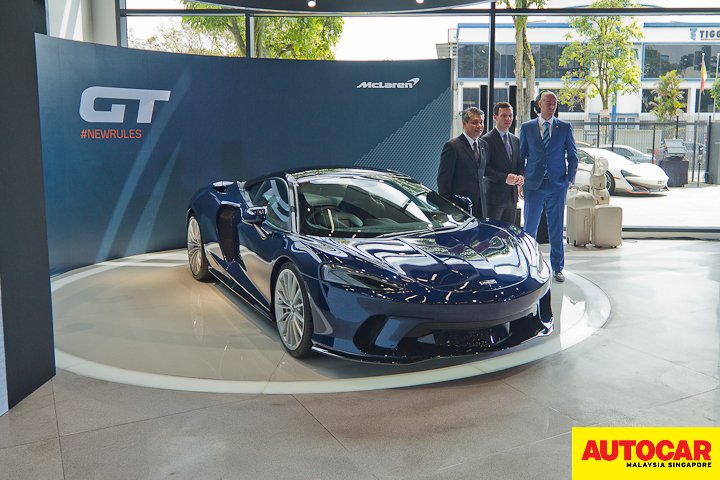 New McLaren Automotive Kuala Lumpur showroom offers 3S facilities
McLaren Automotive has officially opened their Kuala Lumpur showroom in Glenmarie. The 420 square metre facility features sales, aftersales, spare parts, accessories and servicing for the full McLaren model range and all McLaren cars in Malaysia. There's also an interactive configurator for prospective customers to customise their McLaren. Every vehicle is hand-assembled at the McLaren Production Centre (MPC) in Woking, Surrey, England.
During the showroom launch, the all-new McLaren GT was unveiled. The 720S-based grand tourer joined the product range offered in Malaysia which includes the 570S Coupé and Spider, 600LT Coupé and Spider, and the 720S Coupé and Spider.
The rear-wheel drive, mid-engined McLaren GT is powered by a 3994cc twin-turbo V8 engine that delivers 612bhp and 630Nm of torque. It has a seven-speed dual-clutch gearbox. Top speed is 327km/h and acceleration from 0–200 km/h (200km/h is not a typo) is 9 seconds. 0-100km/h is 3.9 seconds. It weighs 1530kg.
The GT is McLaren's first Grand Tourer. Built on the same platform as the 720S, the carbon fibre platform over the engine was designed for additional luggage space and fits a full-sized golf bag place longitudinally. The cargo capacity of the GT is 150 litres in the front boot and 420 litres in the rear.
The interior can be styled in either Pioneer or Luxe spec. There are two options for Pioneer and four options for Luxe. In addition there are five equipment upgrade packs including three from MSO. There is also a long list of optional extras and personalisation options for the customer to ensure there is no other McLaren GT like theirs.
The McLaren GT starts from RM908,000 before personalisation options. The price is before tax, road tax and insurance. More information about the McLaren GT can be found at kualalumpur.mclaren.com.
McLaren GT is covered by the comprehensive McLaren Vehicle Warranty as standard. The Warranty includes the car, and its finish, irrespective of mileage.
McLaren Vehicle Warranty
Three years' vehicle warranty
Three years' paint surface warranty
10 years' corrosion warranty
Guaranteed use of McLaren Genuine Parts fitted by fully trained McLaren technicians
Unlimited mileage cover throughout the term of the warranty
Valid throughout the region of purchase
Owners can also opt to take up the McLaren Extended Warranty
Optional further cover for up to 12 years
Registered in 12 or 24 month increments up until the vehicle's 10 year anniversary
Includes roadside assistance (in selected regions)
Annual mileage limit of 20,000 km/12,000 miles
Valid throughout the region of purchase
McLaren Kuala Lumpur is located at 2 Jalan Pengacara U1/48, Temasya Industrial Park Glenmarie, 40150 Shah Alam, Selangor, Malaysia. Telephone number: 03 5569 0530