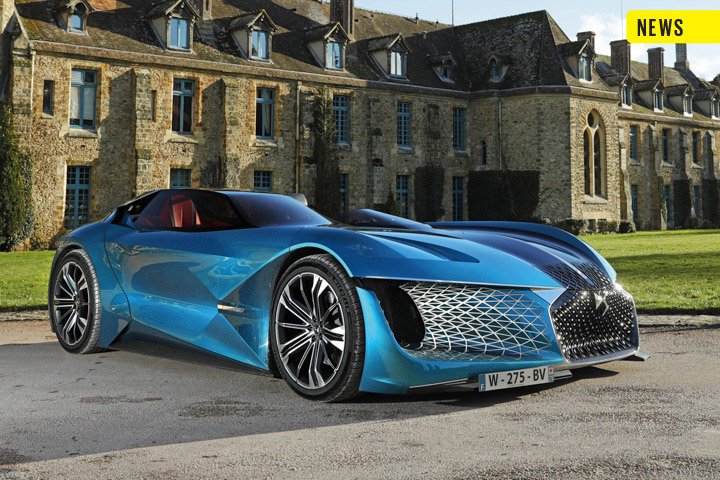 X E-Tense mixes Formula E race car running gear with a distinctive, asymmetric body
The DS X E-Tense concept car, unveiled earlier this year, is the French firm's vision of what motoring will look like in 2035 – with DS design chief Thierry Metroz calling it a direct response to "boring" concepts from other firms. He was speaking after Autocar had been given the chance to drive the X E-Tense on public roads in France.
The three-seat concept, built largely on the running gear of a DS Formula E car, features a highly unusual asymmetric design, which was inspired by a sidecar motorcycle. It features an open-top driver's seat that echoes a single-seater cockpit combined with a spacious covered passenger pod designed for relaxation.
Powered by two Formula E electric motors that combine to make 536bhp – and 1341bhp in circuit mode – the concept previews a machine with autonomous capabilities, allowing the owner to choose between an intense driving experience or being driven
in comfort.
Metroz said the X E-Tense aims to show how the firm can marry autonomy with driving experience. "When I look at electric and autonomous concepts from other brands, I am really afraid," he told Autocar. "They all use the same design philosophy: they are white and look like something between a washing machine and a phone box. There is no soul or emotion. It's really very boring.
"That's not our philosophy. We are sure that in the future, even if we do an autonomous car, customers will still want emotion and adrenalin, and to own a beautiful object with a lot of character."
The X E-Tense uses the basic frame of the Formula E car, with the motors at the front and the battery at the rear. That allows it to be lower than most 'chocolate bar' electric cars with batteries in the floor, which, Metroz said, was needed for the "slim sports car concept".
The car also features some other innovative design features, including an LED 'light veil' instead of headlights, and a 3D-printed grille.
JAMES ATTWOOD
WE DRIVE THE DS X E-TENSE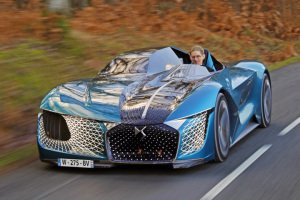 For an electric concept car, the X E-Tense is a visceral experience for its driver. That's largely down to the open-top cockpit, which ensures that you feel the elements and hear the surprisingly loud whine from the two Formula-E-derived motors.
The concept didn't seem to have the full power promised by the drivetrain, but it still had plenty of pace for a one-off prototype. At 50mph, when the bracingly cold French wind really starts to bite, the comfortable, cocooned passenger compartment begins to feel very tempting. But then you reach some flowing corners and the X E-Tense's focused driving position, stiff ride and firm steering draw you in. It feels like you're driving a single-seater – unsurprising, given the concept is effectively built on the platform of one – which can make it somewhat unnerving when you realise there's a substantial passenger area to your right.
Although the stiffly sprung racing car underpinnings aren't ideally suited to public roads, the concept did offer a refreshingly different vision for future cars: one in which driver involvement is as important as space and comfort.
Q&A THIERRY METROZ, DS DESIGN DIRECTOR

Where did the inspiration come from?
"The first vision was to translate the concept of a sidecar. You have the driver's side dedicated to pleasure and sensation, which is open to your surroundings, and the other part of a luxury cocoon."
How challenging was an asymmetric car to design?
"Very. The original plan was to have an asymmetric wheelbase, but when we discussed it with DS Performance, they went: 'Are you sure?' Because this is a real car. For safety, it was better to have the same wheelbase."
Would you ever offer an asymmetric car for sale?
"It's difficult to do for production, particularly because in some parts of the world, the steering wheel is on the other side."