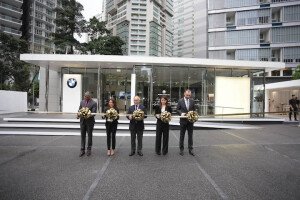 BMW Malaysia unveiled the BMW Luxury Excellence Pavilion at the Mandarin Oriental Hotel, KLCC as it made its way around the world as a showcase of BMW's premium appeal. In Malaysia, the BMW Concept 8 Series was revealed for the first time in Asia in the Pavilion.
The BMW Concept 8 Series is a teaser of the BMW 8 Series Coupé which will be launched later this year. The Concept car has BMW's characteristic kidney grille now morphed into a single broad grille, narrow twin laser headlights and large air intakes in front and air breathers channel air over the wheel arches. Carbon fibre air splitters and diffuser front and aft emphasise the width of the car and add to its muscular looks. To increase air slip, there are no door handles – passing one's palm over a sensor in the approximate location of a door handle unlatches the door.
The tiny, angular wing mirrors resemble the Starship Enterprise from the way they project away from the car body. The tail pipes are large and trapezoidal. Distinctive L-shaped lights in the tail lamps will make the car immediately recognisable to the drivers left trailing in its wake.
Highly polished alloys are a bright and shiny contrast to the exclusively-developed Barcelona Grey Liquid paintwork with iridescent pigments and the dark tones of the carbon fibre elements
The 8 Concept is a two-seater with two small but usable rear seats for sub-five footers. Space in the cabin is optimised by the use thin hard-shelled carbon fibre-backed front seats upholstered in pattern-stitched leather which add to the overall space age-y look. The unmistakable reek of high-tech sports engineering and opulent luxury comes from cladding the interior surfaces in a combination of carbon-fibre, hand-polished aluminium and Fjord White leather.
Instruments and vehicle information are displayed on two LCD screens and a gear lever and iDrive Controller made from Swarovski crystal and smokey quartz.
The entire display vehicle – interior and exterior content – was handcrafted by a specialist team of engineers and designers specifically for this car. The BMW 8 Series Concept is just that, a concept car – a showcase of what is conceivable by BMW's engineers and possible for craftsman to build. It's also an expression of BMW's future design language that will eventually form the next generation BMW's 'family look'. Exactly how much in the Concept will actually be in the BMW 8 Series Coupé remains to be seen. Fortunately, we don't have long to wait.
The BMW Luxury Excellence Pavilion will be on display until 7 March 2018 on the grounds of the Mandarin Oriental Hotel, KLCC.