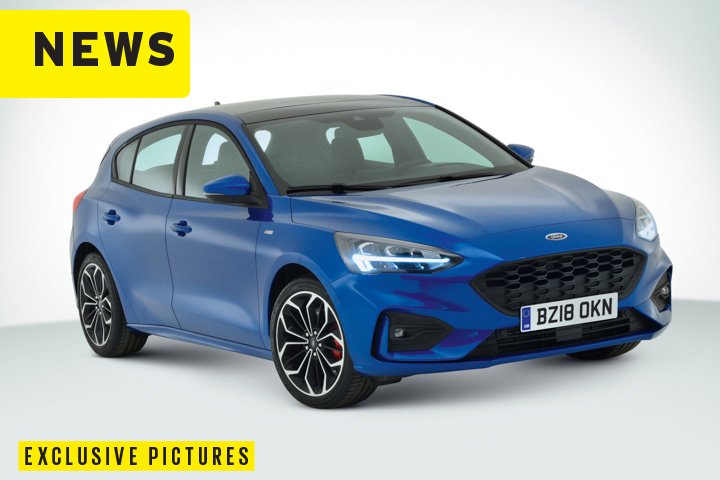 Two bodystyles and four distinct trim variations for lighter, roomier and tech-laden fourth-gen Focus; Ford says agility, engagement and 'fun-to-drive' feeling remain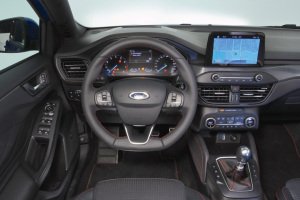 Ford said it has retained driving engagement as a key priority for the new Focus, the fourth-generation version of the small family hatchback that redefined the company's attitude to dynamic ability when it was launched in 1998.
The new Focus, due on sale in July, will come in two bodystyles in the UK: five-door hatchback and estate. A saloon will remain on sale on the Continent. There will be four trim variations and Ford said a raft of new technology will make the Focus the most advanced car it sells in Europe.
Beyond that, however, the agility that has made the Focus so popular to date will remain. Joe Bakaj, Ford of Europe's vice president for product development, said: "Driving quality in itself isn't enough to sell cars. If you're not up to scratch [in infotainment], you're not even considered. But owners will still get that fun-to-drive feel that people have loved about the Focus for the past 20 years."
The Focus will be offered in two bodystyles and four distinct trim levels
The hatchback will be offered in ST-Line trim, which has suspension that is 10mm lower than the standard car's, and as an Active-badged near-crossover variant, which sits 30mm higher than standard. Ford's upmarket Vignale specification will also be offered, along with the regular Titanium trim level.
Aside from otherwise consistent interior architecture, the Active version will feature some harder-wearing materials, Vignale cars will receive more upmarket trim with more satin materials and ST-Line models will be more sporty. Regular Titanium versions will sit somewhere between them.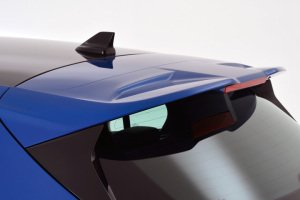 Ford hasn't yet announced pricing, but a small percentage increase is expected over the current model, which suggests a car that will sell from £20,500 through to around £28,000.
A hot ST version will follow and although there has been no official confirmation of a high-performance RS model, Autocar understands there will be one with a 400bhp, 425lb ft mild-hybrid powertrain (see separate story, below).
The latest Focus is built on a highly adaptable new Ford platform, called C2, which will underpin dozens of medium-sized forthcoming models, including the next-generation Kuga SUV. By 2021, Ford expects C-segment SUV and crossover sales to outstrip those of regular models.
Ford estimates that by the middle of the next decade, the European markets for mid-sized SUVs and cars will be roughly 3.5 million units apiece. The enduring popularity of C-segment cars, which currently make up 19% of all cars sold in Europe, is one reason why Ford – unlike GM, which dispensed with its European Vauxhall/Opel arm – remains committed here.
Ford expects the 1.0-litre petrol to be the biggest-selling variant
"We'd find it daft to exit a big market like Europe," said Bakaj. "Seventeen million cars a year are sold here. And it's a net contributor to the business in terms of engineering and development."
The Focus and its C2 platform have largely been developed in Europe. The new model is a crucial part of the successful 'One Ford' plan that means Fords built on the same platform are sold in multiple regions: Europe's Mondeo is the US Fusion and the Mk3 Focus RS was sold globally.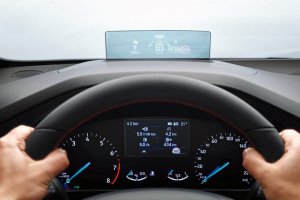 The Focus's new platform is said to liberate interior room in a package little bigger than today's model. The wheelbase is 53mm longer, at 2701mm, while the overall length is only 18mm longer (now 4378mm, pretty normal for the class). The width is about the same, at 1820mm, and the new car is 15mm lower than before.
It's also lighter than today's Focus. Ford hasn't confirmed kerb weights yet because final homologation hasn't been completed, but it says the new car is up to 88kg lighter, like-for-like, than today's Focus. Some 33kg of that comes from the chassis, which uses a greater proportion of high-strength steel and a few aluminium elements in the front crash structure. Overall, body rigidity is up by 20%, but this increases by as much as 50% around the suspension elements, which, Ford says, allows it much more flexibility in suspension tuning. The body panels are 25kg lighter than those of the previous Focus, the interior loses 17kg and the powertrain and electrical systems each lose up to 6kg and 7kg respectively.
At launch there will be a line-up of pure diesel and petrol engines, with a mild hybrid to follow next year (see separate story, opposite). Initially, petrol engines are familiar three-cylinder Ecoboost units, adapted for improved economy. The 1.0-litre triple has a new turbocharger and cylinder head, a higher compression ratio (now 10.5:1) and increased injection pressure (250bar), and it has a petrol particulate filter. It comes with power outputs of 84bhp, 99bhp and 124bhp, each with estimated CO2 emissions of 108g/km.
Owners will still get that fun-to-drive feel people love about the Focus
A development of the Fiesta ST's three-cylinder 1.5-litre petrol will also be offered with the Focus. It includes cylinder deactivation and will come in 148bhp and 179bhp forms, offering CO2 outputs of 120g/km or thereabouts.
There will be two Ecoblue-badged four-cylinder diesels. The 1.5 comes in 94bhp and 118bhp forms and produces from 94g/km of CO2, while the 2.0-litre makes 148bhp and emits about 110g/km.
All will drive through a six-speed manual transmission or, optionally on the highest-powered petrol of each size, the top-spec 1.5-litre diesel and the 2.0-litre diesel, an eight-speed automatic. It's a conventional torque-converter auto rather than a dual-clutch unit, following an industry trend towards smoother conventional auto gearboxes.
Ford now expects the 1.0-litre petrol to be the biggest-selling variant, taking over from the 1.5-litre diesel.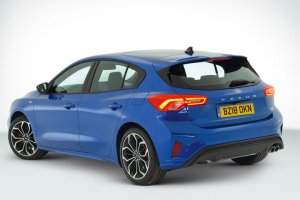 Unusually for a Focus, the chassis set-up will depend on which engine is specified. The 1.0 petrol and 1.5 diesel will get a twist beam rear axle. Bakaj believes this will give driving characteristics "just as good as today's Focus", which has a fully independent rear end. The current Focus has been the benchmark for the new car's twist beam: Bakaj says potholes thump a bit more with the torsion beam, but otherwise you'd be hard-pressed to notice the difference between the two.
Higher-spec Focuses will get an independent rear end, in the form of a rear double-wishbone set-up that is meant to further improve comfort. But it's standard only on 1.5 petrol or 2.0-litre diesel models, on the Active crossover, on the estate and on Vignale versions.
The ST-Line, with its lower suspension and stiffer bushes (on double-wishbone versions) is "the car that delivers on the Focus promise more than any other", in the words of Bakaj. That promise includes a turning centre that feels like it's adjacent to the driver, to give one of the most agile feelings in the class, and a rear end that 'tucks' on turn-in with a lift of the throttle.
All Focuses get three driving modes, which will affect the steering weight, automatic gearbox operation (if fitted) and throttle map. The modes will also adjust the adaptive dampers that are offered as an option on cars with double-wishbone suspension.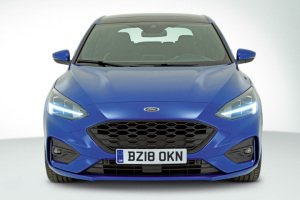 The estate's suspension uses lower and wider dampers to increase the luggage volume to the extent that there's a width of 1.14m between the wheelhouses – 12cm more than any rival car, according to Ford. The overall load length is up by 134mm, to 1700mm with the rear seats folded. With the seats in place, the load area can be covered by a tonneau that can be operated one-handed. There's additional storage space beneath the boot floor.
Thanks to the wheelbase extension, the Focus's interior dimensions are said to be vastly improved despite the only modest increase in external girth. Rear knee room is up 56mm, front shoulder room is said to be class-leading and, thanks to a reprofiling of the rear doors, rear passengers' heads are now adjacent to glass rather than metal, so they can see out more easily.
Structural changes aside, some of the Focus's extra interior space has been created by making the windscreen more upright. That reduces the depth of the instrument panel, which has 50% fewer buttons owing to a complete redesign of the multimedia systems.
Ford says the Focus will be the most advanced car it sells in Europe. It will have radar-operated cruise control and lane-keep assist to level two autonomous standards, emergency auto braking, park assist, rear cross-traffic alert and, significantly for passengers, a wi-fi network that will connect to up to 10 devices and work up to 15m away from the car.
MATT PRIOR
WHY DRIVER APPEAL MATTERS
Matt Prior
How does the new Focus look? It's not striking in the same way as Toyota's new Auris, but there's enough modernity to keep the Focus looking fresh at the start of what will be the next seven or eight years on sale.
Design aside, things move on as you'd expect: continually downsized engines, more weight taken out of the body-in-white and a car that will likely just improve the breed as new cars tend to do. If there's a disappointment, for me it's that there's no part-electrification of the powertrains from the very start, but it's coming.
If there's something to savour, it's that Ford knows how seriously its customers take the fact that its cars are engaging and fun to drive. So while talk of new tech and it being the most advanced car in the class is great, the thing I'm most looking forward to is finding out what it's like from behind the wheel.

MILD-HYBRID FOCUS HERE NEXT YEAR
Although it's disappointing that a hybrid variant of the Focus Mk4 hasn't been announced at launch, Ford has at least confirmed that a mild hybrid is on its way.
Next year, a 1.0-litre Ecoboost engine will be mated to an electric motor, via a 48V electrical system, which is becoming the norm for adding boost and reducing emissions, but it doesn't offer prolonged fuel-free running or plug-in charging. Instead, a lower-capacity battery than that of a true hybrid stores energy, generated under deceleration via a starter/generator, to help power the car in town, or fill a low-end torque gap.
It's natural to assume that the Focus mild hybrid's chief rival will not be Volkswagen's Golf GTE, which has a 101bhp electric motor combined with a 148bhp 1.4-litre petrol engine, but instead a mild-hybrid version, which has yet to join the Golf range.
Ford's Joe Bakaj said the Focus's 1.0/48V system will have a similar CO2 output to that of the high-powered diesel with an auto gearbox, so around 110g/km, then.
The complexity of making a clean modern diesel, plus the slowly reducing battery costs for hybrids, means that a mild hybrid is "starting to get to the same cost" as a diesel, said Bakaj.
But the two offer different things, and a diesel still can't be touched for long-distance economy. "It'd be a real shame if society turns away and we can't sell diesels," Bakaj added.
FORD'S FUTURE IN URBAN MOBILITY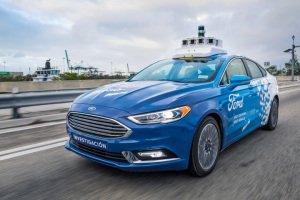 Aside from the roll-out of new cars, Ford is well into the 'mobility' theme. "Our aspiration is to be the world's leading mobility provider," Ford of Europe CEO Steve Armstrong has said.
Ford has been talking to city councils to develop its mobility products. Which means what? Anything from self-driving cars to ride sharing and hooking up systems within cars and a city's infrastructure, all to make getting around easier and cleaner than it is today.
Councils are apparently receptive to Ford's advances. "They have the ability to address environmental and congestion concerns," says Armstrong. "And if they're into new ideas to keep people moving in a cleaner environment, Ford wants to be part of it."
Ford of Europe's Joe Bakaj  said: "We bought into Argo AI [a start-up that's developing autonomous driving tech]. There's the potential to sell on the technology later. By 2021, there'll be a level four autonomous system that will have been geomapped in some cities. It's about moving people and moving goods. Internet package delivery is growing by 7-8% a year, and delivery firms find it hard to recruit and retain staff. Automation can be 25% more efficient than a driven van."