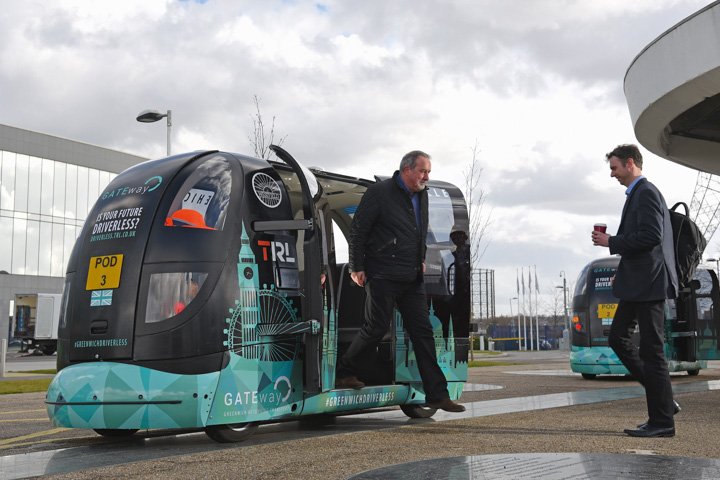 Real-world trials of autonomous vehicles in London aim to gauge public reaction and develop the technology. Autocar hitches a ride
The British public is split over the acceptance of self-driving cars, according to a survey of 1300 people linked to the first opportunity for people in the UK to ride in prototype autonomous vehicle pods.
They were interviewed by Transport Research Laboratory (TRL), the University of Greenwich and the Royal College of Art. Just under half (47%) said they feel positive towards connected and autonomous vehicles while 43% said they have concerns, and a smaller number of respondents (10%) said they feel negative towards self-driving vehicles.
The findings are the preliminary results from a trial that Autocar was last week able to experience by riding in one of four self-driving pods operating in Greenwich, London, on a 2.1-mile route on the narrow riverside path around the O2 Arena.
The alloy-chassis composite-body four-seat pods will be familiar to some as the same designs that move business-car-park flyers to Terminal 5 at Heathrow, where they are powered by lead-acid batteries and follow a concrete track.
Also built by Westfield Sportscars, the Gateway trial pods are more sophisticated and powered by lithium ion cells, weigh around 900kg and are festooned with 29 sensors, allowing complete freedom to move in full-autonomous mode.
For safety reasons, the Gateway trial is limited to 9mph on the narrow path, which is shared with cyclists and pedestrians, even though the pods have a theoretical maximum of 47mph.
"Sharing with other users poses all the really difficult self-driving challenges," says Andy Frost, head of the trial at Westfield, "and that's the whole point. Anyone can set up an autonomous test on wide-open roads in the desert."
The track chosen for Gateway is certainly not wide open, nor desert. About 8m wide, it has a steel railing on one side preventing an inadvertent launch into the icy River Thames, while on the land side is a forbidding security fence that marks the perimeter of the O2.
The path has two lanes – in theory to separate cyclists and pedestrians – and the Gateway pods use the O2 side as their track.
Sitting alongside Frost as he 'stewards' the pod (intervenes in an emergency), I can see on a tablet the view generated by a camera gathering images of pedestrians and cyclists ahead.
Autocar's test ride runs both directions on the path, sufficient to see the good and not so good sides of the trial.
On our outward journey, the pod hesitates and stops multiple times as it works out how to interact with obstructive groups of pedestrians and cyclists. "You can feel it making up its mind," says Frost.
Because this is a prototype not yet finessed for production, we also ignore the clunking noises coming from the brake actuators and the jerkiness of the stopping action.
Caution is a large part of the control algorithm in this situation, especially as the electrically powered pods glide silently, giving little warning to other path users.
But this also shines a light on one of the design challenges of autonomous vehicles. The pod is a curvy, friendly-looking object that gives little clue that it's a transport mode that would like right of way.
Future autonomous cars or pods may need to give out stronger visual signals that pedestrians and cyclists should give way – otherwise, their theoretical speed advantage will remain exactly that: theoretical.
The pods rely on four types of sensor: long-range 77GHz radar (three); mid-range lidar, or light radar (two); cameras (five); and ultrasonic proximity sensors (20), which are similar to parking sensor technology.
A military-grade GPS signal provides navigational back-up and the multiple channels of guidance information are processed by CAVstar – hardware and software developed by Fusion Processing, a British company with a military technology background.
Data on the processing capability of Fusion's black box is not forthcoming, so it's hard to tell if the controller is breaking new ground or not. But boss Jim Hutchinson is bullish about its capability: "We are 90% there. We are not far off being able to deploy systems like this."
What our test run illustrates, though, is that Gateway operates with a mixture of sophistication and crudity. When the path is open, the pod glides up to its 9mph maximum and percolates sweetly along and through some gentle curves as if guided by an expert human brain.
But when confronted by a couple of tight corners with minimum spacing between unyielding steel posts, it shuffles through slowly. The spacing is set at 300mm either side, which a human driver might well approach cautiously but would certainly execute with more fluidity.
"That run was much more stop/start than the average journey here," says Hutchinson.
But it feels to us that more hours finessing the control algorithms would be time well spent.
More impressive is how the pod maintains momentum when a strolling couple pushing a pram hover at the edge of the path. Over-cautious control algorithms would have brought us to a halt. But mimicking a human driver, Fusion's decision-making matrix takes a risk. And no harm follows.
Gateway is definitely pushing the safety and control margins of manoeuvring in a hazard-strewn environment to a new level. The news last week that a self-driving Uber test car had struck down a pedestrian – the first time an autonomous vehicle has killed someone – proves more than ever that intelligent, careful progression is the only way to make this technology feasible for both safety and public acceptance.
JULIAN RENDELL


WHAT IS THE GATEWAY PROJECT?
UK government is funding £100 million worth of transport research projects under the umbrella of the Innovate UK agency. Gateway has £8.2m in total for developing autonomous technology, including self-driving sensor tech and automated valet parking, and the Greenwich trial makes up £2.4m. There are 14 partners, including TRL, Imperial College, the Royal College of Art, O2, Shell and Gobotix. After Greenwich, the pods will be moved to the QE Park and used for transport on real roads. Work will also begin on crash test design. As a commercial spin-off, Westfield has secured an order for 200 pods for South Korea and a mid-east airport is looking at them to replace the airside transport fleet that moves staff around.
PARK LIFE: CARS DO IT THEMSELVES
Autonomous driving projects are stepping up around the country and the UK Autodrive project – which includes partners Ford and Jaguar Land Rover – showcased its latest developments last week with a demonstration of cars that can seek out spaces and park themselves.
There are two vehicle-to-x parking-related technologies. The first, called collaborative parking, identifies the location of available spaces in a car park and keeps the driver informed. When the car enters a car park, it downloads a map showing the availability of parking slots. As the car drives around, the map is updated in real time by data from other connected cars in the same car park, showing parking spaces filling up and becoming vacant.
The technology is predicted to reduce congestion. UK Autodrive says 30% of congested urban traffic is due to drivers looking for parking spaces.
The second system enables a prototype autonomous Range Rover Sport to drive to an available parking slot and self-park. The Level 4 autonomous vehicle is equipped with two lidar sensors and a long-range radar sensor at the front, a single lidar sensor at the rear and two GPS antennae on the roof. Level 4 is the highest level of autonomy that still retains a driver. At Level 5, a car becomes driverless.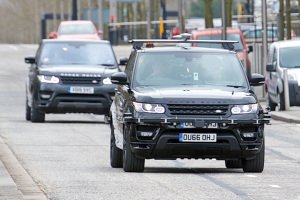 Autonomous Land Rovers have been trialled on public roads in Coventry, but this new stage in Milton Keynes is the first time one has tackled roundabouts, which present a new challenge in working out exit and entry points as well as right of way. During our short demonstration of the car, the Range Rover Sport headed off on its pre-selected route and performed perfectly, apart from some less than smooth braking.
When we arrived at our destination – a car park – the Range Rover Sport cruised to its designated spot before reversing and driving forward into the parking space. The only minor glitch during the whole exercise was failing to spot a traffic cone when reversing.
JESSE CROSSE