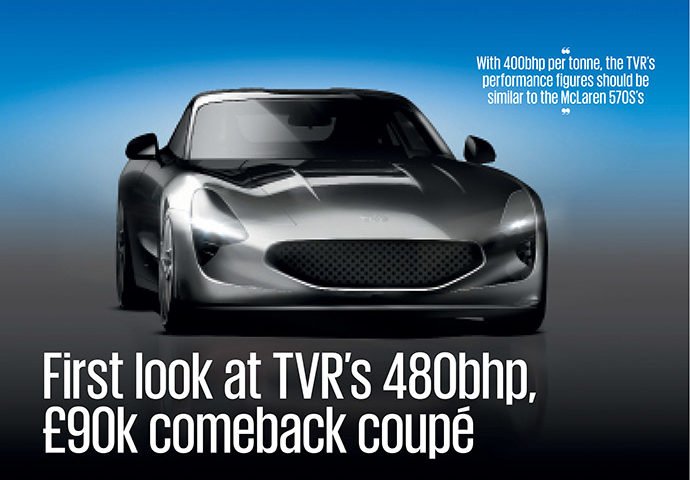 Debut of a two-seat GT with a Cosworth-tuned V8 will kick-start TVR's new era
TVR has finally revealed its new-generation car in the shape of a fully finished 480bhp two-seat GT coupé prototype. It is being revealed to the world in the Goodwood Revival's Earl's Court Motor Show pavilion surrounded by a supporting squadron of TVR classics.
It's a day that diehard enthusiasts feared would never dawn: the big-hearted, big-performance sports car marque born in Blackpool 70 years ago ceased production in 2006 under the ownership of Russian 'mini oligarch' Nikolai Smolenski and resisted all attempts at revival until TVR's current owners began a lengthy restoration process in 2013.
The all-new TVR prototype will be a full-house version of the car that's due to hit the market in 18 months' time. It is powered by a specially developed Cosworth edition of Ford's 5.0-litre quad-cam Mustang V8 and has a Tremec Magnum XL six-speed stick-shift gearbox, a carbonfibre body fitted with a special ground-effects aerodynamic package, a high-quality but no-frills interior, adjustable suspension and a set of unique-design TVR alloy wheels (19in at the front and 20in at the rear). However, it won't use TVR's special launch edition colour, which is still secret as it continues in final development.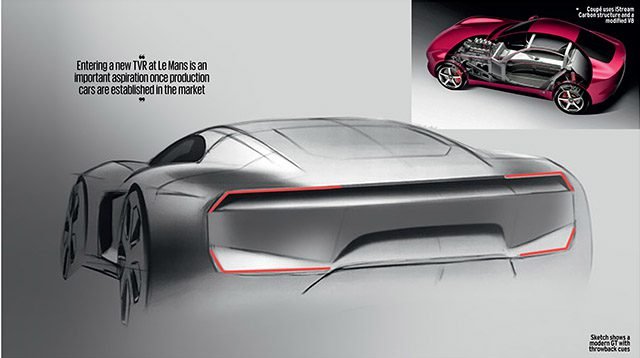 The launch edition of the car will cost "under £90,000", after which prices are expected to go both upwards and downwards from that level, depending on trim and equipment. However, at launch, TVR bosses are determined that the first car should embody their determination to offer "a lot of bang for your buck", as TVRs have always done.
Since announcing the project nearly four years ago, TVR's backers have always insisted the car would be very light, with a target power-to-weight ratio of 400bhp per tonne. Engineers are now reportedly within sight of achieving a target dry weight of 1200kg to 1250kg, which means the new TVR should achieve its power-to-weight target with an engine output of around 480bhp, an easy 20% boost for a V8 well known for its robustness and versatility.
With 400bhp per tonne, the TVR's performance figures should be similar to those of the McLaren 570S, which delivers a 0-100mph time of 6.4sec on a power-to-weight ratio of 390bhp per tonne. Higher-powered, higher-priced models are sure to follow.
"Although our show car can't be driven at the Revival, given the historic nature of the event, the show car is a fully drivable, fully finished car designed to be robustly test driven straight after the wraps come off," said TVR chairman Les Edgar. "It'll be a fully developed, fully capable GT car."
Although obviously an all-new design, the new TVR — whose last remaining official secret, the name, will also be revealed at the pre-Revival launch — draws clearly on the design of past models, especially the later models such as the Tuscan.
Its designer, David Seesing, who "works between" TVR Manufacturing and Gordon Murray Design, sees maintaining the relationship with the marque's history-making older cars as one of his most important priorities.

The new car is the first to be built by TVR's current owners — a private millionaires' consortium fronted by computer-gaming magnate Edgar — that four years ago mounted a successful bid to buy the brand from Smolenski, who moved to Austria after Blackpool production ceased in 2006.
The first 500 cars will be specially configured and badged launch editions. Most have already been reserved by a faithful customer group dubbed the TVR 500. Most members placed £5000 deposits around 18 months ago and are on course to receive their cars during 2019.
Edgar and his consortium of "about a dozen" well-heeled car enthusiasts have always been very clear about the car they want to build: a simple, fast, palpably British, driver-focused, front-engined V8 GT capable of being used daily but with a 'less is more' approach to equipment and design. Various consortium members, including Edgar, have extensive experience of classic TVR and Aston Martin ownership and strong racing links. Entering a new TVR at Le Mans remains an important aspiration, once production cars are established in the market.
Like all future TVRs, the launch model uses Gordon Murray's new iStream Carbon process and is the first production car to do so. It uses inner panels in carbonfibre bonded into a steel frame to provide immense rigidity and impressive crash integrity.
Murray's process is delivered via a new-design factory that is claimed to provide new levels of compactness and efficiency. With Welsh government financial help, TVR is understood to be putting around £30 million into re-equipping an existing 184,000sq ft factory in the Rassau Industrial Estate, Ebbw Vale, close to the site of the proposed Circuit of Wales. TVR insists its plans won't be affected by any circuit decision and it expects to generate up to 150 jobs when its production gets into full swing.
Edgar said TVR is on track to take possession of the factory in the second quarter next year. The company isn't offering a precise timetable beyond that, but one convincing scenario is that factory preparation will take three to six months, pilot production should start before the end of the year and the first production cars should be on their way to early customers in the first quarter of 2019.
The production aim is to make and sell "the vast majority" of the TVR 500 launch-edition cars in 2019, after which annual production will grow to around 1000 cars. The debut of a second model, probably a convertible, and subsequent higher-performance, lightweight models reveal a potential annual production of around 2000 to 2200 cars "by about year five". That number neatly matches current European Small Series type approval regulations for a two-car line-up.
TVR will concentrate at first on selling in the UK market, doing new-car business from its Ebbw Vale factory in the early years, although it aims also to involve "heritage service centres" (aka existing TVR specialists) in its new-car business. It is already signing up European distributors, too, but US sales aren't in the frame for the foreseeable future.
At first, the priority will be to keep faith with the original TVR 500, whose money the company will have been holding for well over two years by the time the first customers receive their cars. Several months ago, Edgar and colleagues moved to keep the group involved by staging a series of weekend "meet the team" meetings, during which a full-sized model was displayed and new detail was revealed.
"We lost about half a dozen people from those events," said Edgar, "but we gained 18 or 20. It was amazing to see at first hand how much they care."
STEVE CROPLEY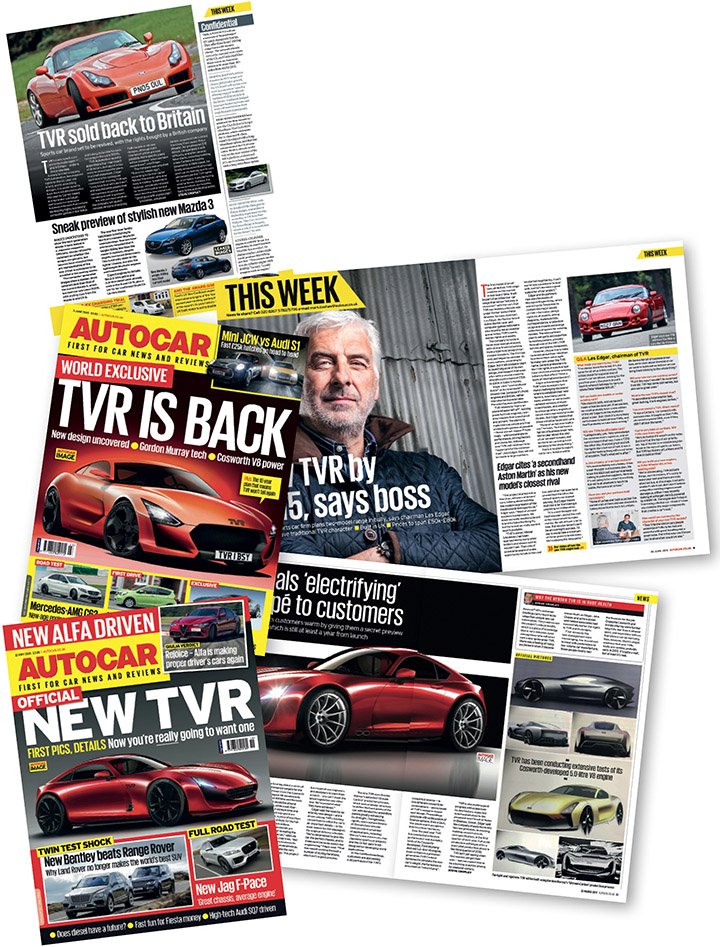 HOW THE NEW TVR BROKE COVER
Autocar was first, on 12 June 2013, to break the story that TVR's old-established name and marque values had been rescued by a group of millionaire enthusiasts who had bought the company's name and remaining assets from its former owner, Nikolai Smolenski.
First details of the car the partners would build emerged from a secret Autocar briefing a fortnight later and resulted in a 26 June cover story that also included the first interview with the new company's boss, Les Edgar.
By April 2014, we were talking about a new R&D centre in south England, but the real meat of the tale emerged on 3 June 2015, when we revealed the new TVR would be shaped and engineered at Gordon Murray Design (GMD) and powered by a Cosworth-modified Ford Mustang V8.
After that, details came to light slowly. By July 2015, we knew the company had started taking deposits for its first 500 cars. By 7 October, we had visited Cosworth in Northants to see TVR's bosses start the first Cosworth-modded Ford V8 on the dyno. By January 2016, we knew the chassis would be made using GMD's iStream Carbon process. By March 2016, we learnt that TVR's new factory would be in Wales.
The most recent big story was TVR's series of weekend meetings for prospective buyers at GMD in March this year, where a clay model was shown for the first time. It justified another TVR cover story on 22 March and contained the first new TVR blueprint. Now read on…
WHAT WE'VE LEARNED, BY LES EDGAR

"No matter how complex you thought it was going to be to launch a new car, it's more complex than that." So said TVR chief Les Edgar, talking about his past four years' experience of reviving the iconic sports car marque — during which he and a dozen colleagues have acquired and financed the brand, created a 10-year product plan, found a Welsh factory, organised a government subsidy, designed a new car and found the consultants capable of putting it into production. Edgar estimates that the amount of time he and
his colleagues have dedicated to the project is "about 127%".
"We've made some mistakes if we were doing it again," he said, "but along the way, we've discovered a bunch of good guys, second to none, who have made it possible to do this thing at the high level we believe it deserves."
TVR Manufacturing, the core company, consists of only about 50 people, Edgar explained, because its policy is to retain expert consultants — such as Gordon Murray Design and Cosworth Engineering — to bring the company's plans to reality.
"The most amazing thing to us has been the sheer level of interest people have shown in the project," said Edgar. "It's amazing that such a low-volume product can justify such passion. It's as if we'd won every race we'd entered, including Le Mans. TVR is definitely much more than just a brand. It's an extraordinary group of passionate people. Not disappointing them is a
big responsibility."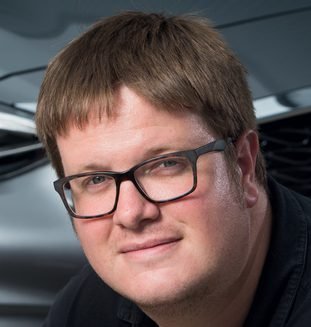 WILL 'BACK TO BASICS' STILL WORK FOR TVR?
Matt Saunders
TVR's all-new model takes the firm back to the days of the Griffith and Chimaera, when it was still buying in customer V8 engines and tuning them extensively for its sports cars — and long before Al Melling's six-cylinder and eight-cylinder TVR Power engines arrived with the double-edged sword of massive combustive drama and questionable reliability.
Given the size and ambition of the new TVR company, that's a realistic strategy. But there's no mistaking how much harder life will be for TVR this decade than it used to be.
It has often been written that it was the Porsche Boxster that took over the niche in which TVR once thrived: a genuinely usable sports car built as only one of the most profitable outfits in the automotive world could possibly build it. Now it's the Porsche 911 that TVR is going after and that sets an even tougher standard on material finish and usability. And yet it's the same 'back-to-basics' dynamic selling point that the firm is seeking to trade on: an outstanding power-to-weight ratio and the driving purist's predilection for a front-mounted engine, rear-wheel drive, a manual gearbox and presumably some fully switchable electronic traction and stability aids (assuming they're even fitted to the car in the first place).
The trouble for TVR may be that what really used to sell its cars — stonking outright bang-for-your-buck pace — may not distinguish its new one quite so well. A Porsche 911 Carrera 4S can now crack 60mph from rest in just 3.5sec, a Nissan GT-R more quickly still — and without four-wheel drive or launch control, TVR can't really hope to match either.
I hope I'm wrong and the new TVR proves every inch the giant killer that the old ones once were, but it seems an awful lot to expect of it.